This Green Bean Casserole is vegan, but don't let that sway you. This is, in my humble opinion, the best way to make a holiday Green Bean Casserole. Dairy-free. Loaded with fresh vegetables (not canned) and yet still crazy easy. This creamy casserole side dish is ridiculously delicious and don't forget – deliciously decadent.
My Green Bean Casserole has the classic flavors of mushroom, crispy onion, cream and pepper and adds in a hint of Parmesan and thyme. Watch out stuffing, the holidays have a brand new fave side dish on the plate…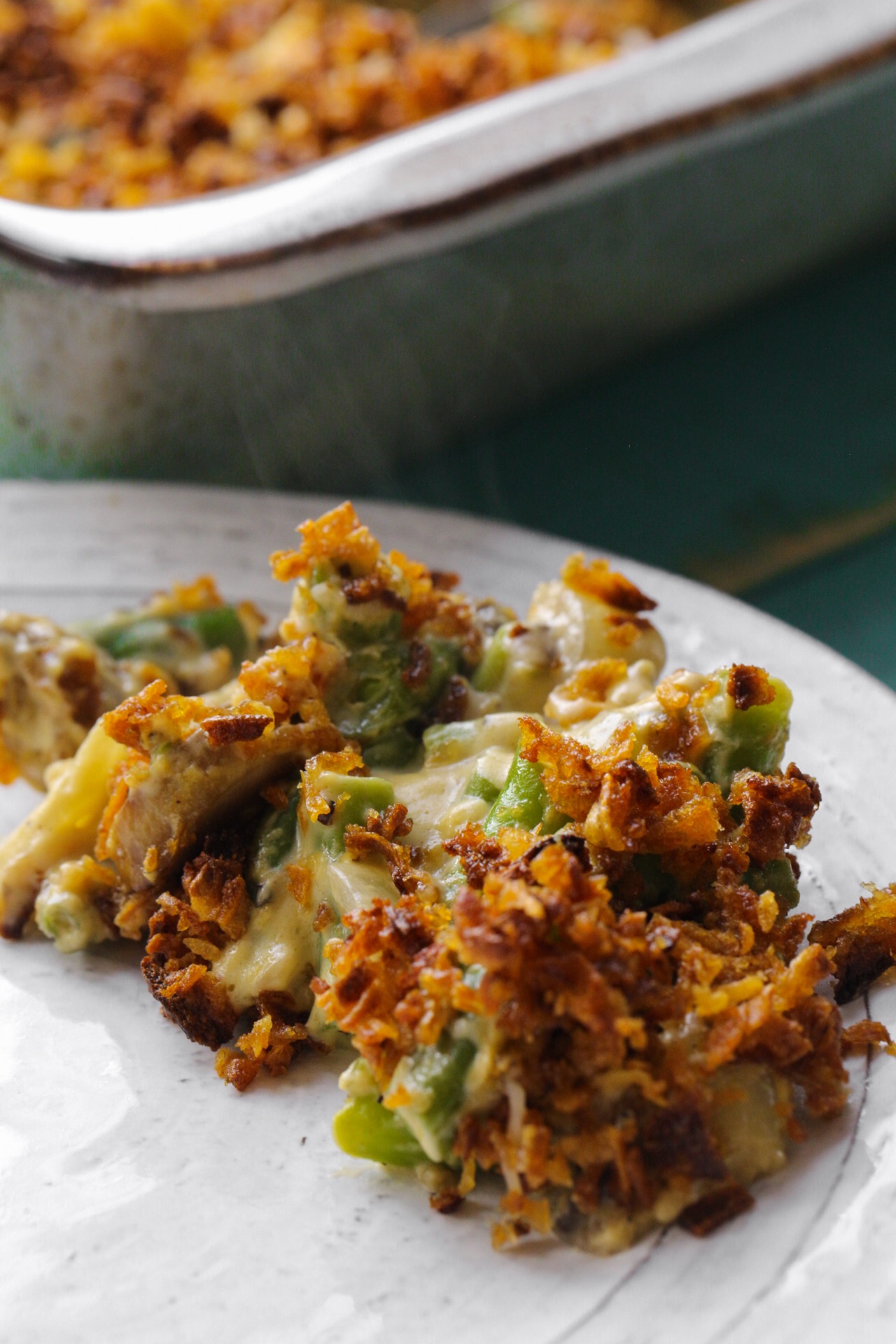 Classic Green Bean Casserole
Truth be told, I have never tasted a classic Green Bean Casserole. My family just didn't serve that dish during the holidays. Sure, I remember seeing it on the table when we went over to relatives homes for some Thanksgiving meals, but it just looked like a mushy bowl of something green and creamy with crispy something on top. I didn't have a clue. Then I became a blogger and all anyone ever asks me this fall + winter holiday time of year is if I have a Green Bean Casserole dish to share. Well a long afternoon in the kitchen and boom! I do!
Fun Green Bean Casserole Fact! "The green bean casserole was first created in 1955 by the Campbell Soup Company." So you can understand why "cream of mushroom" soup is a classic main ingredient. but luckily, those same creamy mushroom flavors can be achieved without actual dairy cream. Or a can of soup! Yay cashews. (Or cauliflower…)
Don't judge, I may have slightly burnt the top crispy onions because I was …. wait for it … choosing a GIF to reply to someone. Sorry. But it still tasted perfect, so…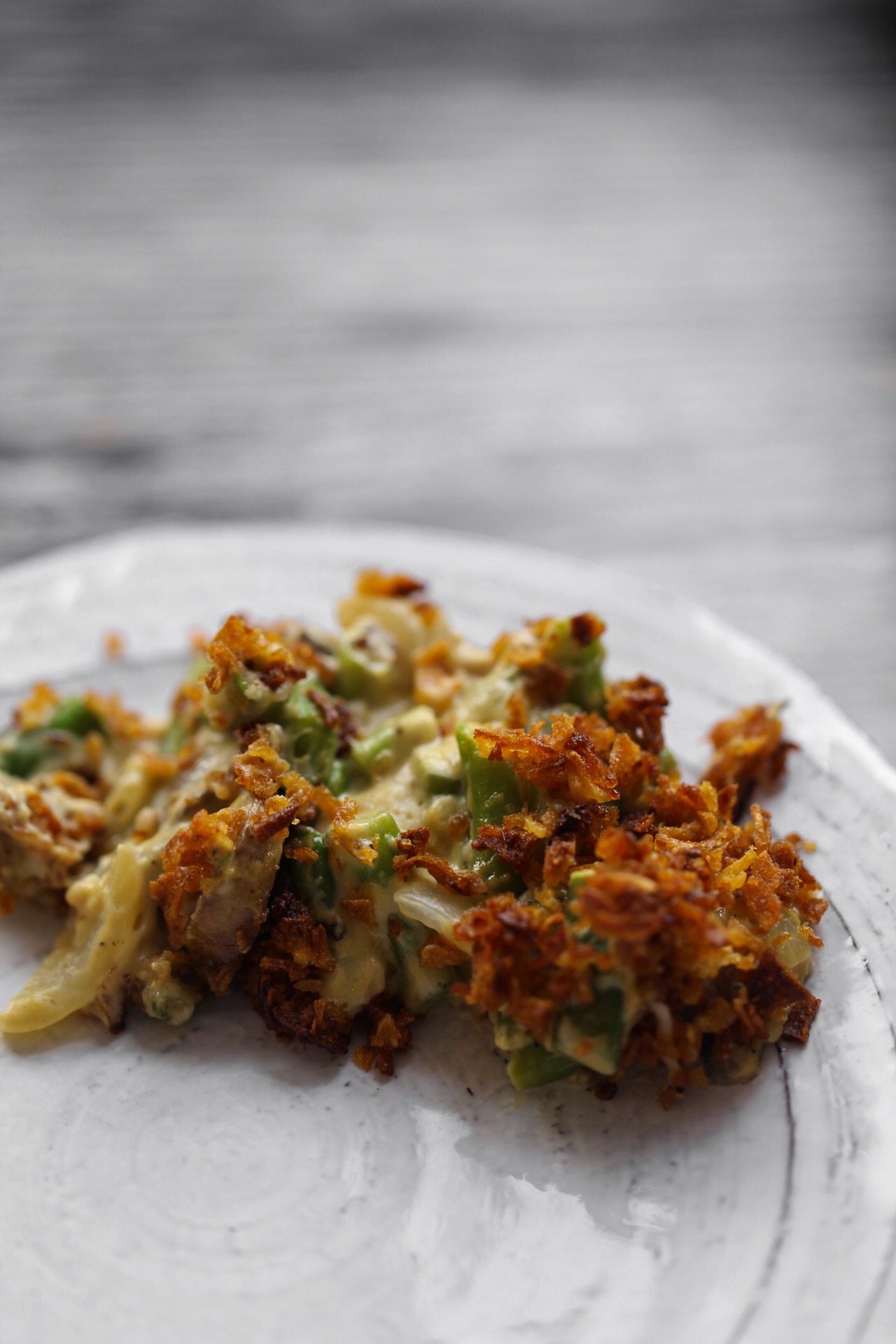 Creamy Green Bean Casserole
The creaminess was something I really wanted to nail for this recipe. And one of my favorite entrees to make for dinner is a vegan pot pie using creamy cashews as the base. So I knew that was what I wanted to play around with. I didn't soak my cashews because around the holidays… who has time for soaking cashews for a side dish! Maybe for your perfect pumpkin pie, but that's another story.
This dish reminds me of my pot pies. And if you have ever tried those and love them – you will adore this recipe.
The Cheese
After doing some research, I realized that the classic cheese to use in a Green Bean Casserole is cheddar. Wait, what? that just doesn't make sense to me. Sorry. Cheddar is such a strong, over-powering flavor. Cheddar is something I usually pair with heavily starchy things. Like bread – grilled cheese. Or baked potatoes. Even something earthy like vegan chili. But delicate green beans and unami-ish mushrooms I just wouldn't pair with cheddar. So what cheese would I use? A sharp, perky white cheese. Parmesan. Even Provolone or a smooth and melty mozzarella.
I chose to use Parmesan. My favorite cheese to pair with mushrooms and veggies. And it worked so well. A tiny bit went a long way so I didn't need to overpower the dish with cheese.
Nut-Free Version?
In my cream of mushroom soup recipe, I actually used cauliflower to cream the creaminess. So while I have not tested it, I am sure you could sub steamed cauliflower for the cashews. I would reduce the veggie broth and maybe add in a bit more EVOO, but it should be doable. Maybe next time I will experiment with cauliflower, but for now I am loving this creamy cashew version.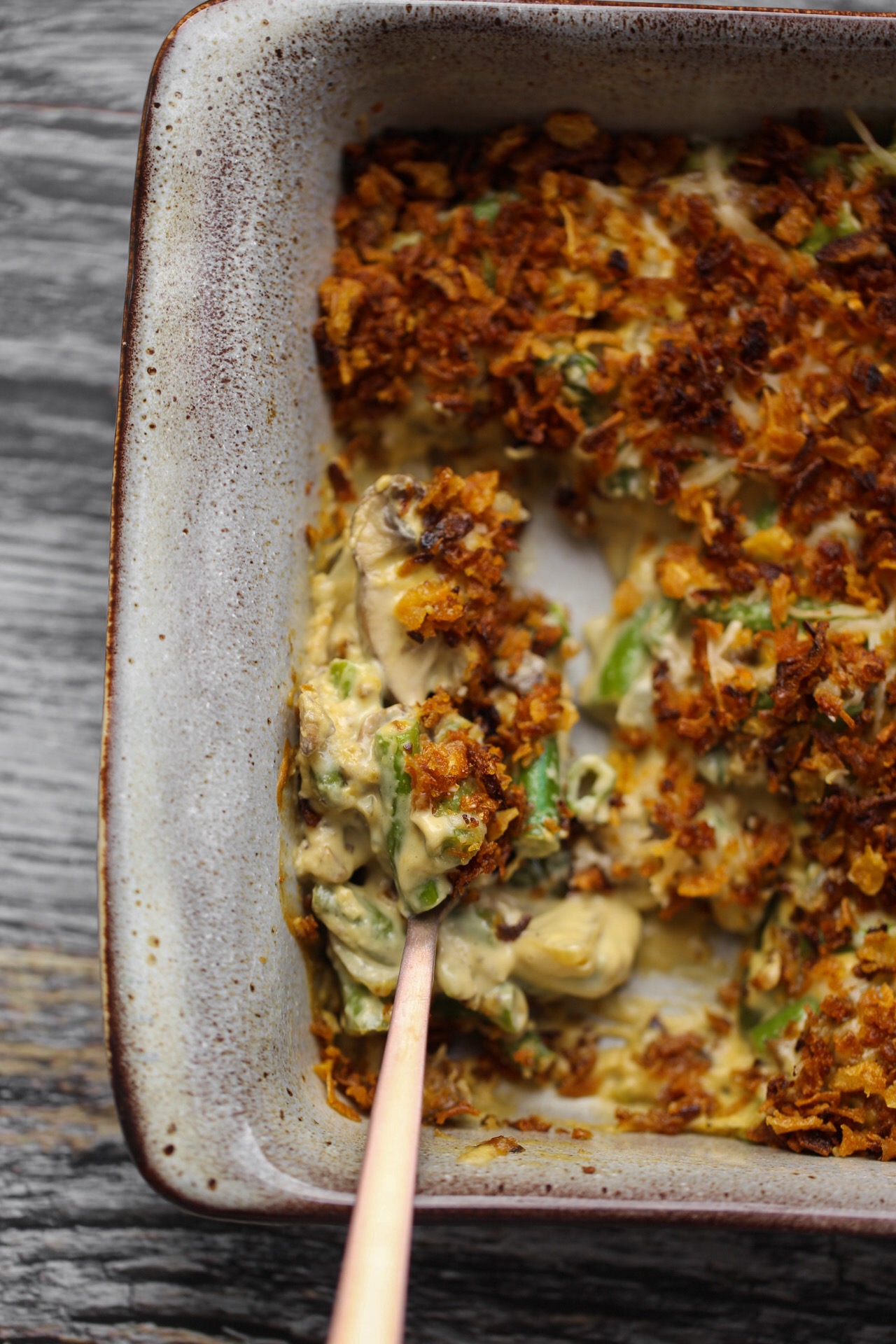 Classic Elements of a Green Bean Casserole
So those crispy onions on top are not terribly healthy, but oh well. They add that classic oniony flavor and that crispy texture you need with all that creaminess. And for the mushrooms, instead of a cream of mushroom soup, I simply used fresh mushrooms. Same for the green beans. No cans in this recipe! Quick chop some washed green beans and you are good to go.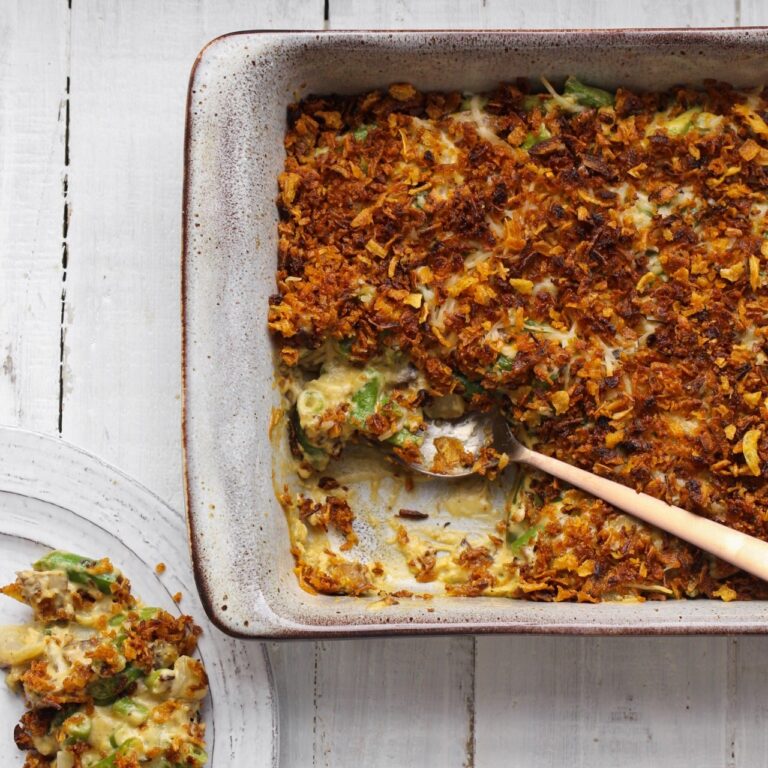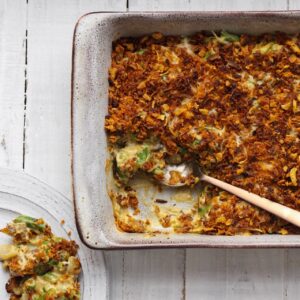 Green Bean Casserole
This classic gone vegan is super creamy and packed with flavor. Fresh green beans and mushrooms coated in a crazy-good cashew cream sauce. Crispy onions on top.
Print
Pin
Ingredients
14

oz

green beans

,

roughly chopped into one inch pieces

1

cup

onion

,

chopped

8

oz

mushrooms

,

baby bella or crimini – chopped

2

tablespoon

vegan butter

2

tablespoon

olive oil

,

extra virgin

a few

sprigs

fresh thyme
Cashew Cream
1

cup

vegetable broth

1

cup

cashews

,

raw

1

teaspoon

sea salt

½

teaspoon

black pepper

,

optional
Topping
3-4

tablespoon

vegan Parmesan

,

follow your heart shreds

½

cup

crispy onions

olive oil

,

for casserole dish
Instructions
Prep by chopping all your veggies. Grease a casserole dish with some olive oil.

Preheat oven to 350 degrees.

Warm a large soup pot over high heat. Add in the olive oil and vegan butter.

Add the onions, green beans and mushrooms to the soup pot. Saute on high for 2-3 minutes, stirring every thirty seconds or so. Add the fresh sprigs of thyme over top – crush a few leaves right into the mix too. then place lid on pot. Reduce heat to medium and cook for another 2-3 minutes to soften the veggies and combine the flavors.

While the veggies are cooking, add the broth, cashews, salt and pepper to a blender. Blend from low to high until silky smooth. No lumps!

Reduce the stove heat to low, lift lid off of the pot and pour in the cashew cream. Fold everything together and cover with lid. Let this mixture cook for another two minutes.

Turn off the heat and remove lid of soup pot. Pour the mixture into a lightly greased casserole dish. Smooth everything out so it is even. Top with the cheese followed by the crispy onions.

Cover dish with foil and bake at 350 degrees for twenty minutes.

Remove the foil and broil for 2-3 minutes to brown the onions. (don't burn the onions! I slightly did my first time making this.)

Let casserole cool for ten minutes before serving! Delicious as leftovers.
Equipment
casserole dish

soup pot

blender
Notes
Note: The nutritional info excludes the crispy onions.
Make Ahead Instructions: Prep everything to the point of where the toppings have been added. Cover tightly with foil and place in the fridge. The next day all you have to do is bake as directed — adding in five minutes or so to the baking time.
nutrition estimate | per serving
Calories:
126
kcal
|
Carbohydrates:
9
g
|
Protein:
3
g
|
Fat:
9
g
|
Saturated Fat:
2
g
|
Sodium:
329
mg
|
Potassium:
220
mg
|
Fiber:
2
g
|
Sugar:
3
g
|
Vitamin A:
359
IU
|
Vitamin C:
5
mg
|
Calcium:
22
mg
|
Iron:
1
mg
Pin it for later…