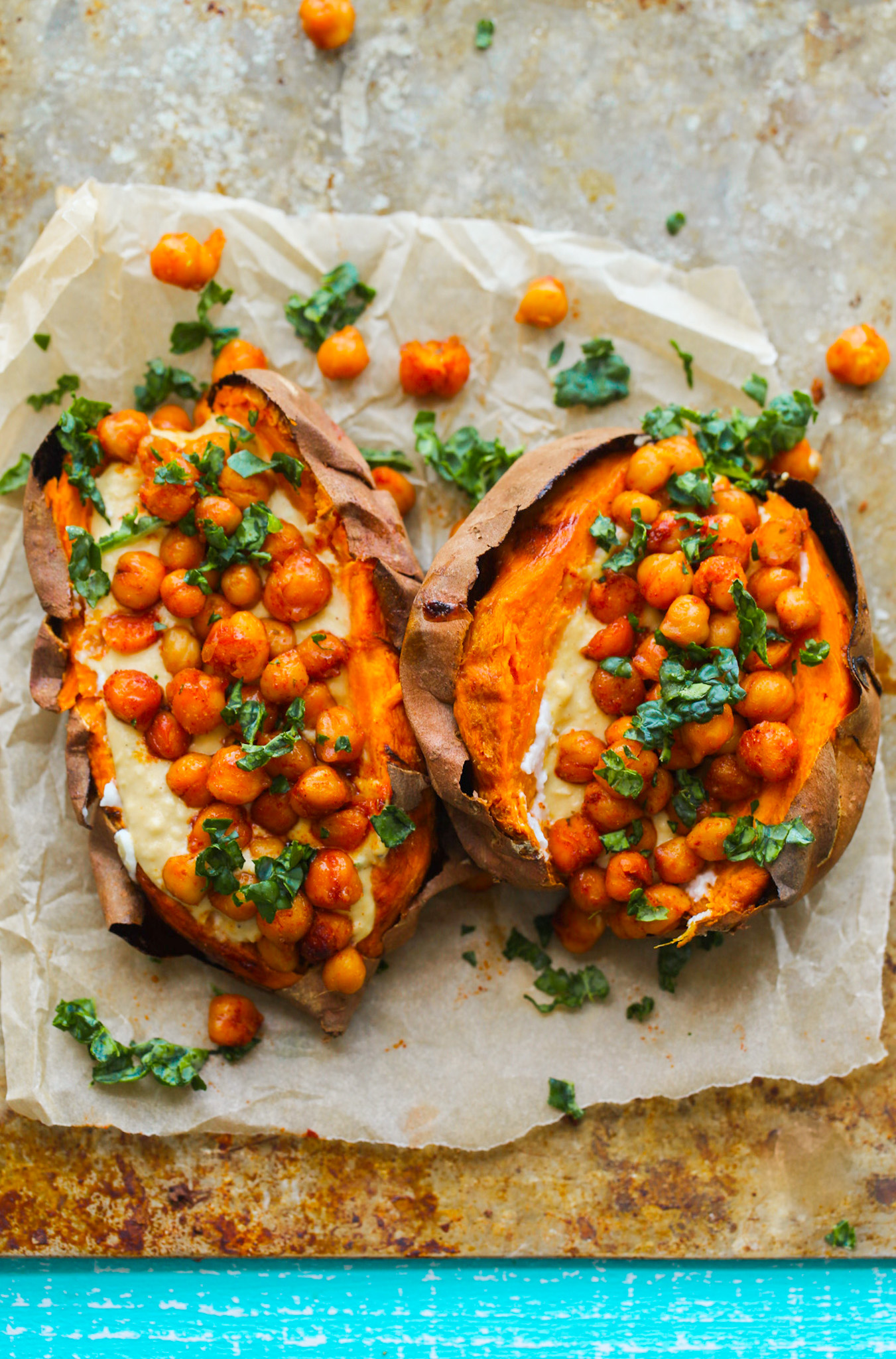 These super easy Chickpea-Stuffed Sweet Potatoes are perfect for a quickie, satisfying, vegan meal. My speedy 5-minute chickpeas are paired with creamy garlic hummus and a sticky-sweet stuffed sweet potato for a pretty much perfect easy meal.
If you are a sweet potato lover like me, you will want to add this recipe to your go-to meal rotation!…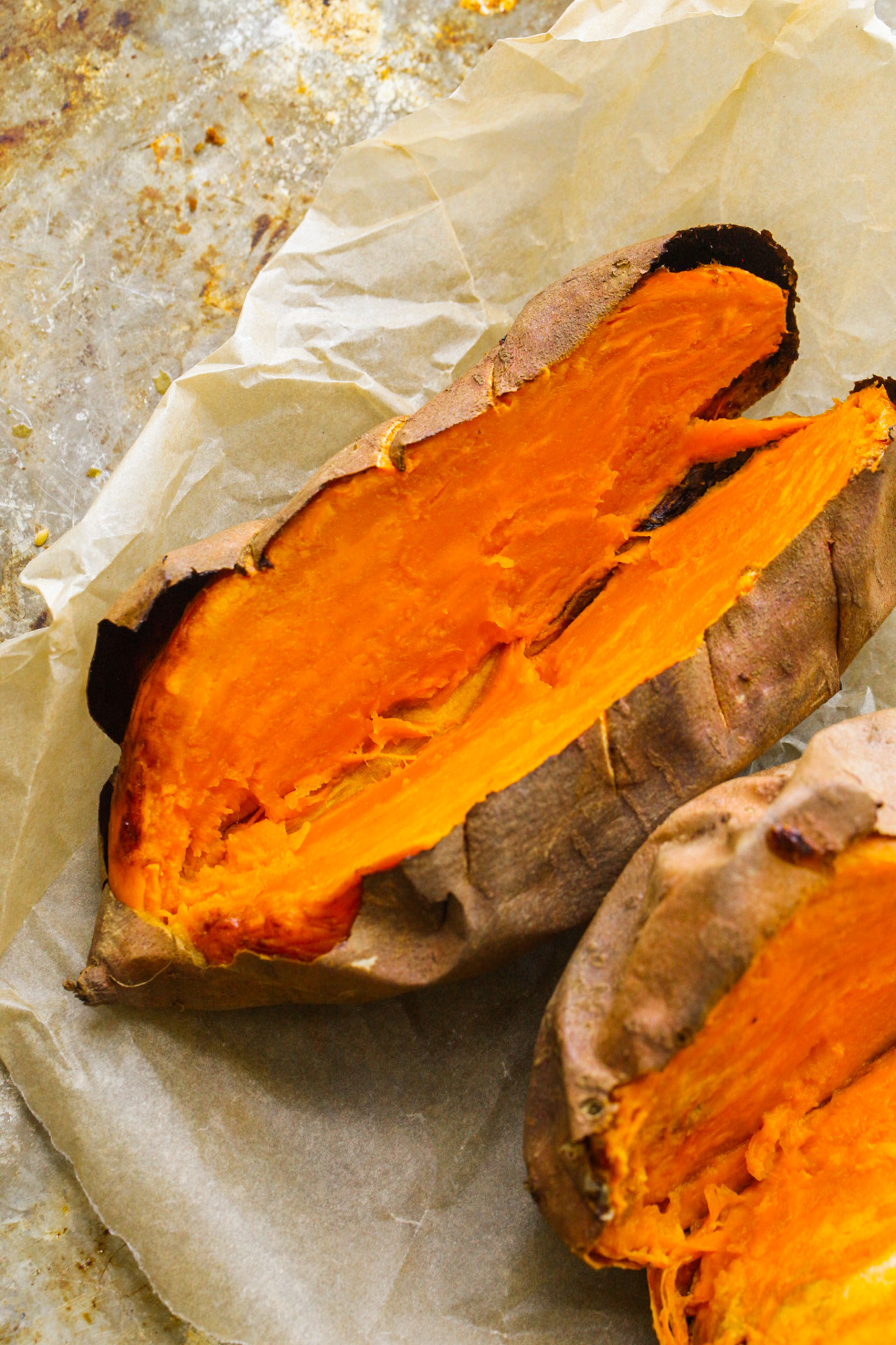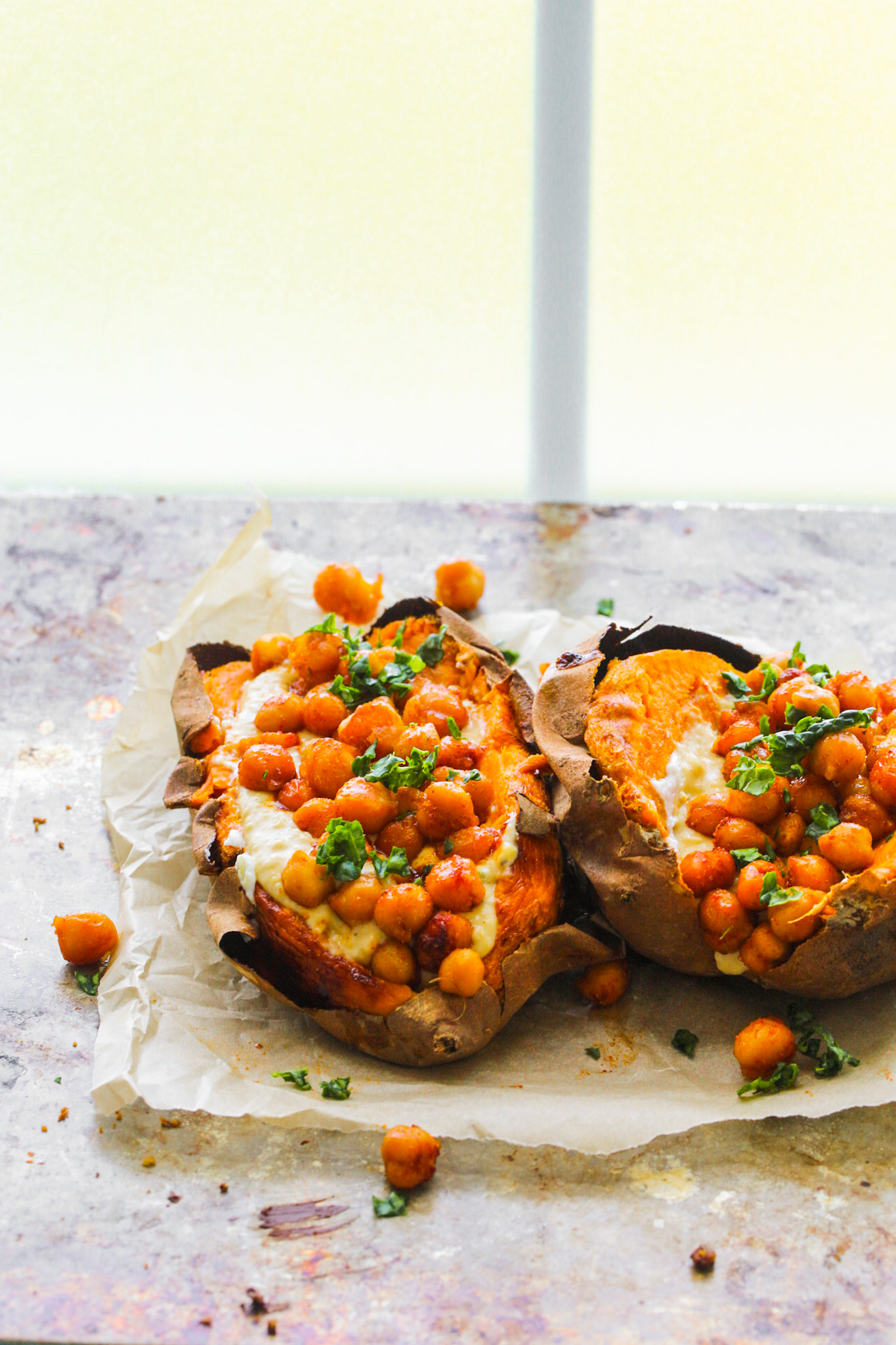 Easy Stuffed Sweet Potato
I have a few stuffed sweet potato recipes here on the blog, but this one is by far my most easy + simple! You honestly do not need much to make a stuffed sweet potato and that is what I wanted to highlight in this recipe. Sure, you can get fancy with toppings, or just keep it simple like I did today.
The one thing you cannot skimp on though….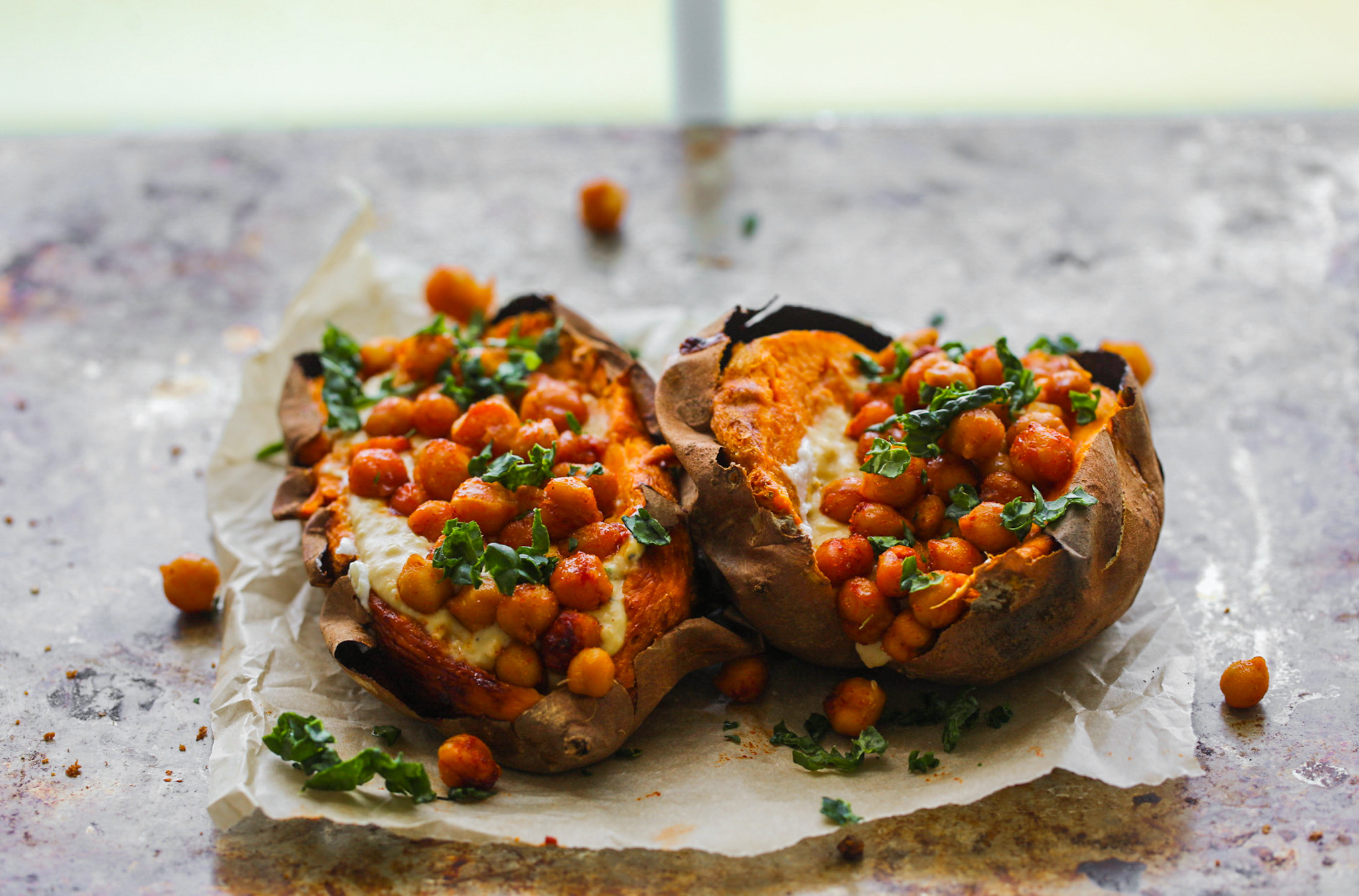 Oven-Baked Sweet Potatoes
For this recipe, oven-baked sweet potatoes are a must.
But just FYI, I don't always oven-bake my sweet potatoes for recipes. When I'm in a hurry to make my favorite sweet potato soup, sometimes I will boil a peeled and chopped sweet potato. If I am really in a lazy mood for a recipe, I will even sometimes microwave a sweet potato. (That's rare, but it does happen!)
But hands down, the best way to prepare a sweet potato for pretty much any recipe is to oven bake it. All you need is a bit of time – about 45 minutes to an hour, depending on how large your potato is.
For these Chickpea-Stuffed Sweet Potatoes, oven-baking makes it work. That sticky caramelized taste and texture that develops when you oven-bake a sweet potato, is exactly what anchors this entire recipe. Basically your meal is a baked sweet potato …. with a few savory toppings.
How to Bake a Sweet Potato
It's easy! You can oven-bake for these Chickpea-Stuffed Sweet Potatoes or any recipe you'd like. You can even serve an oven-baked sweet potato with nothing else at all! Here are the steps..
Before. Preheat oven to 450 degrees. Line the bottom of the oven with foil in case the potato drips sticky syrup – it probably will! Foil allows for much easier clean-up.
Prep. Scrub your sweet potato with a veggie brush as you rinse under warm or hot water. Remove any long stringy bits. Dry the potato with a clean towel.
Vent. Poke a few holes into the surface of your potato using either a fork or knife. This allows steam to escape.
Bake. Place the potato in a 450 degree oven and bake for 40-60 minutes or until tender and baked through.
Rest. Allow the potato to rest a bit before handling because it will be hot! This also allows for easier peeling of the potato skin if you are using just the sweet potato flesh for a recipe. If making chickpea-stuffed sweet potatoes, resting will make it easier for you to handle the potato.
Hummus
The hummus in these Chickpea-Stuffed Sweet Potatoes adds the moisture in this recipe. If you don't like hummus or want to skip it for any reason, you can totally do that. You just need to sub with something else that will add some moisture and even healthy fats to your meal.
You could add 2 tablespoon vegan butter, melted into the sliced open sweet potato. Or you could just add a drizzle of extra virgin olive oil. Or even Vegenaise – if you are just as obsessed with it as I am.
For the hummus, you can use homemade or store-bought. My preference is a garlic flavor, but any flavor will work.
Greens
I like to add a lot of greens to serve these potatoes. I even like to add a side dish of chopped leafy greens so I can keep adding them as I eat. Kale, spinach, parsley and chard are great options to try. You can use raw leafy greens or skillet-cooked.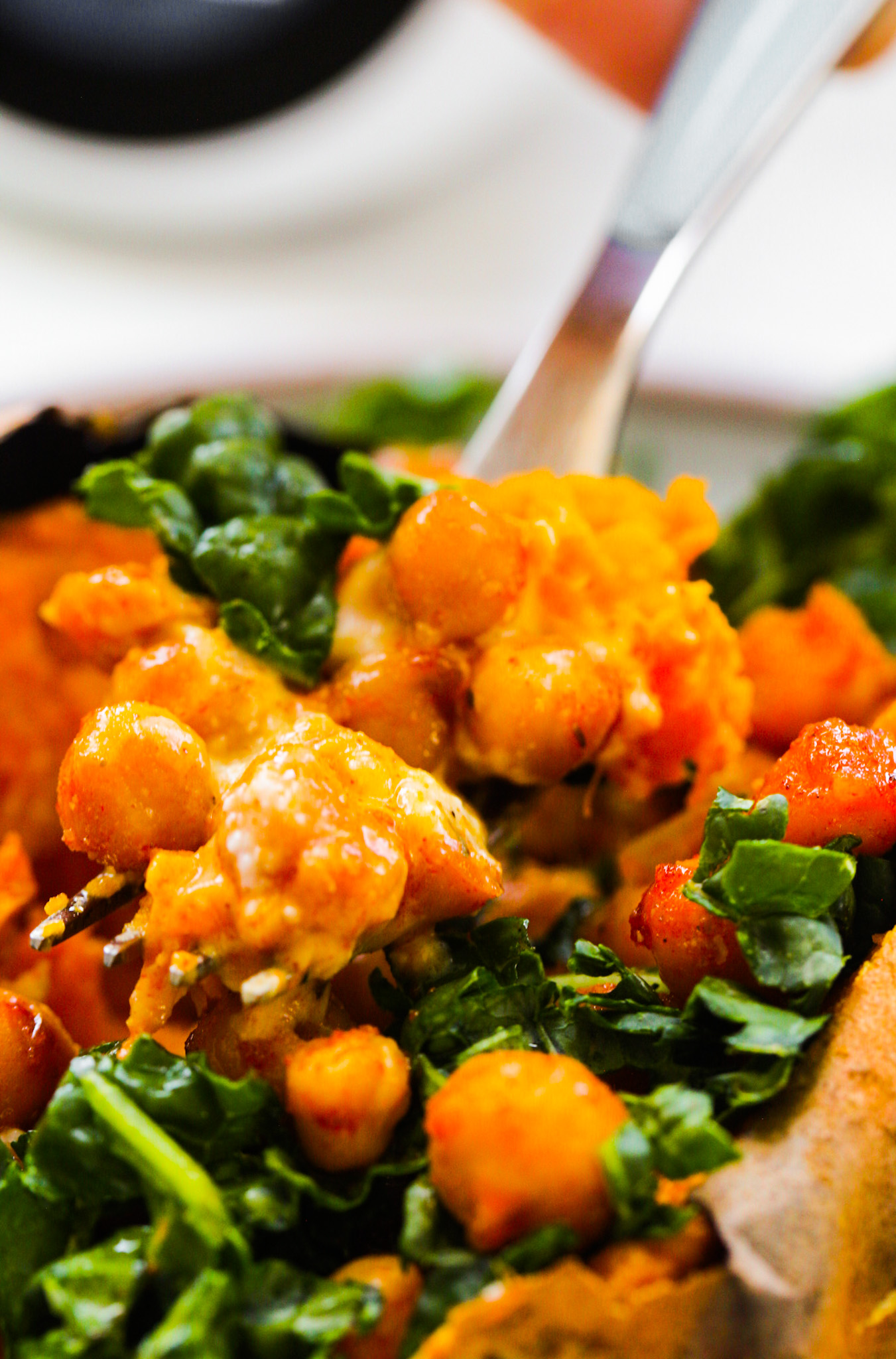 Chickpeas
You can use a variety of chickpea recipe to stuff these Chickpea-Stuffed Sweet Potatoes, but these are my favorites..
Can I Use Other Beans?
Yes! You could actually make the recipes above using another bean like navy or black beans, but the flavor and texture will vary. And since most other beans are a bit mushier that chickpeas, you want to be aware of that when you prepare them.
You could even use my baked beans to stuff sweet potatoes!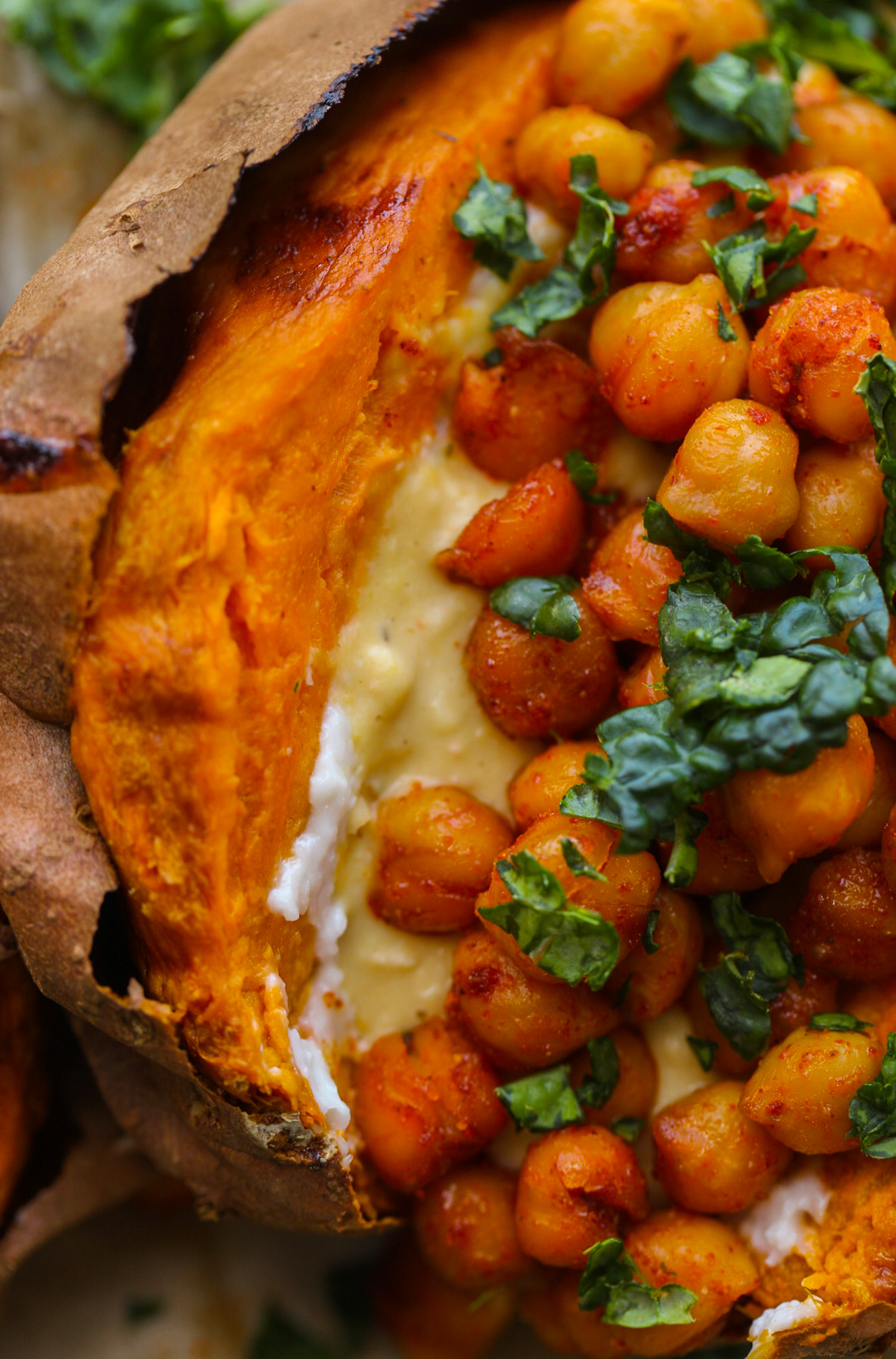 Get fancy with toppings..
If you want to get a bit fancier with toppings, you can add these ingredients…
diced avocado
smoky paprika
EVOO
pumpkin seeds
chopped greens
chopped herbs
cashew cheese
roasted or steamed broccoli
tempeh bacon bits
vegan Parmesan cheese
diced green apple (really!!)
hemp seeds
chopped nuts like walnuts, almonds, pecans..
diced tomato
These stuffed sweet potatoes I did a while back show off some fancier toppings..
So with that, let's get to this super simple recipe for Chickpea-Stuffed Sweet Potatoes…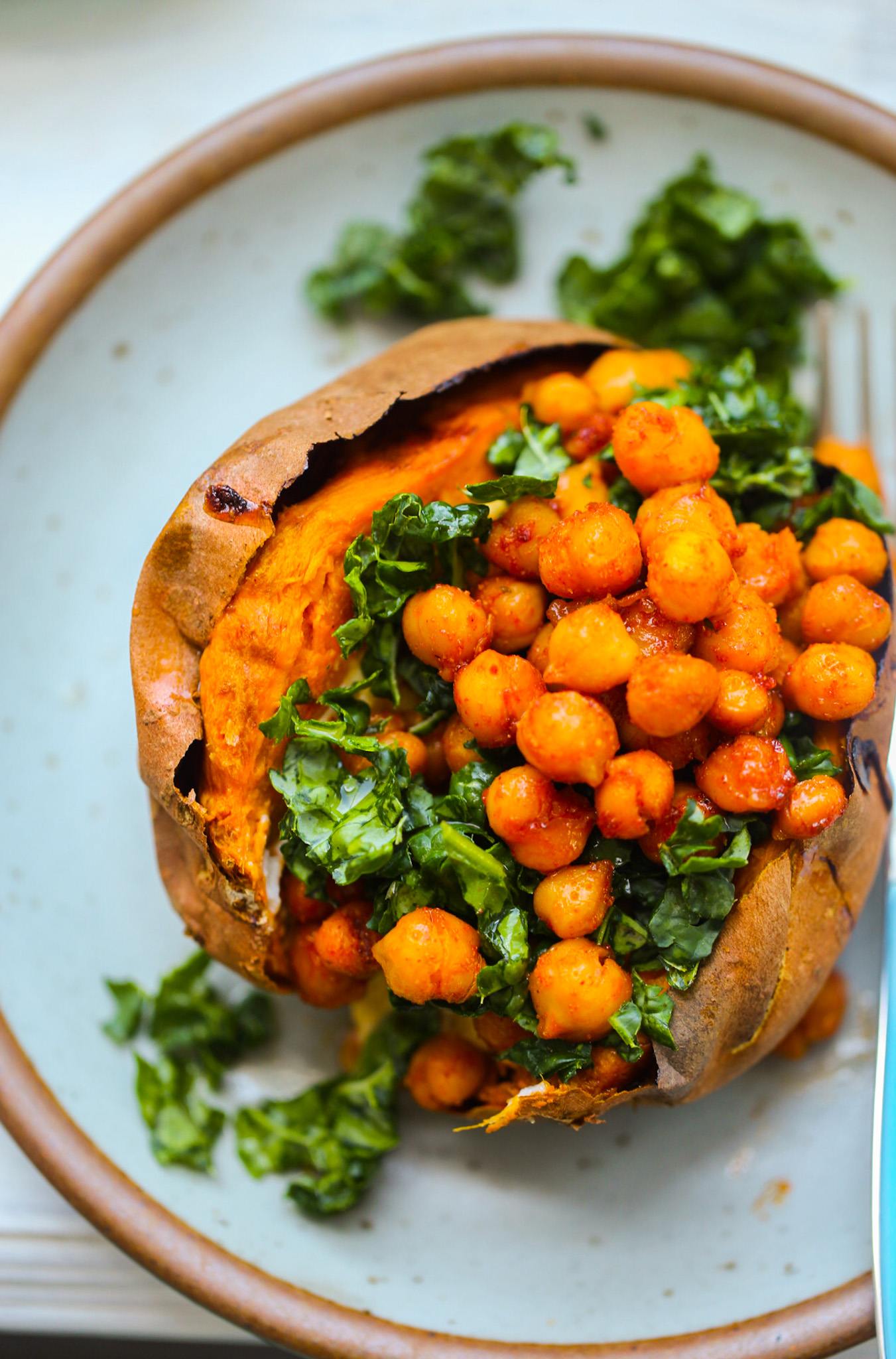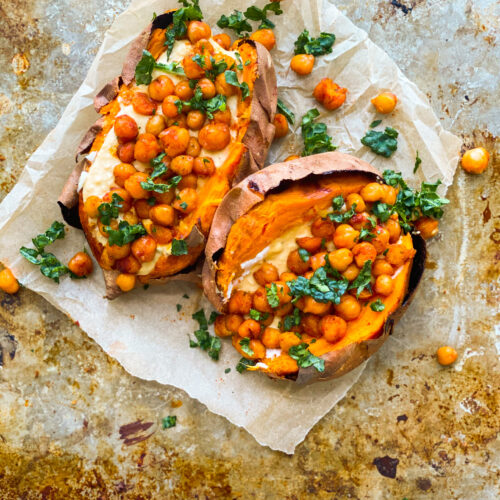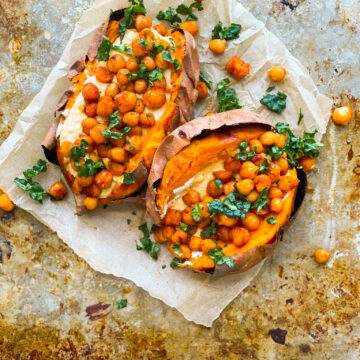 Chickpea-Stuffed Sweet Potatoes
These super simple stuffed sweet potatoes are big on flavor and satisfaction, using the culinary magic of skillet chickpeas and hummus.
Print
Pin
Ingredients
2

medium

sweet potatoes

,

oven-baked

2

cups

skillet chickpeas – recipe link in notes

¼ – ½

cup

hummus

½

cup

leafy greens

,

finely chopped – kale, parsley, spinach…
Instructions
Bake your sweet potatoes until tender. See post body for instructions.

When the potatoes are pulled from the oven and resting, prepare your 5-minute skillet chickpeas.

Slice open potatoes. Fill with about ¼ cup hummus for each potato. Top with one cup of the skillet chickpeas. For a lighter meal, you can just use a half cup. For a heartier meal, add a full 1 ½ cups chickpeas.

Add any additional toppings you would like.
nutrition estimate | per serving
Calories:
395
kcal
|
Carbohydrates:
73
g
|
Protein:
14
g
|
Fat:
6
g
|
Saturated Fat:
1
g
|
Sodium:
705
mg
|
Potassium:
1151
mg
|
Fiber:
16
g
|
Sugar:
10
g
|
Vitamin A:
33326
IU
|
Vitamin C:
25
mg
|
Calcium:
158
mg
|
Iron:
5
mg