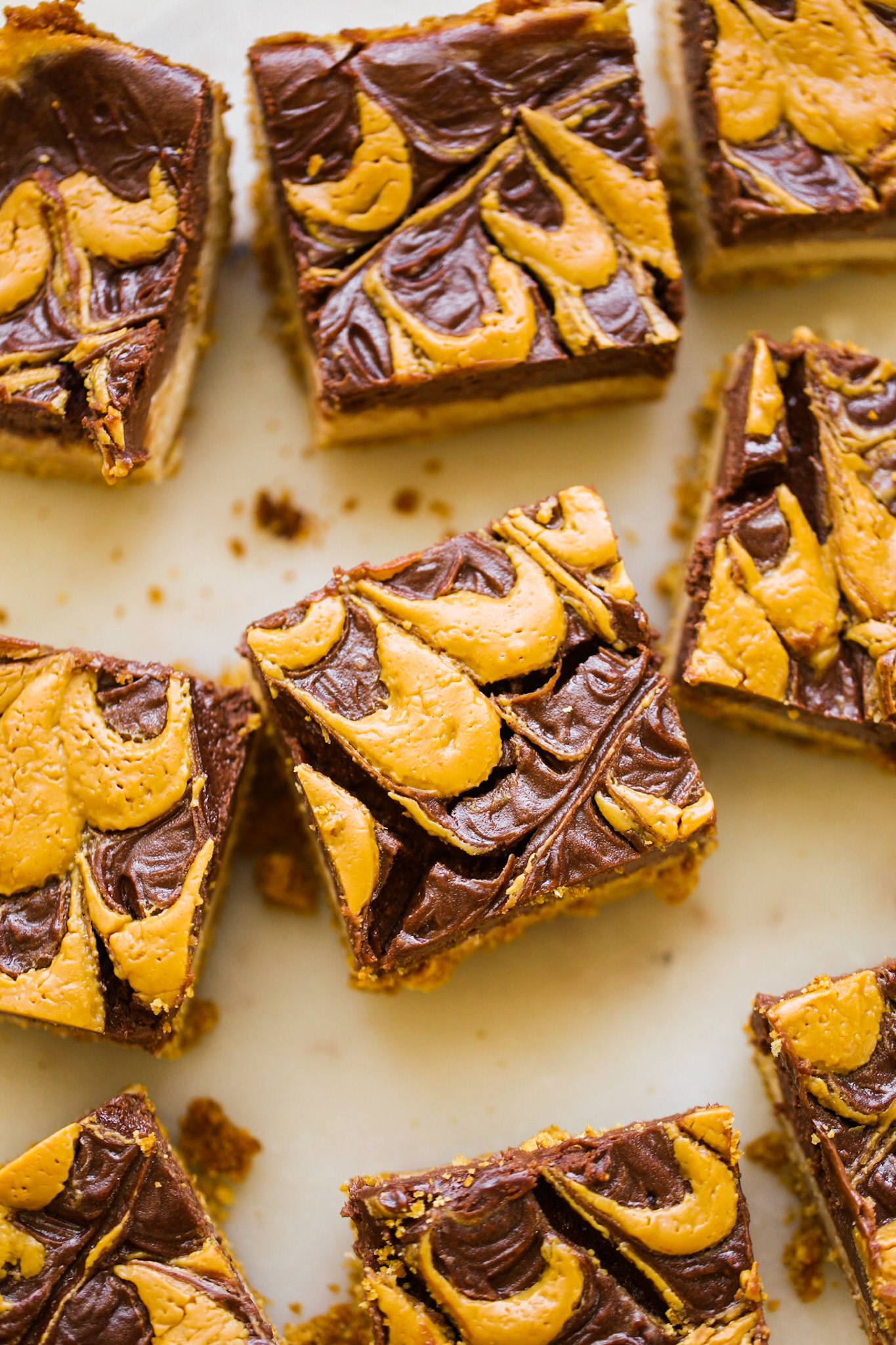 Yesterday, I whipped up these vegan Chocolate Peanut Butter Cheesecake Bites when I was craving a special treat. And oh my goodness did these deliver! Rich chocolate cheesecake tops fluffy peanut butter cheesecake. A nutty peanut butter swirl on top and buttery graham cracker crust on the bottom.
If you are cheesecake fan and want to give yourself an extra special treat right now, give this crazy-good recipe a try!…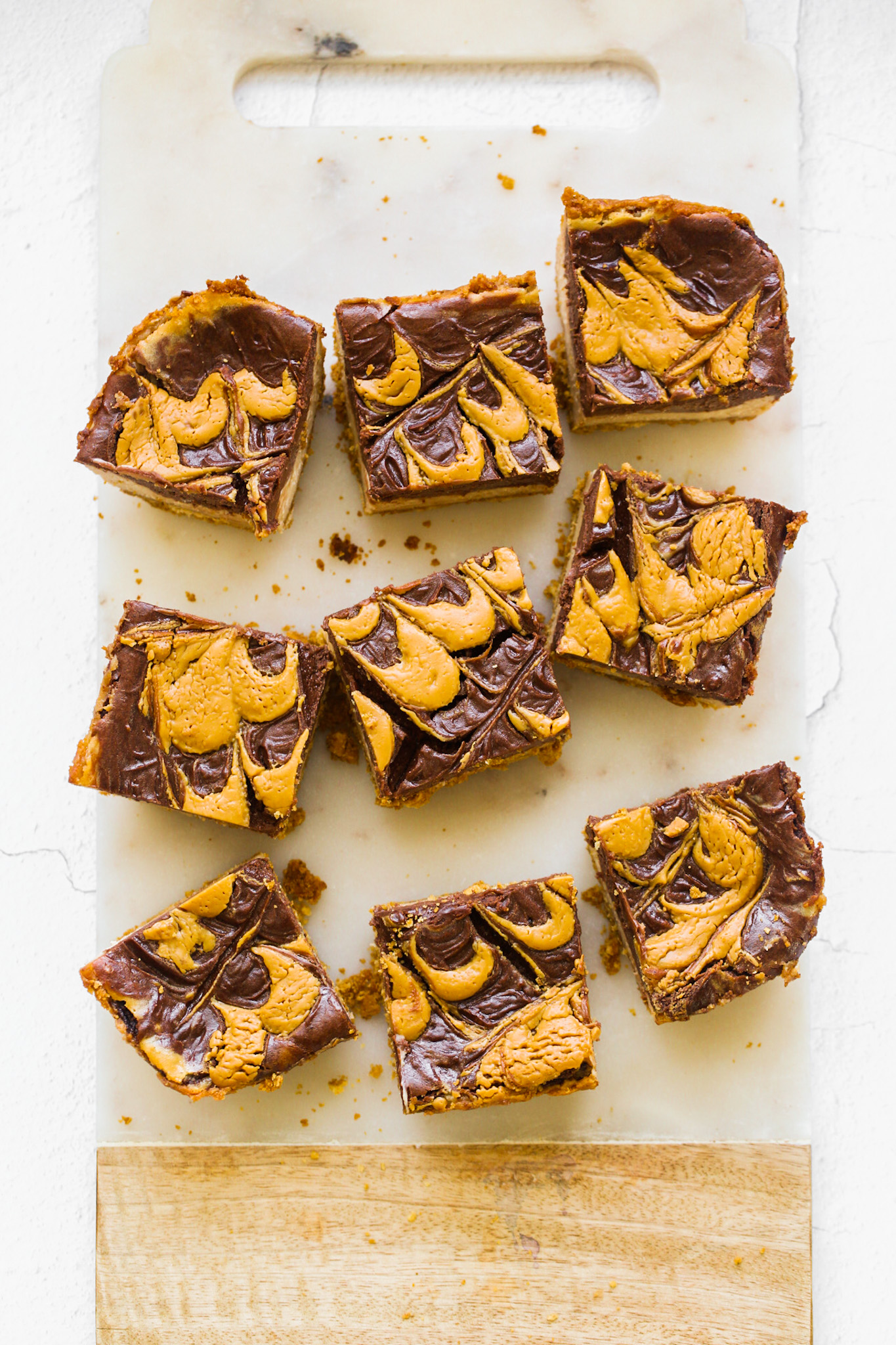 Peanut Butter and Chocolate
Never a bad decision in the kitchen: peanut butter and chocolate. I couldn't decide on a flavor, so naturally, I went with two.
These Chocolate Peanut Butter Cheesecake Bites taste like peanut butter cups, only fluffy, creamy and kinda fancy looking too.
If you don't want to do both flavors, you could absolutely just pick a layer! Chocolate cheesecake bites or peanut butter cheesecake bites. Easy
Simple Ingredients
This vegan cheesecake recipe turns out looking pretty snazzy, but really, it's made using simple ingredients that I just happen to have in my quarantine life pantry. Ingredients like…
vegan cream cheese
peanut butter
cocoa powder
graham crackers
vegan butter
sugar
If you are missing one or a few ingredients, leave me a comment and I'll see how I can tweak things to accomodate. this recipe could also be made using cashews in place of cream cheese.
My recipe for cashew-based cheesecake is here, if you want a reference for that. The cherry topping on this cheesecake is also amazing.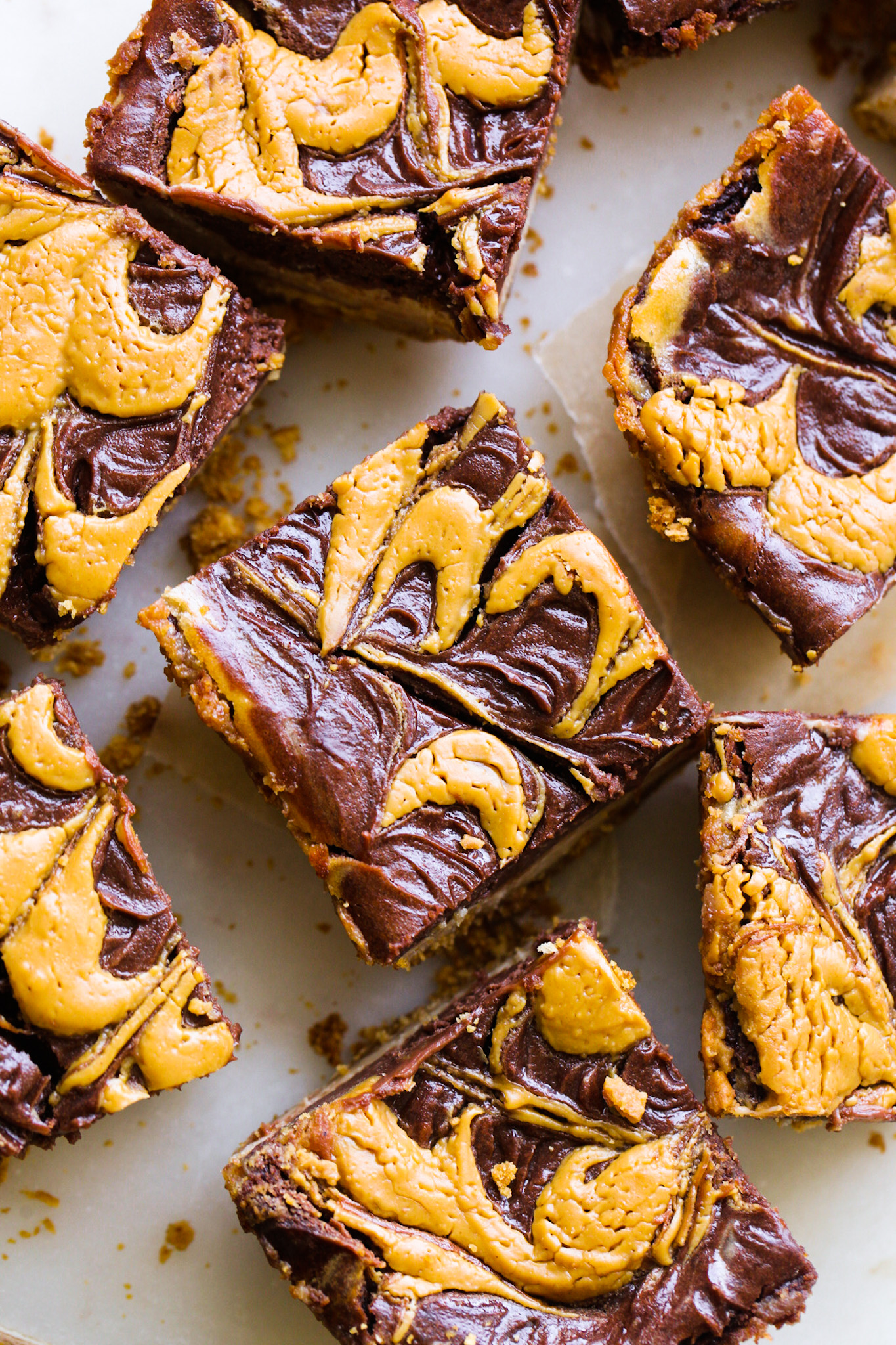 Vegan (Quarantine) Desserts
I am all about baking and crafting vegan desserts right now as we quarantine a bit. Baking is such a relaxing activity and you get to eat the end result, so what's better than that.
Other quarantine desserts I am loving: cookies, pudding and I am really craving some cinnamon rolls or sticky buns too.
Square Baking Dish
While we're here, I want to recommend the square baking dish I used to bake these bars. I use this dish probably more than any other baking dish in my kitchen. It is perfect for brownies, sheet-style cakes or banana bread, crumble bars, roasting veggies, baking pasta or cheezy mac, just about anything. I like that it isn't too big – feels manageable for the serving sizes I like to make. Check it out on Amazon (affiliate) – it's Le Creuset brand in Caribbean color. My fave color!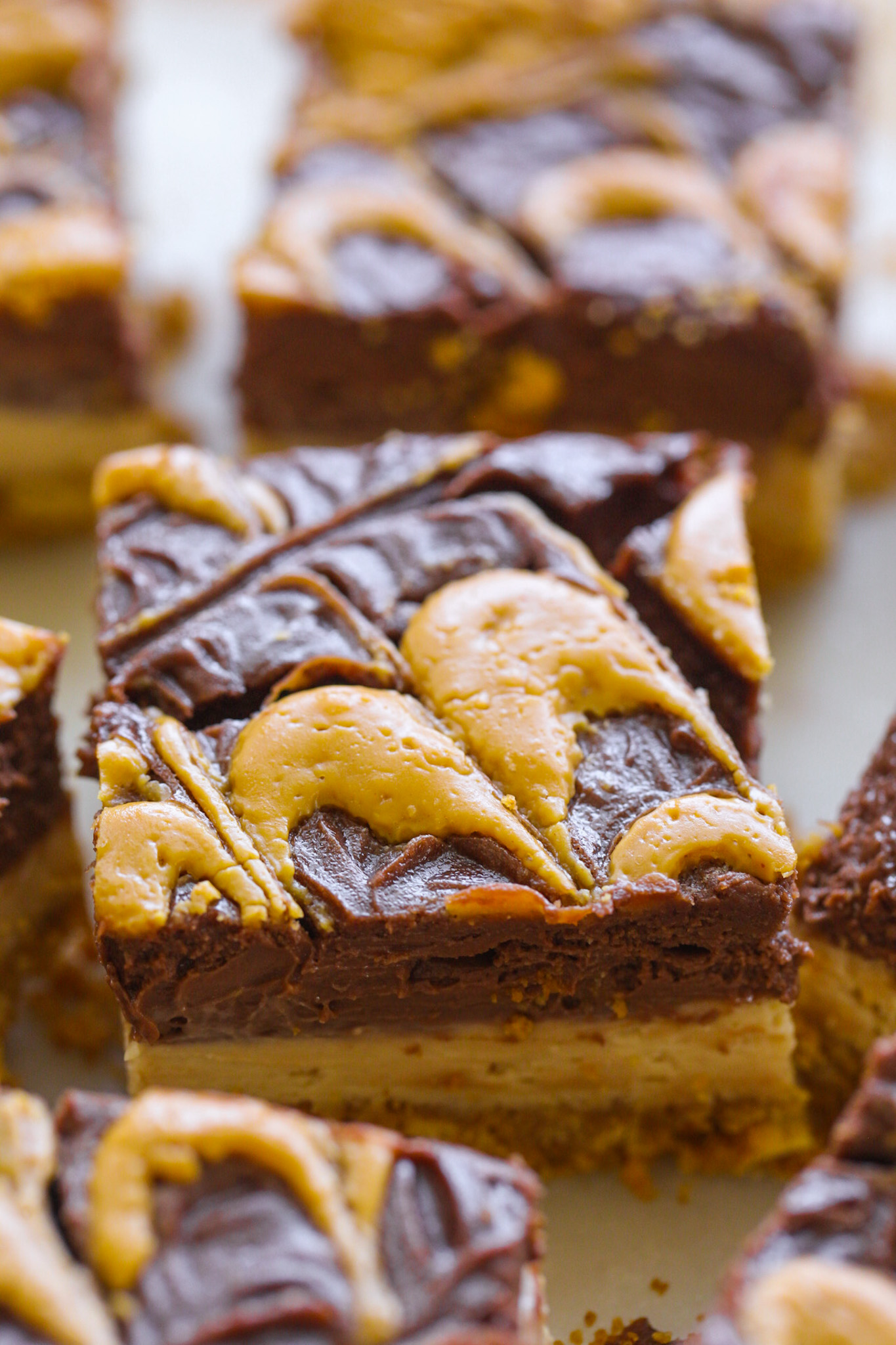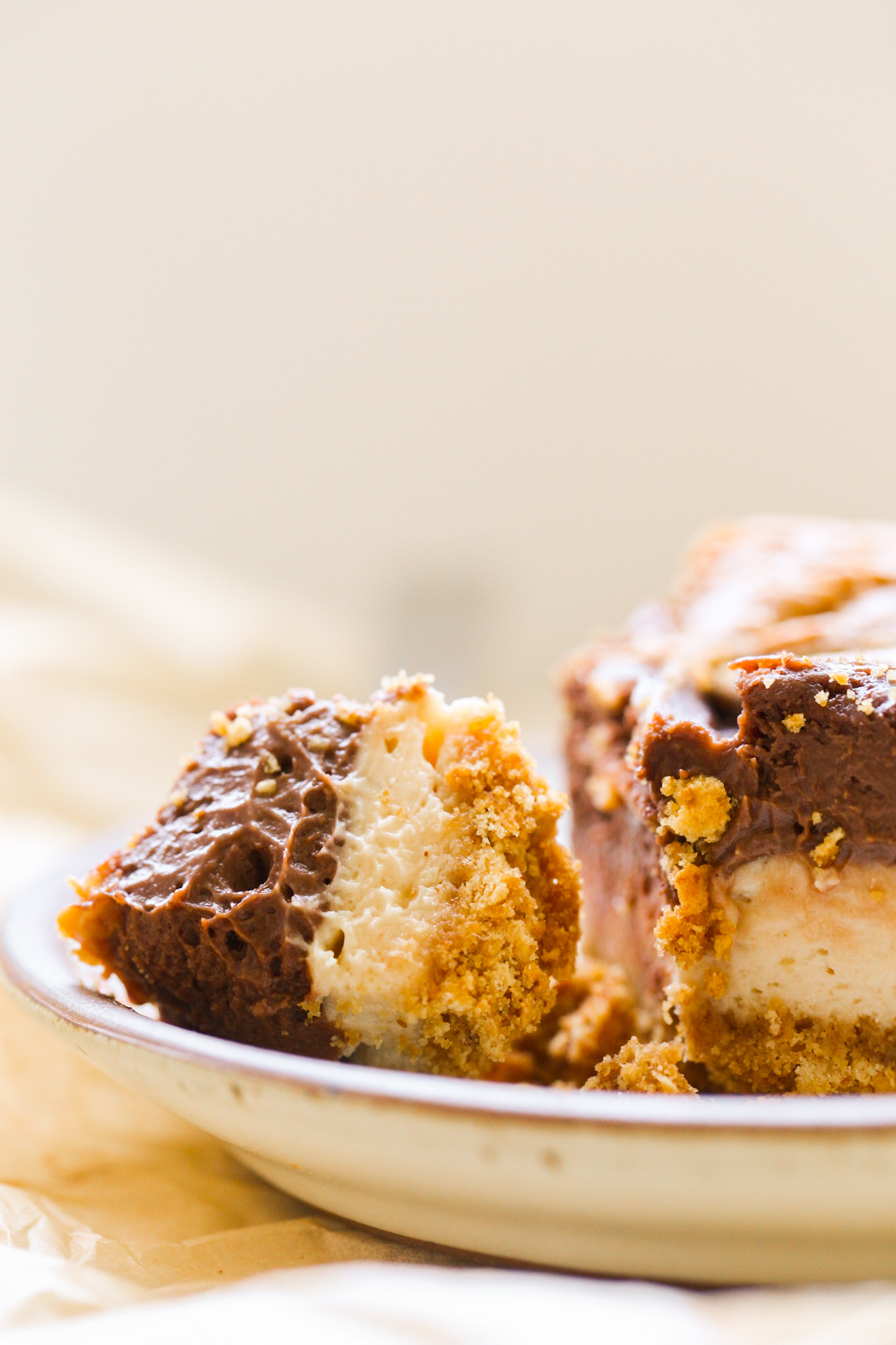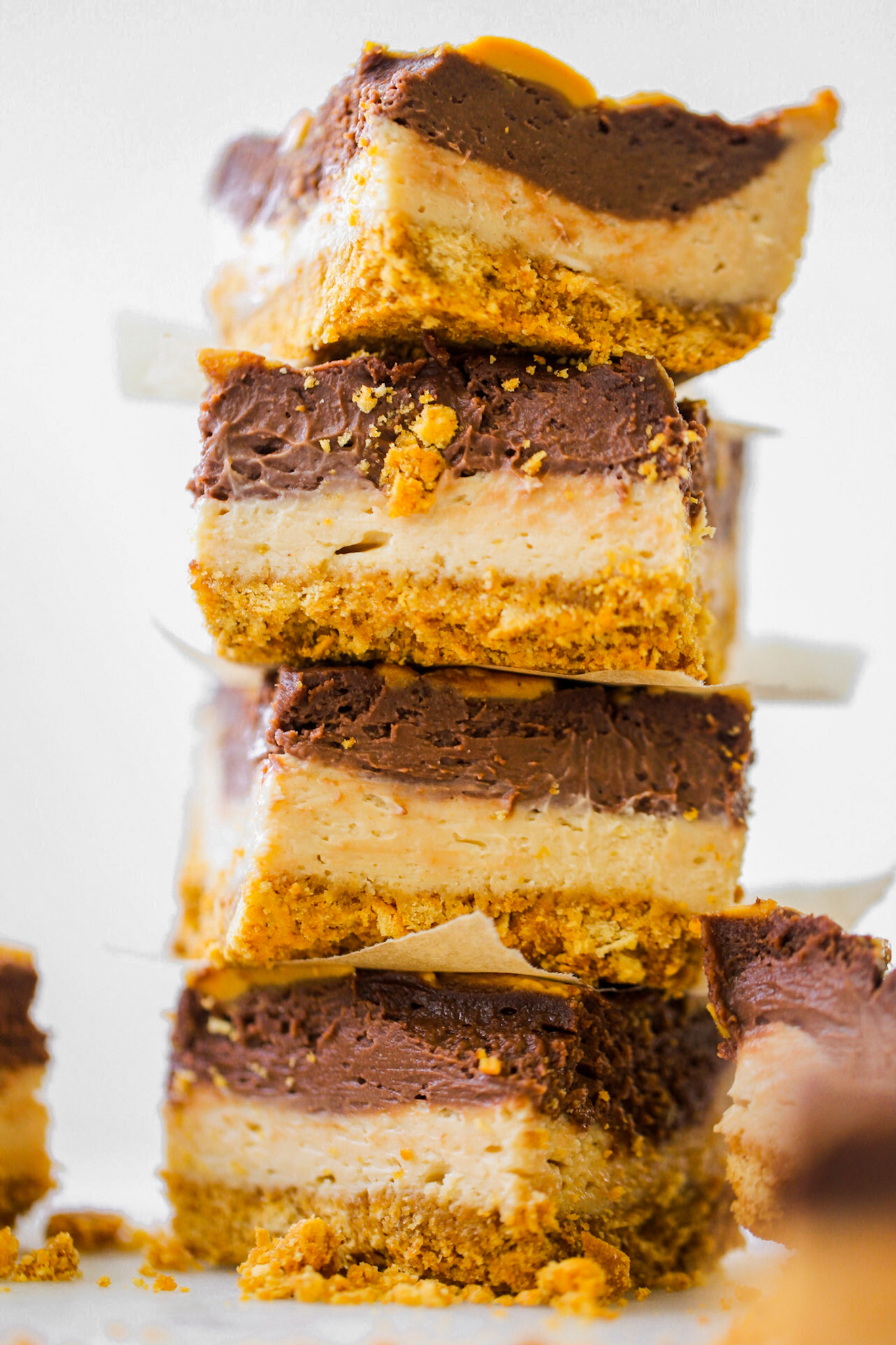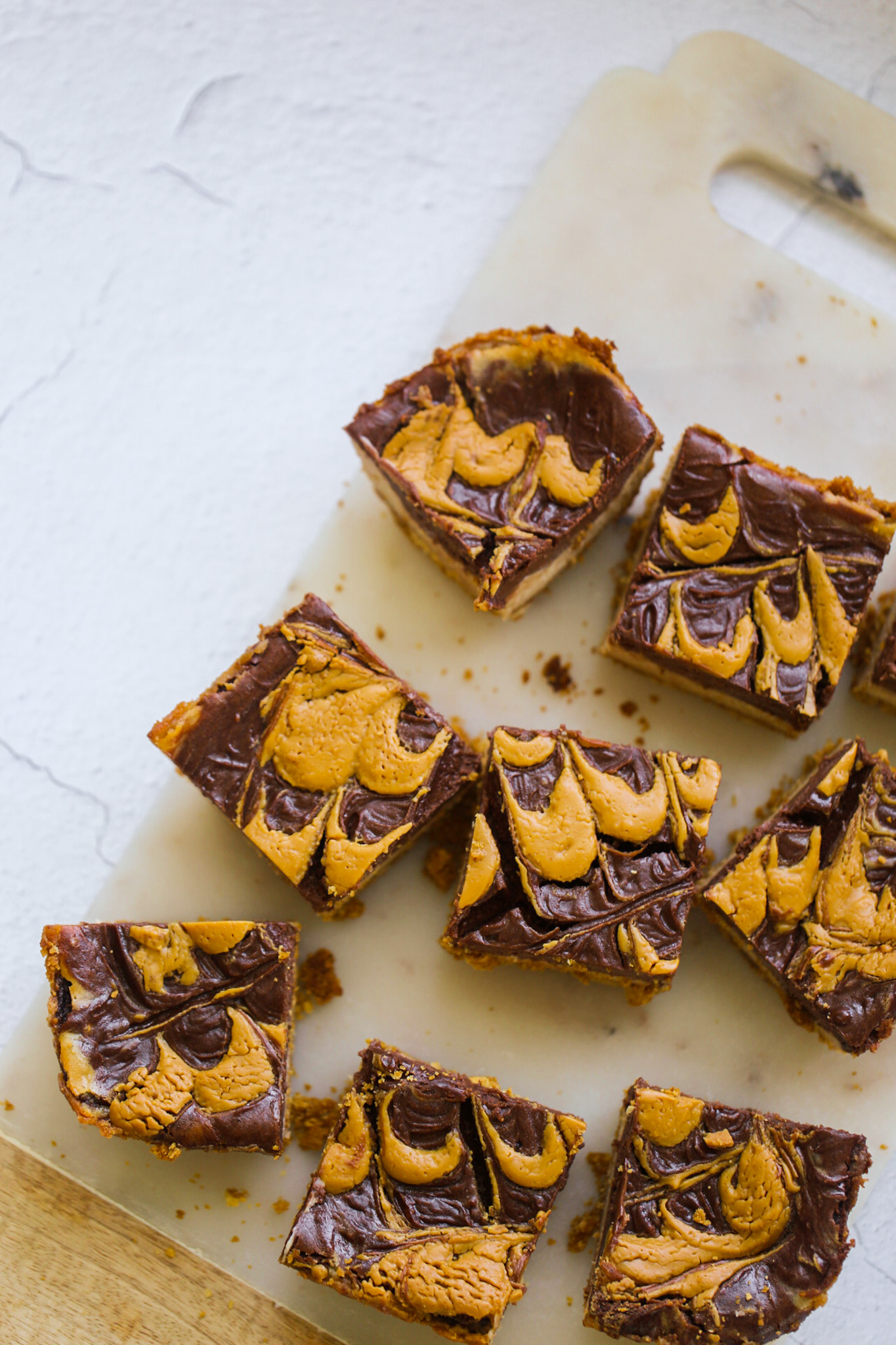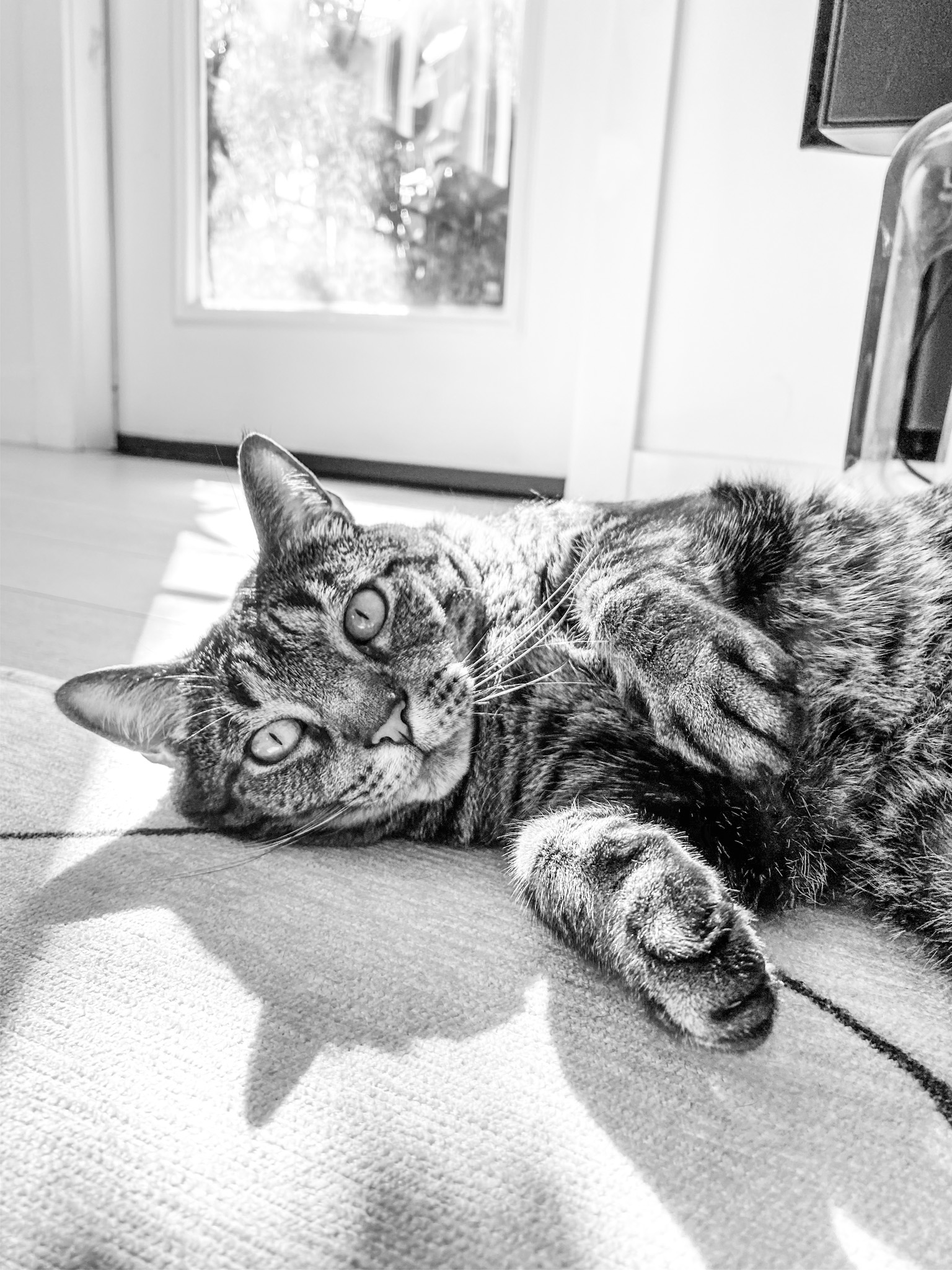 Cats
Cat update. Well, not really an update, more of a confirmation. YES. The cats are absolutely loving quarantine life. I think they are so confused and think that we have decided to become cats too. They are really going to miss us once this is all over. Like, miss us when we go out for an hour or two. I don't think I've ever seen them more playful, relaxed and also kinda cocky! They are like, see, I told you so. This is the best life, right? You're clearly trying to copy us by never leaving the house.
But one positive thing is that we do have more time for sunbeam snuggles and stretches in the morning…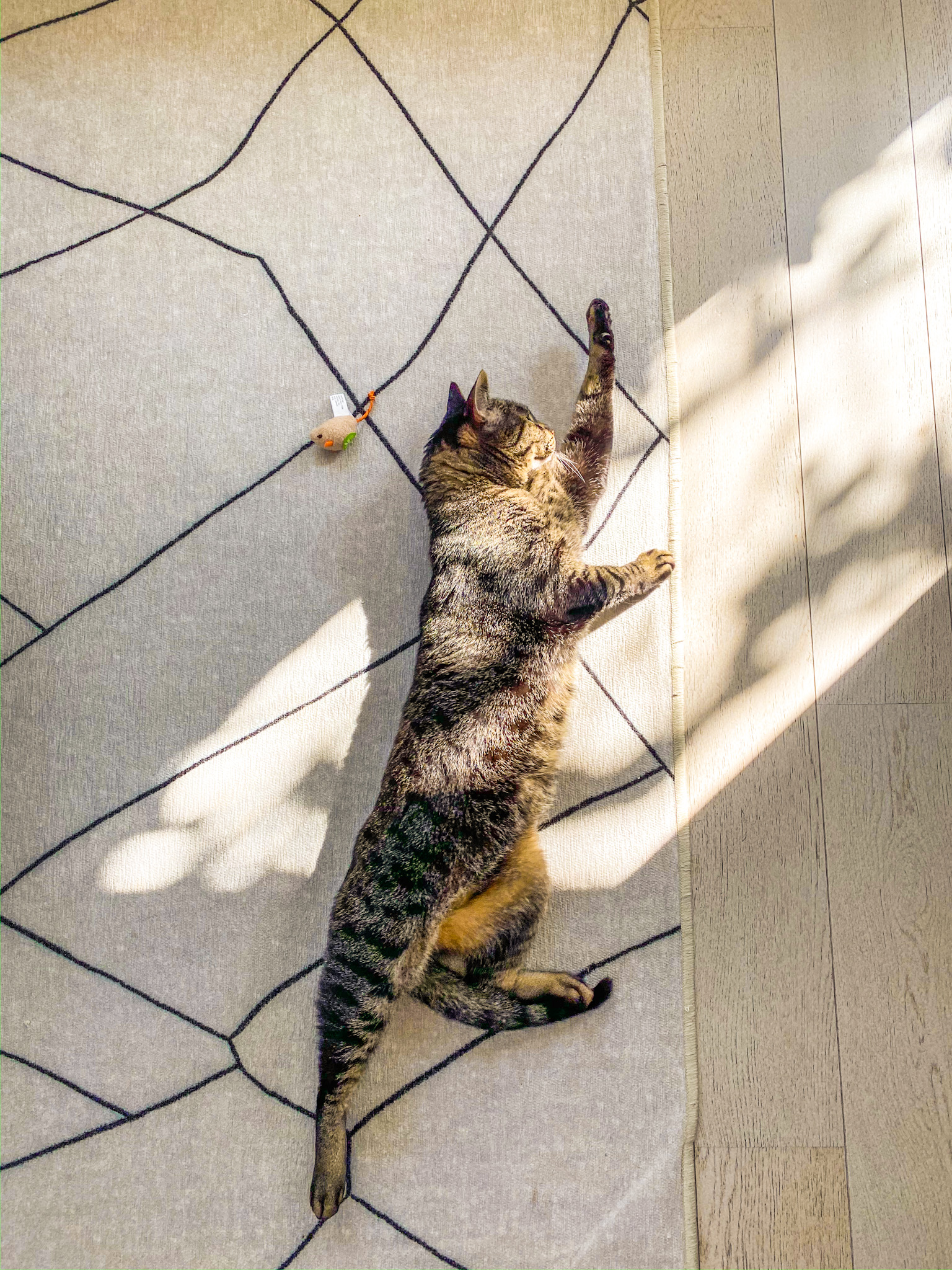 So anyways, hope you are getting by and trying to stay healthy + happy right now. These Chocolate Peanut Butter Cheesecake Bites sure do help with the happy part. Sending you lots of love and the BEST desserts.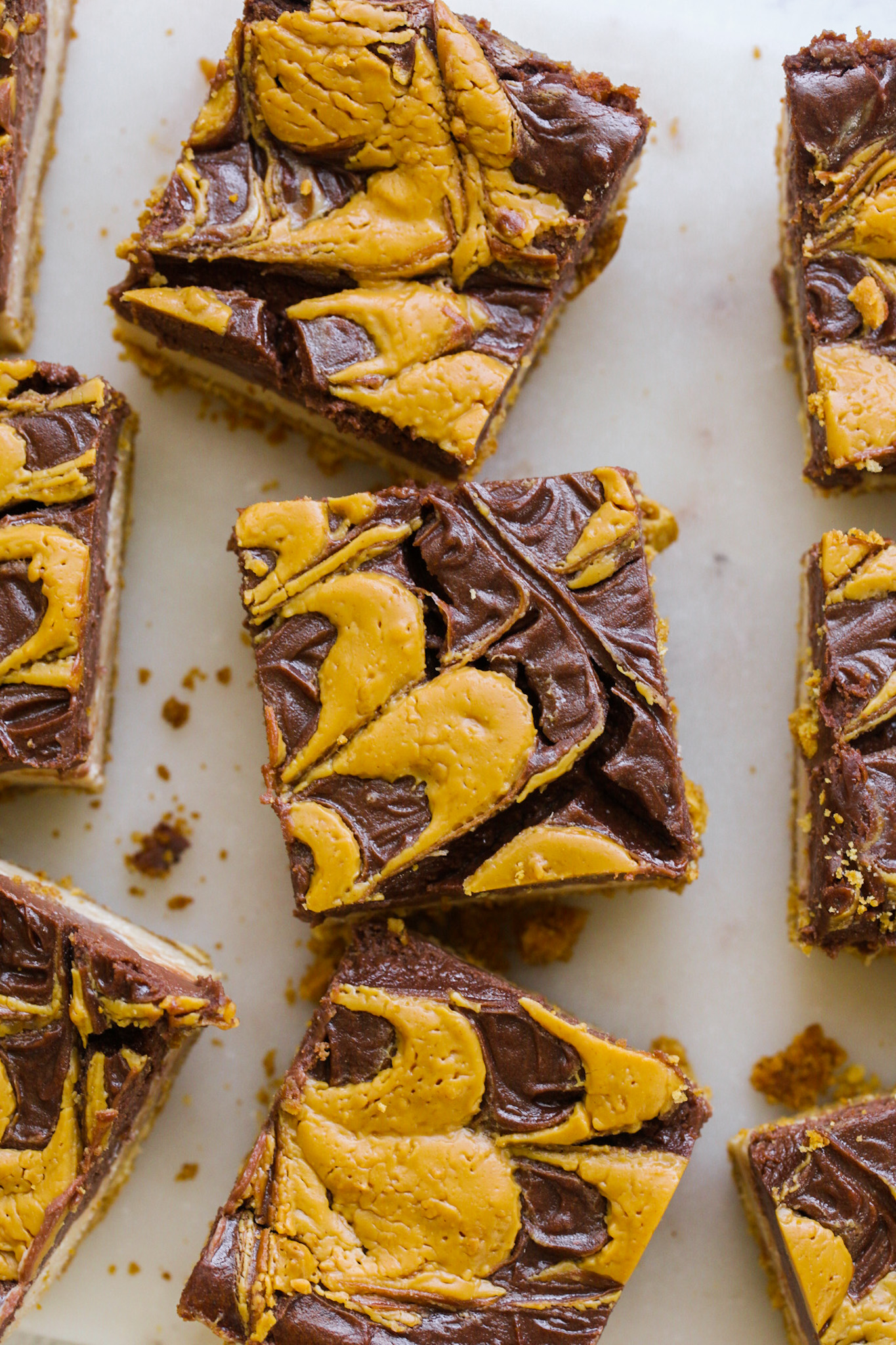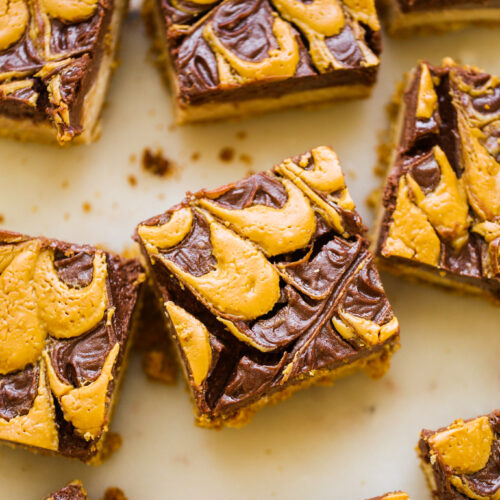 Chocolate Peanut Butter Cheesecake Bites
These vegan, double layered cheesecake squares are super easy to whip up and turn out to be a fancy, decadent, crowd-pleasing treats.
Print
Pin
Ingredients
Crust
1 ½

cups

crushed graham crackers

,

(about 1 package, standard)

5

tablespoon

vegan butter

,

melted

2

tablespoon

maple or agave syrup
Filling
1

cup

silken tofu

,

room temperature

⅔

cup

peanut butter

,

softened

16

oz

vegan cream cheese

,

plain – 2 standard containers

2

teaspoon

vanilla extract

¼

teaspoon

salt

2

tablespoon

all purpose flour

1

cup

sugar

4

tablespoon

cocoa powder

,

unsweetened
Topping
⅓

cup

peanut butter

,

melted
Also
vegan butter for greasing dish
Instructions
Crust
Preheat oven to 375 degrees. Grease a 8 or 9 inche square baking dish with vegan butter.

In a large mixing bowl, combine your graham cracker crumbs, melted butter and agave or maple syrup. toss until combined and grahams become soft. Pour the graham mixture into your baking dish and pat down very well to secure and create a crust.

Bake the crust for 10 minutes at 375 degrees. Remove when finished and set aside. Start on your filling, whil the crust is baking…
Filling
Add the silken tofu and softened peanut butter to a blender. Blend on low until smooth. You basically want to smooth out the tofu here, and the peanut butter is helping you do that. This step is not crucial, but definitely helps for a smooth texture.

In the same large mixing bowl used for the crust (rinse and dry) add the cream cheese, vanilla, salt, sugar and flour. Using a hand mixer, beat for thirty seconds to smooth a bit. Then scoop in the tofu/peanut butter mixture and continue whipping until your filling is nice and smooth and fluffy.

By now, your crust should be just about out of the oven. You can carefully pour about half to two-thirds of the peanut butter cheesecake mixture into the baking dish – over top the crust. Smooth carefully, so as not to disturb the crust.

Next, add the cocoa powder to the remaining cheesecake filling – still left in the mixing bowl. Whip until smooth, using the mixer. Scoop that chocolate layer over top the peanut butter layer and smooth.
Topping
Drizzle your melted peanut butter right over top the chocolate layer and swirl to create a pretty pattern.
Bake
Reduce oven temperature to 325.

Place the cheesecake in the oven and bake at 325 for about 45 minutes. When the cheesecake is done, the edges will be fluffy and start to pull away from the pan, yet the overall texture will still look slightly jiggly. Don't worry, it firms up when cooled.

Chill in the fridge at least four hours before slicing and serving. Overnight works best.
Equipment
blender

square baking dish, 8-9"

hand or stand mixer

large mixing bowl
nutrition estimate | per serving
Calories:
522
kcal
|
Carbohydrates:
47
g
|
Protein:
13
g
|
Fat:
35
g
|
Saturated Fat:
9
g
|
Sodium:
500
mg
|
Potassium:
285
mg
|
Fiber:
6
g
|
Sugar:
32
g
|
Vitamin A:
238
IU
|
Calcium:
64
mg
|
Iron:
2
mg
…PS. Healthier Treat.
So yes, one big square is quite a decadent dessert. But if you want to make it a bit healthier – simply reduce the serving size! These cheesecake bars are packed with good stuff like peanut butter and tofu, so no worries there, but even HALF a square is totally filling. And if you just want the entire square — go for it! I know I will be doing that after dinner tonight!
xoxo ~ K