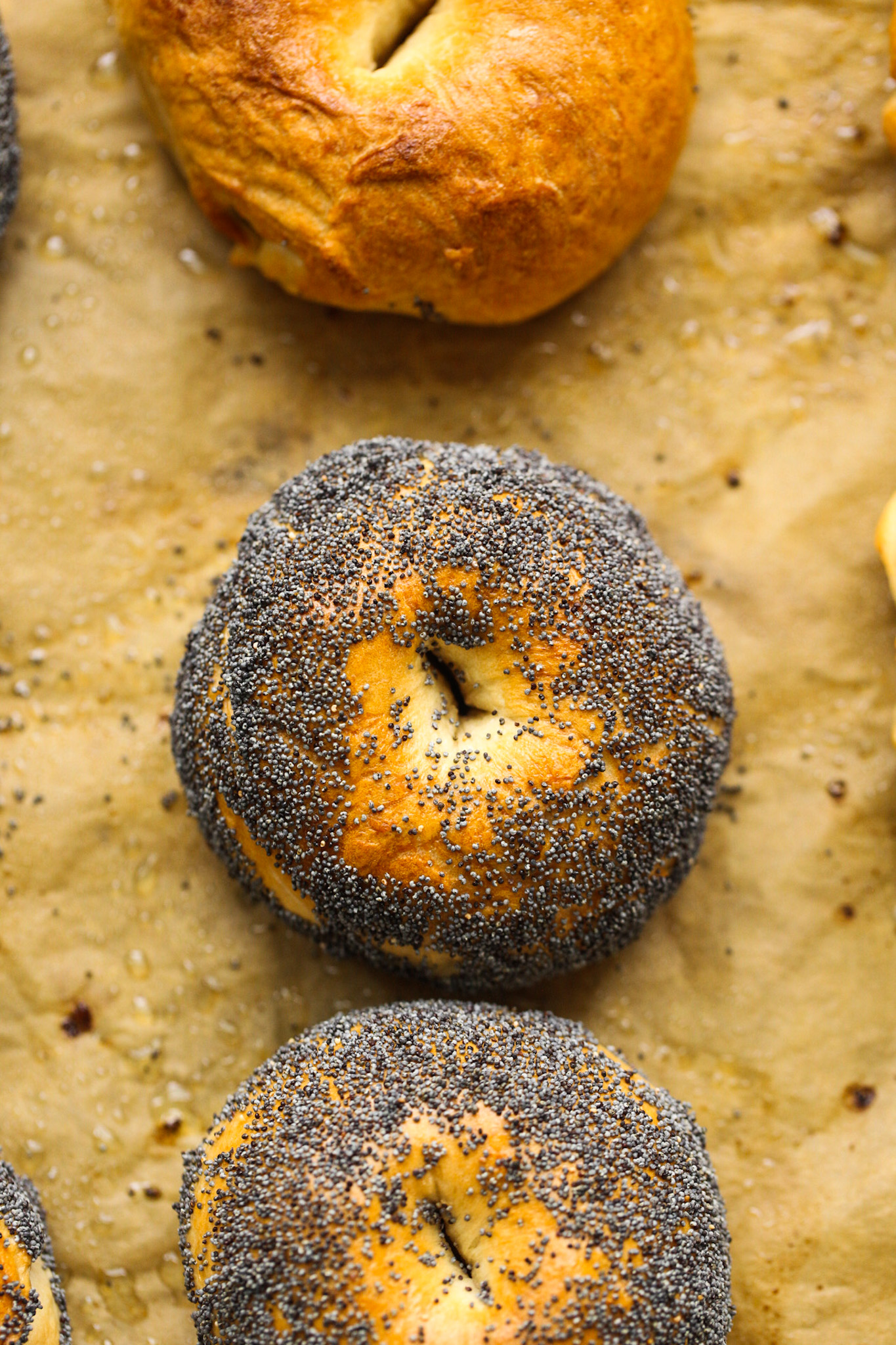 I ventured into making a batch of Homemade Bagels by setting my expectations pretty low. I mean, I am absolutely a bagel snob, having lived in NYC for a good number of years. Some of the best bagels ever can be found there. But I was so excited when this recipe actually turned out beautifully! There are in fact some of the best bagels I have ever eaten.
Chewy and more crispy when toasted on the outside and fluffy and light, spongy, yet dense enough to be a bagel, on the inside. If you are a bagel lover like me, take a few hours out of your day to try this simple recipe…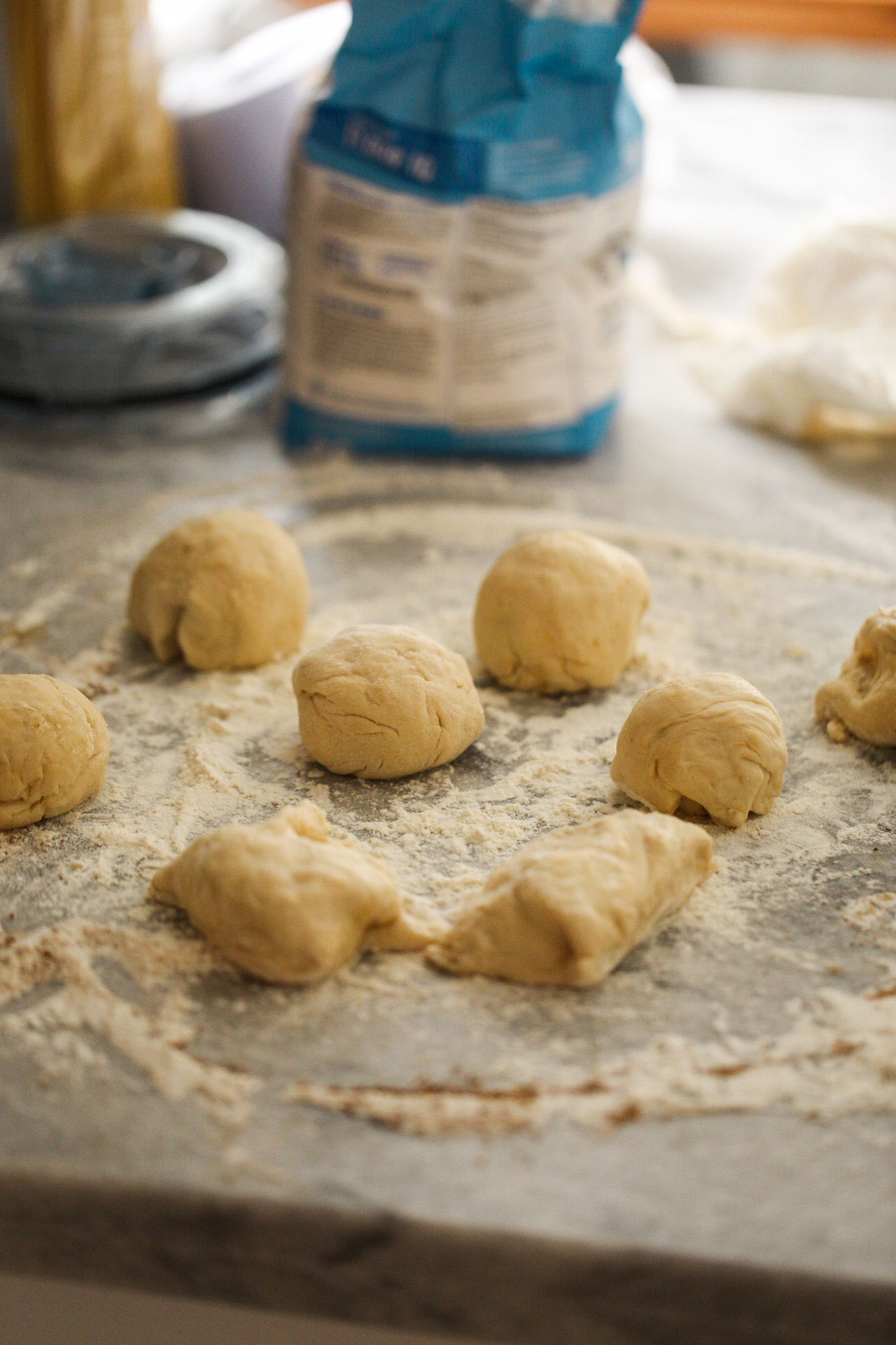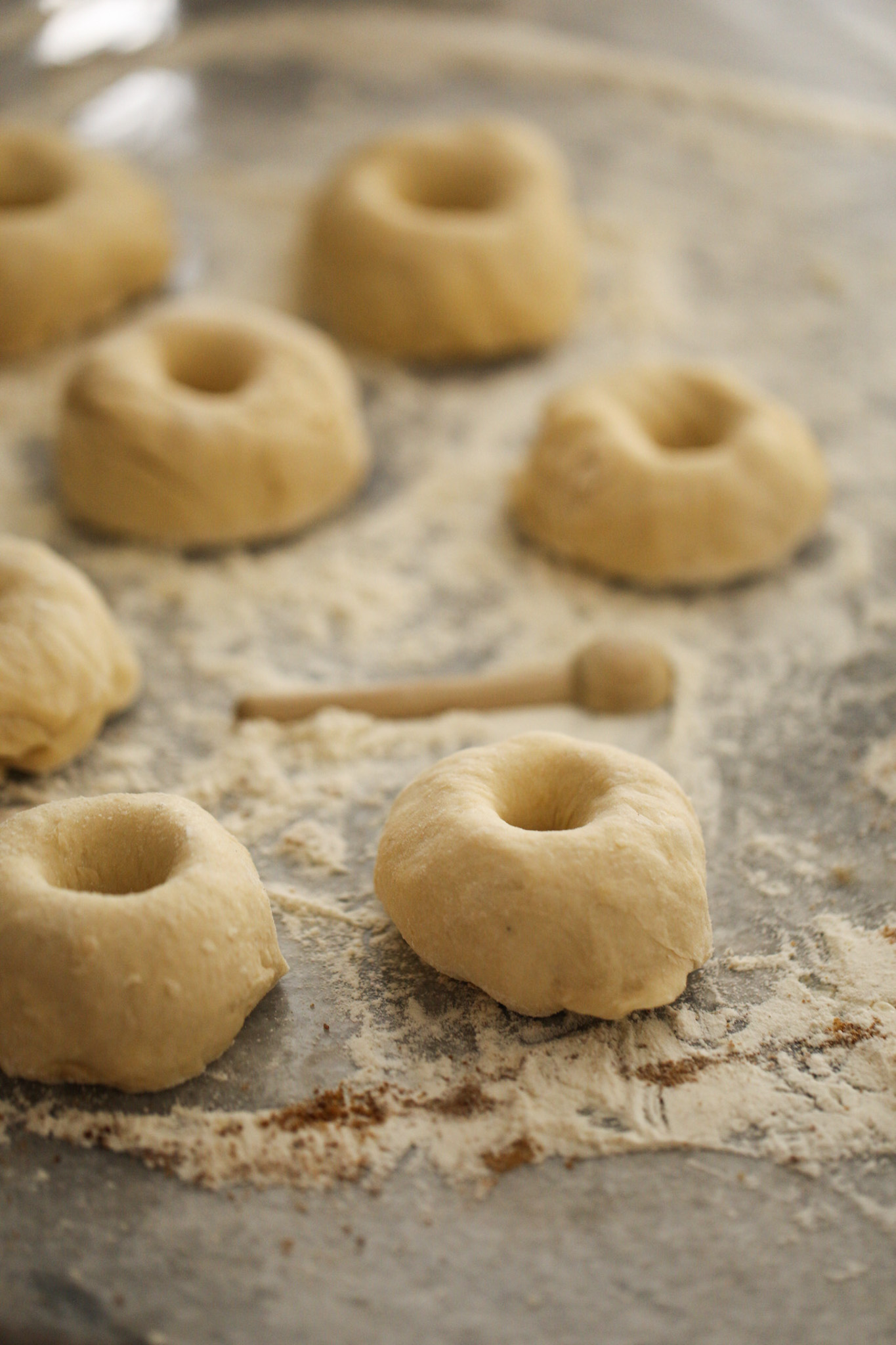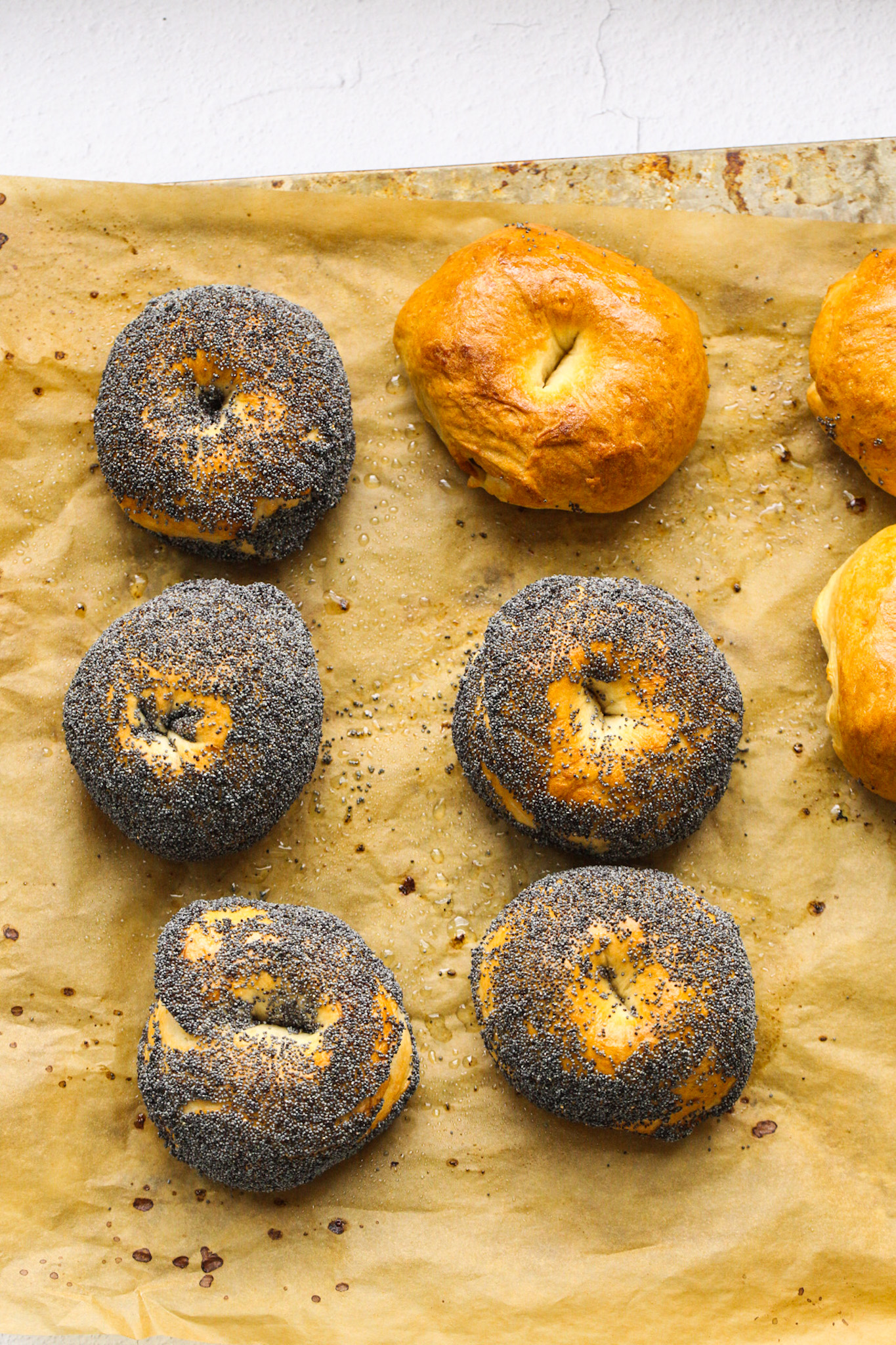 Bagel Basics
The only thing I knew about homemade bagels before starting my recipe experimentation was that they are boiled before baking.
Well, I discovered that the dough part really isn't all the differant than when making pizza dough, or any other sort of homemade bread. The ingredients: simple. The process: quick. (Minus the dough rising of course.)
The results: heavenly.
Nothing tastes better than a good loaf of home-baked bread — or now — homemade bagels.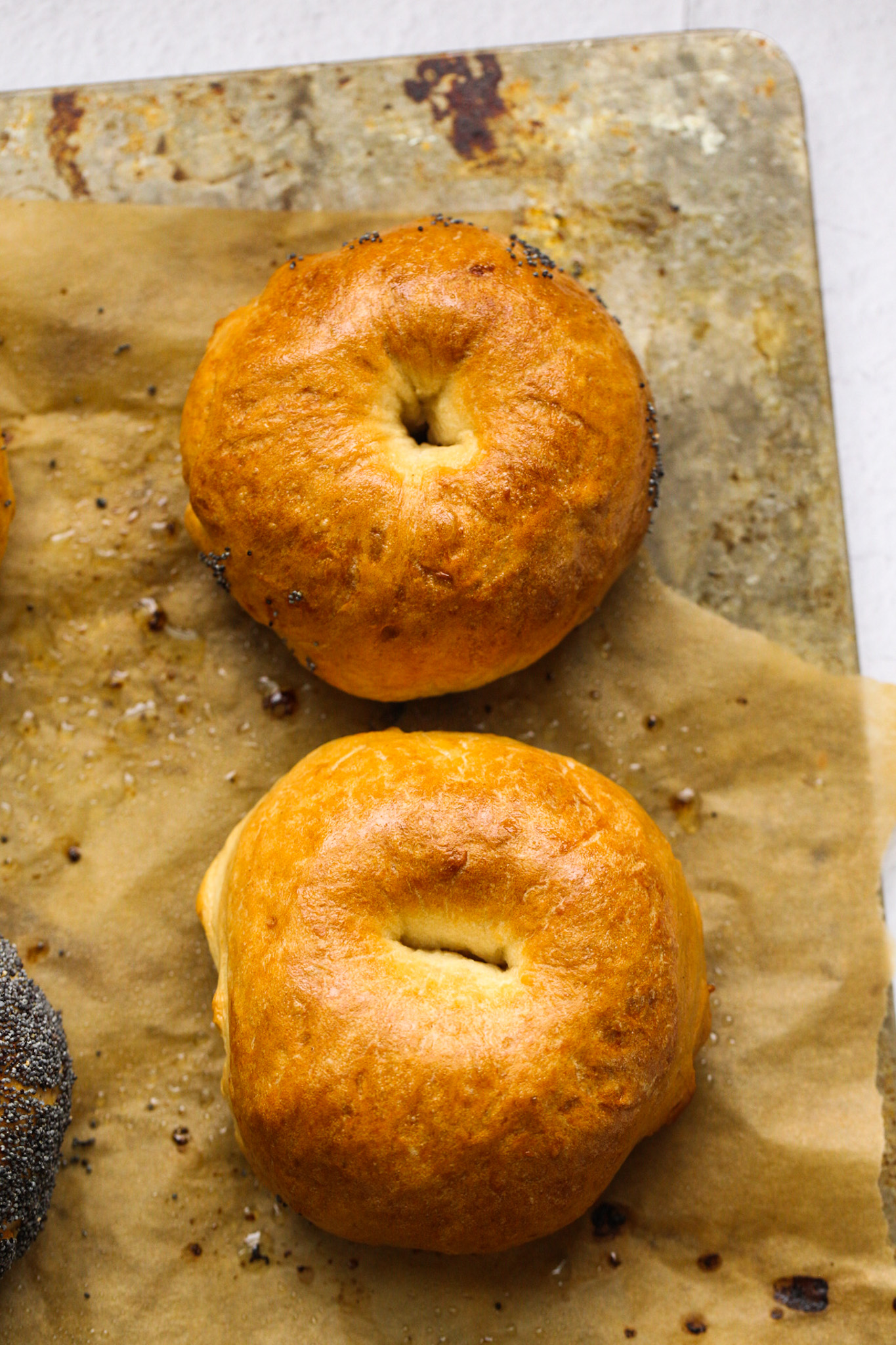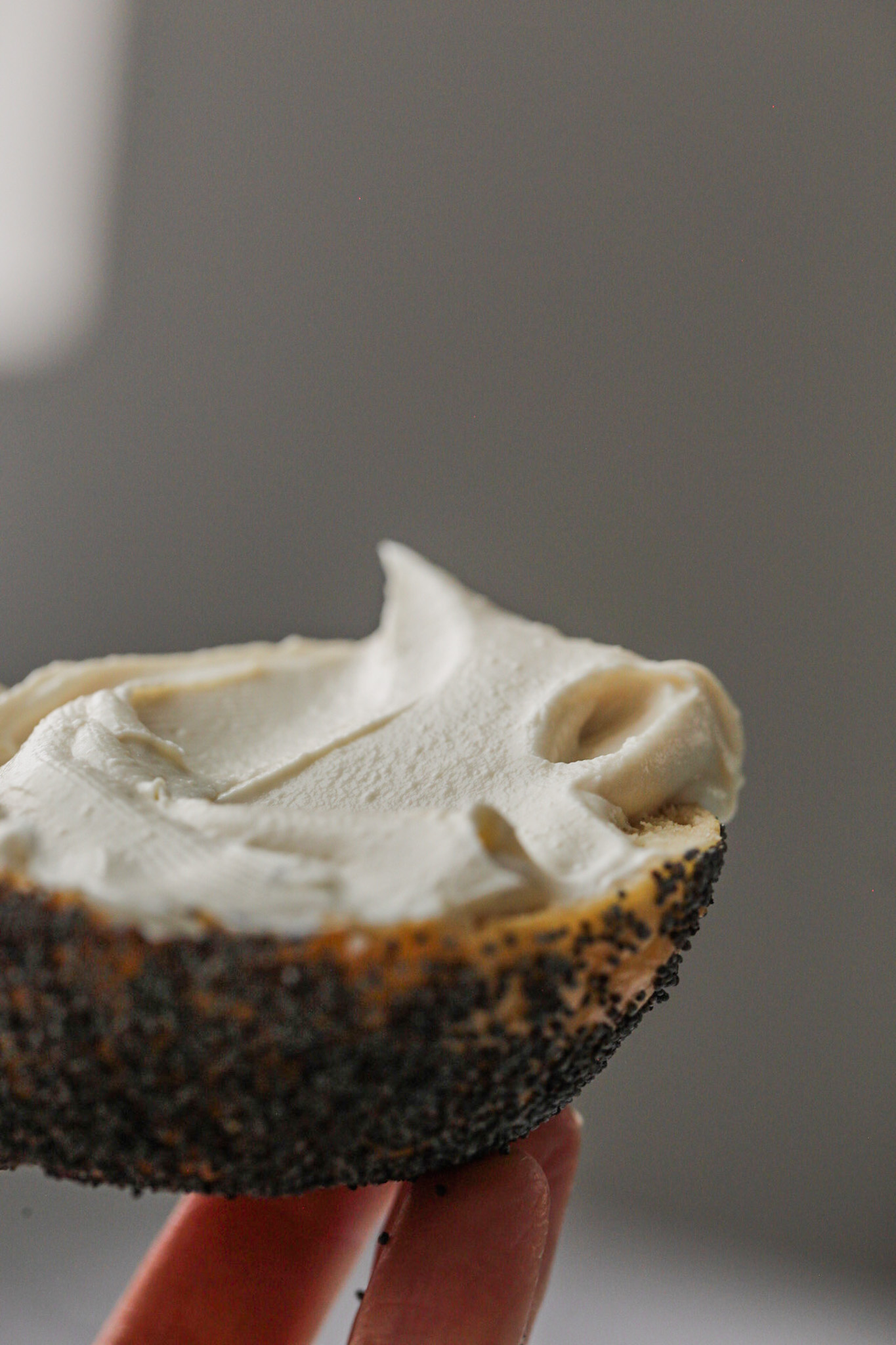 All My Bagel Recipes:
Updated: Batch #2, Sesame + Pumpkin Seed…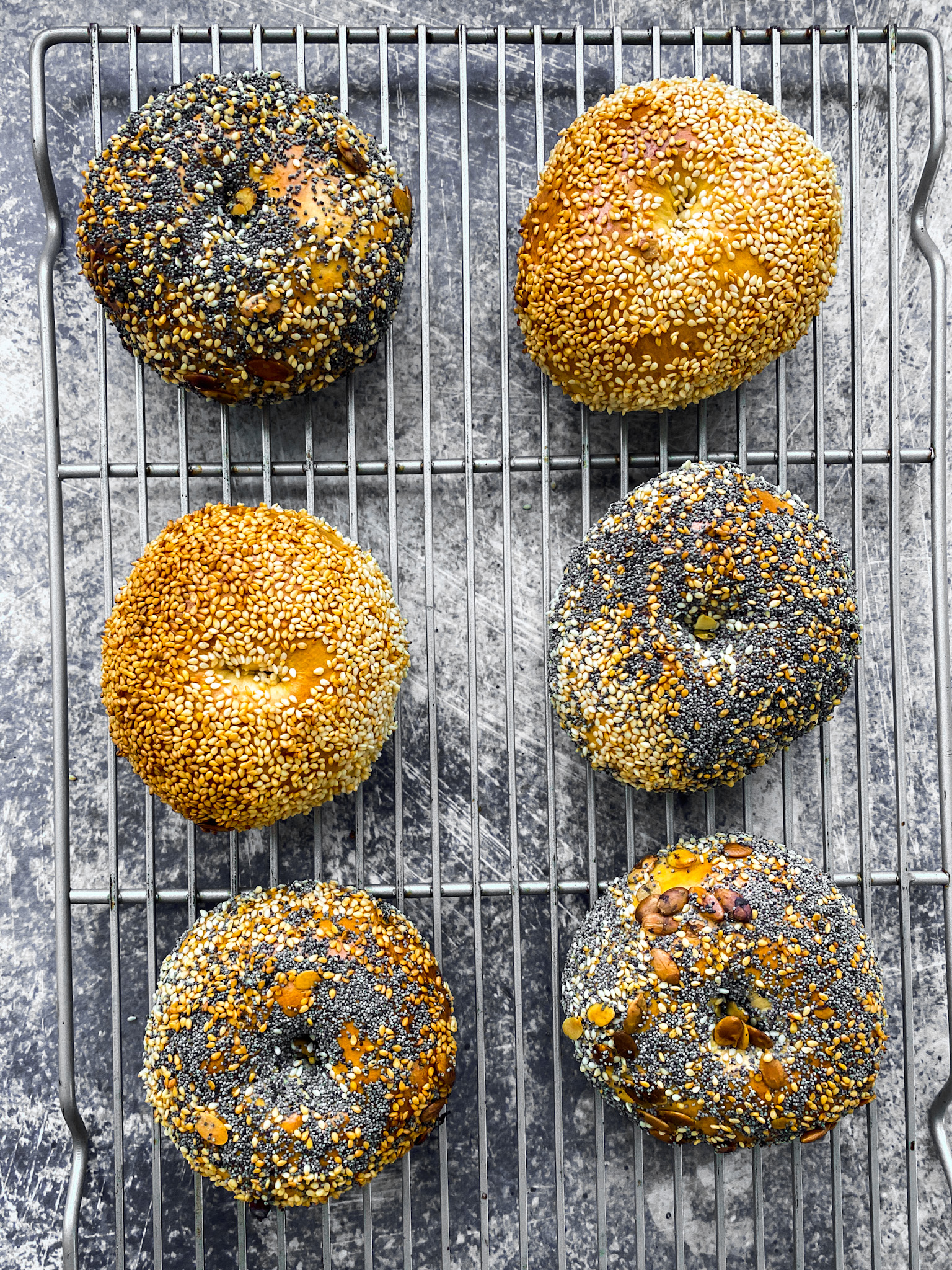 I loved how the sesame seeds turned out! The pumpkin seeds did burn a bit, so I would probably add those midway through baking – if that's even possible… Or skip those. Funny how the smaller seeds held up better in the oven.
Also for batch #2, I didn't add any EVOO spray to the tops of the bagels, which I experimented with in batch #1, I think the EVOO tops adds some extra browning and sheen, but it's totally optional.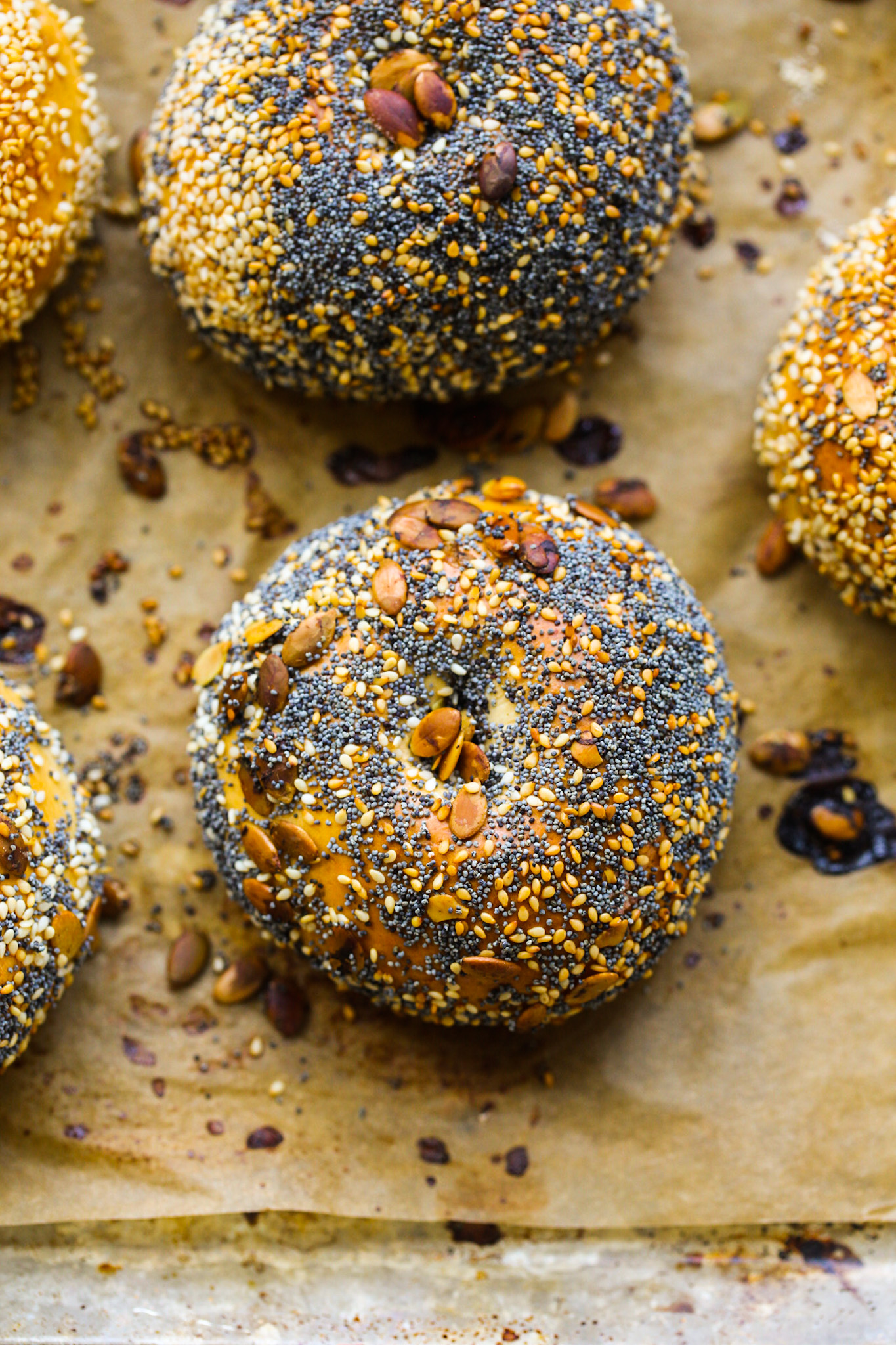 Watch me make them!..
Check out my bagel-making video via IGTV, of me making my second batch.
Recipe Adapted From
I adapted my recipe from Sally of Sally's Baking Addiction blog. Though her blog isn't vegan, she has the prettiest photos and cheeriest recipes. From cakes and cookies to pies and tarts, Sally is the queen of sweet treats. If you've never checked out her blog – hop on over! Oh, and she is also pregnant right now – which I of course immediately bonded with.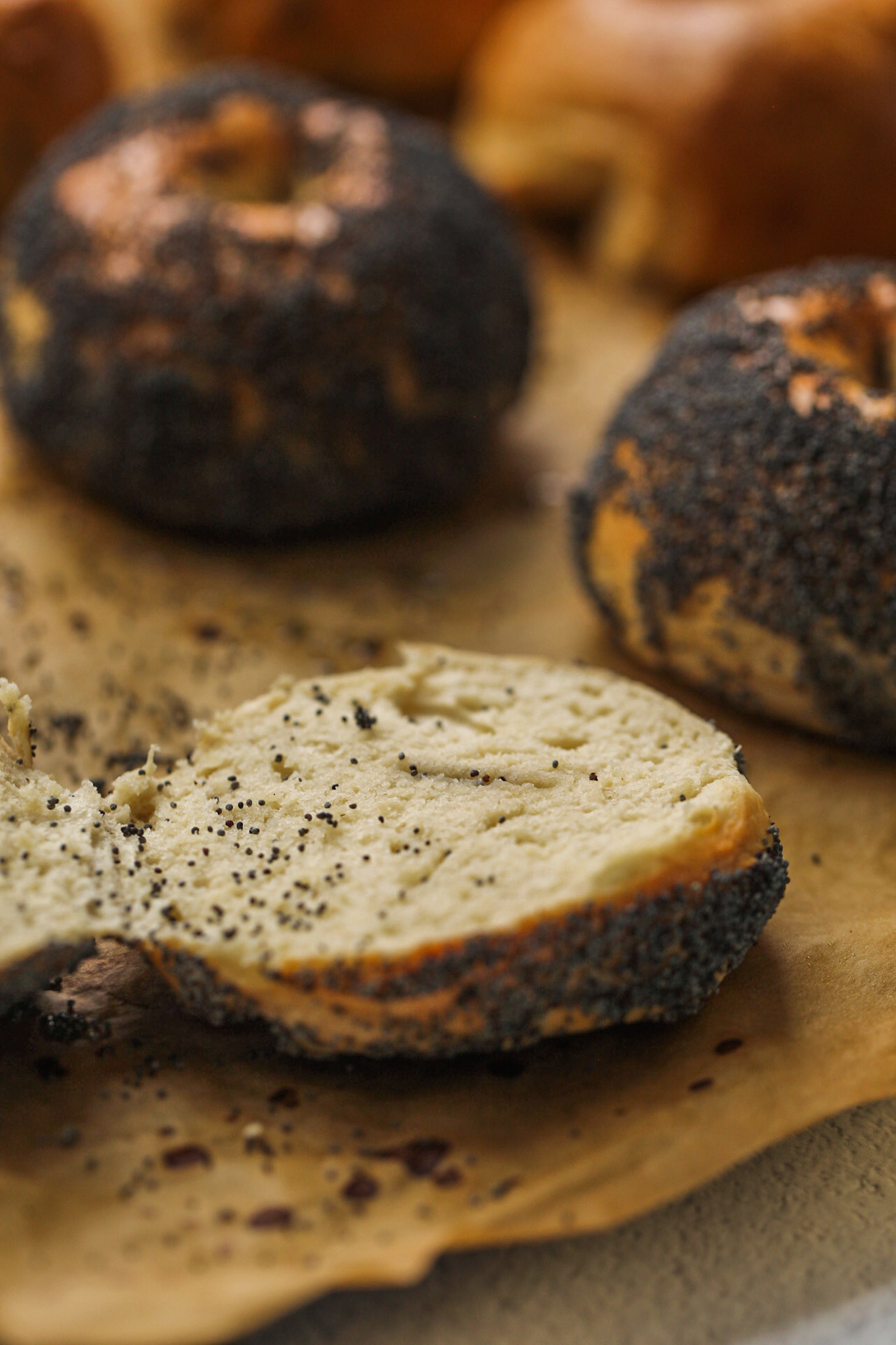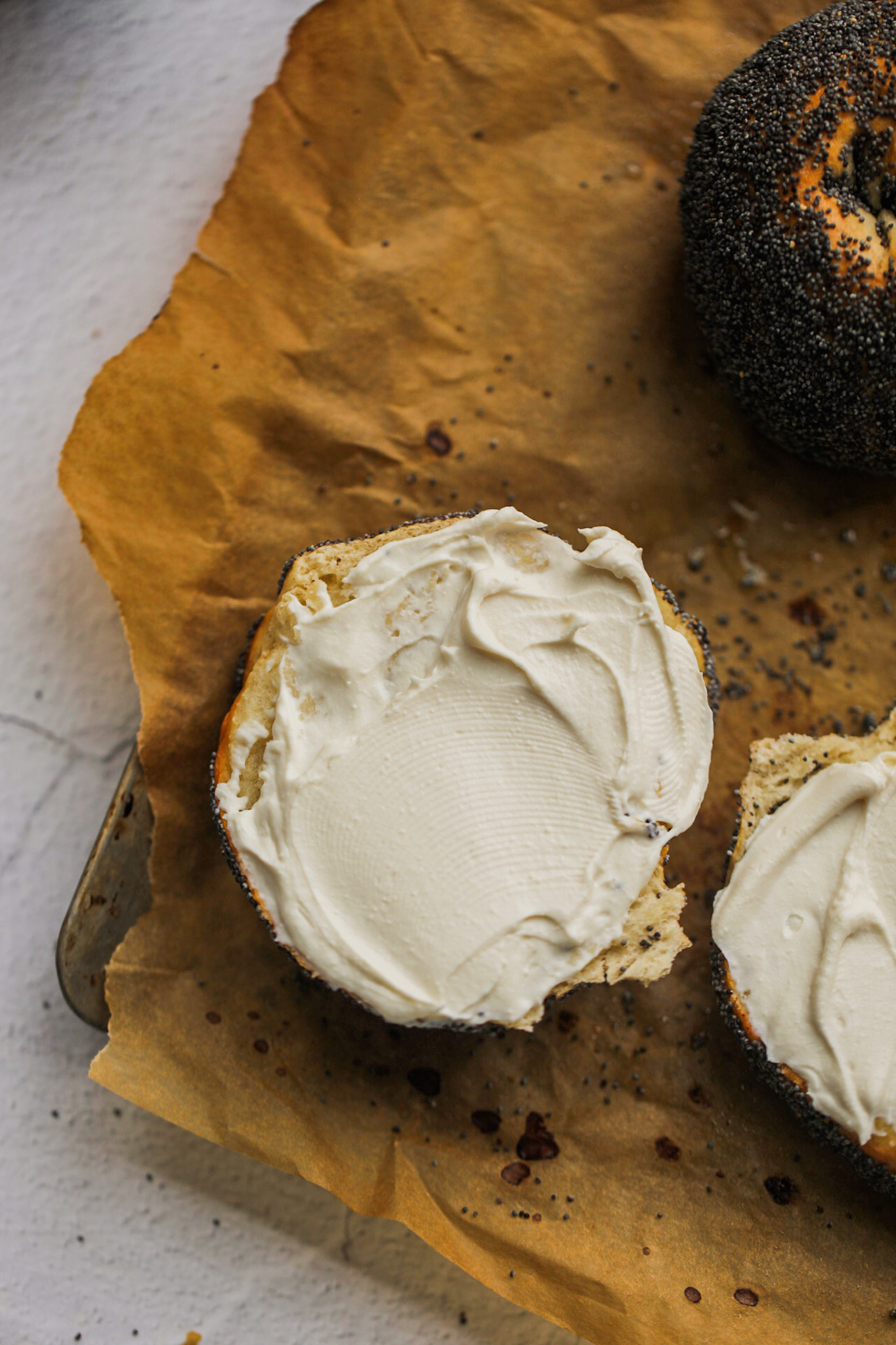 Bagel Toppings + Flavors
I am personally not a huge fan of the plain bagel. Yes, I made a few in my first batch, just for experimentation purposes, but really, I am all about flavors and toppings! So I did poppy seed as well here.
Poppy seeds add a sort of toasted aroma – it reminds me of popcorn in an odd way. Nutty and rich. Loads of texture.
Other topping variations you could try:
poppy seeds
sesame seeds
coarse grain salt
fennel seeds
sunflower seeds
pumpkin seeds
Flavor variations I am hoping to try soon…
cinnamon-raisin
blueberry bagels
cheddar-swirled
roasted garlic
…what else? Any requests, let me know!
When Do I Add the Toppings?
I add the toppings right after the boil, but before baking. This way the 'wetness' from the boil allows the toppings to stick very well.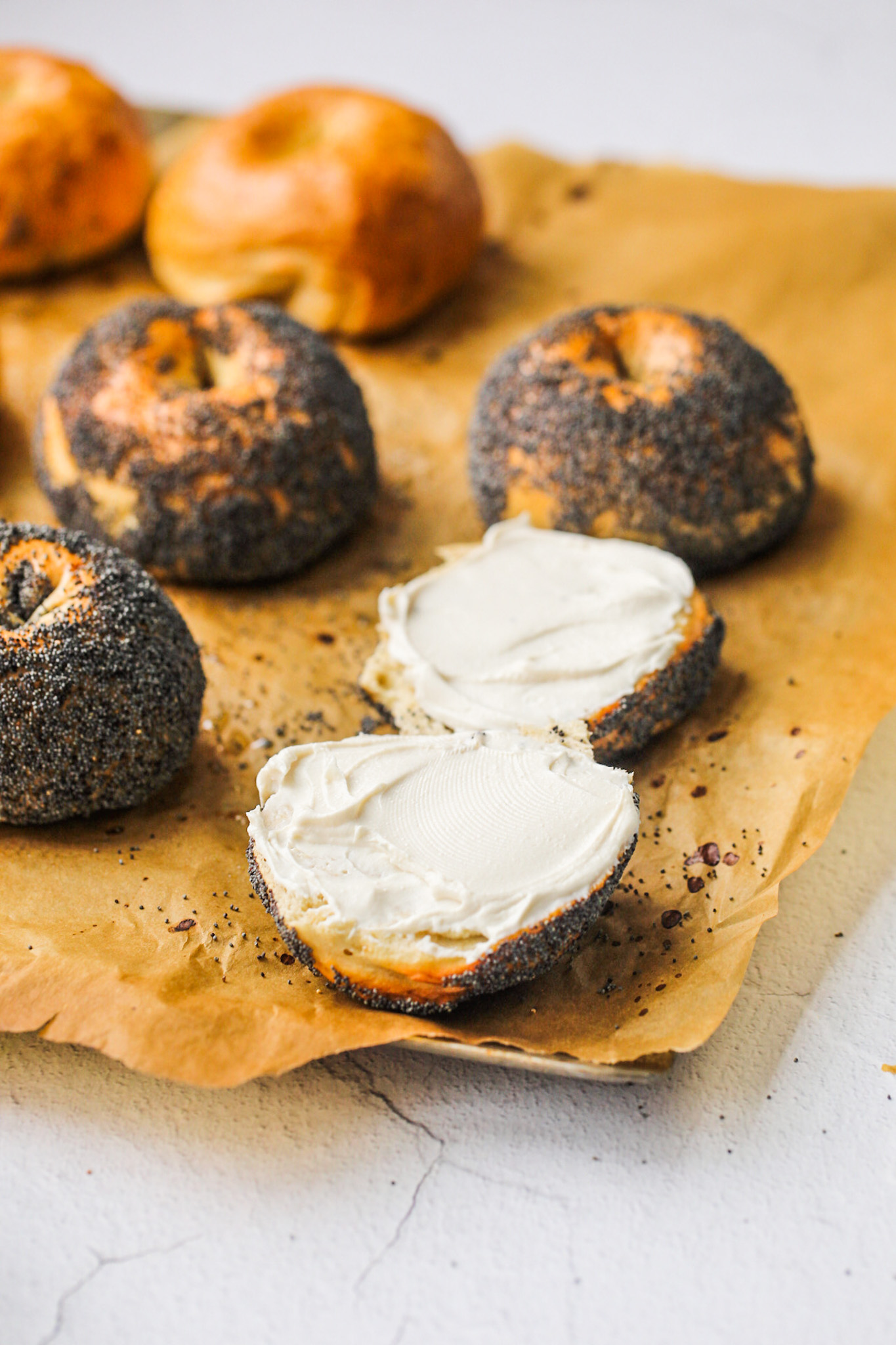 Do I Need Egg Wash?
Many homemade bagel recipes call for an egg wash on top before baking. Obviously, these being vegan bagels, I didn't do that. I sprayed some EVOO on a few of the bagels and didn't notice a huge difference – so that is totally optional too. Really, I think an egg wash is more for some sheen – glossiness.
What Type of Flour to Use?
Bread flour! This is a must. Bread flour is higher in protein than say a pastry or even an all purpose flour – increased gluten. And as vegans know from vital wheat gluten/seitan – gluten is extremely rich in protein!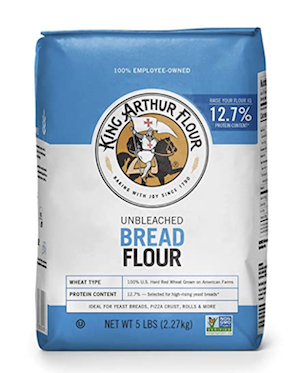 ..It has a 12.7% protein content. It's unbleached – which is also a must for me. Bob's Red Mill also has an Artisan Bread Flour – which I used in my pizza dough recipe...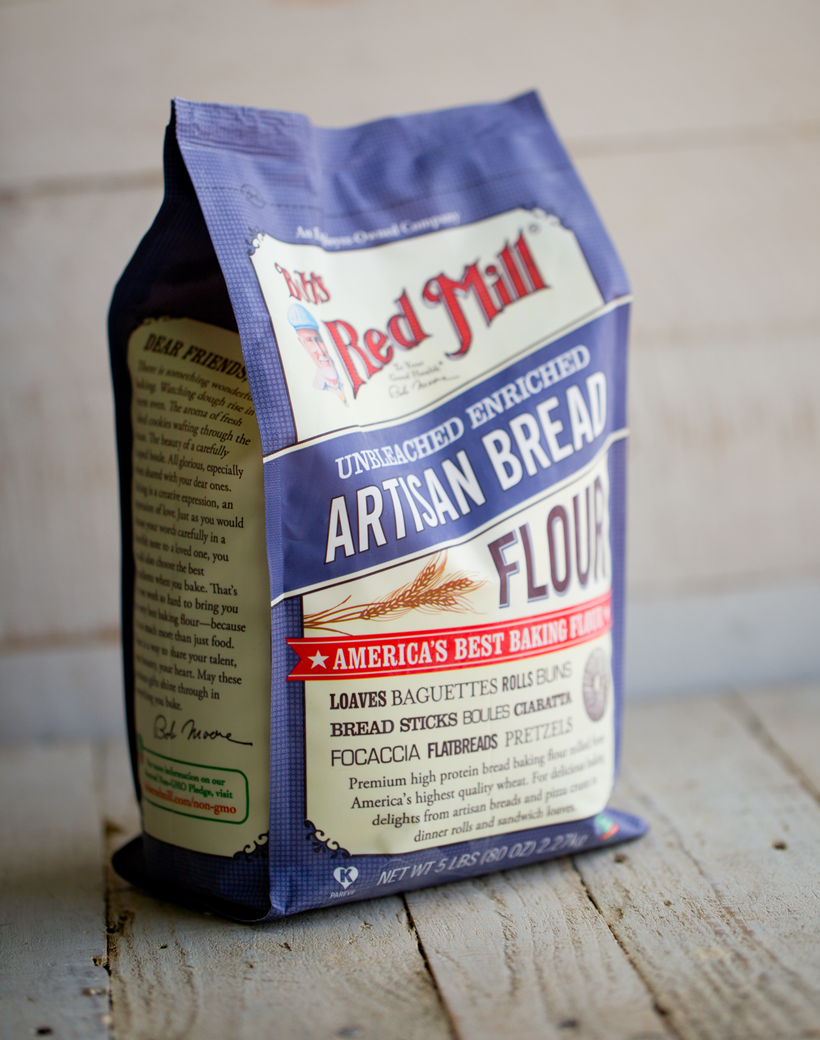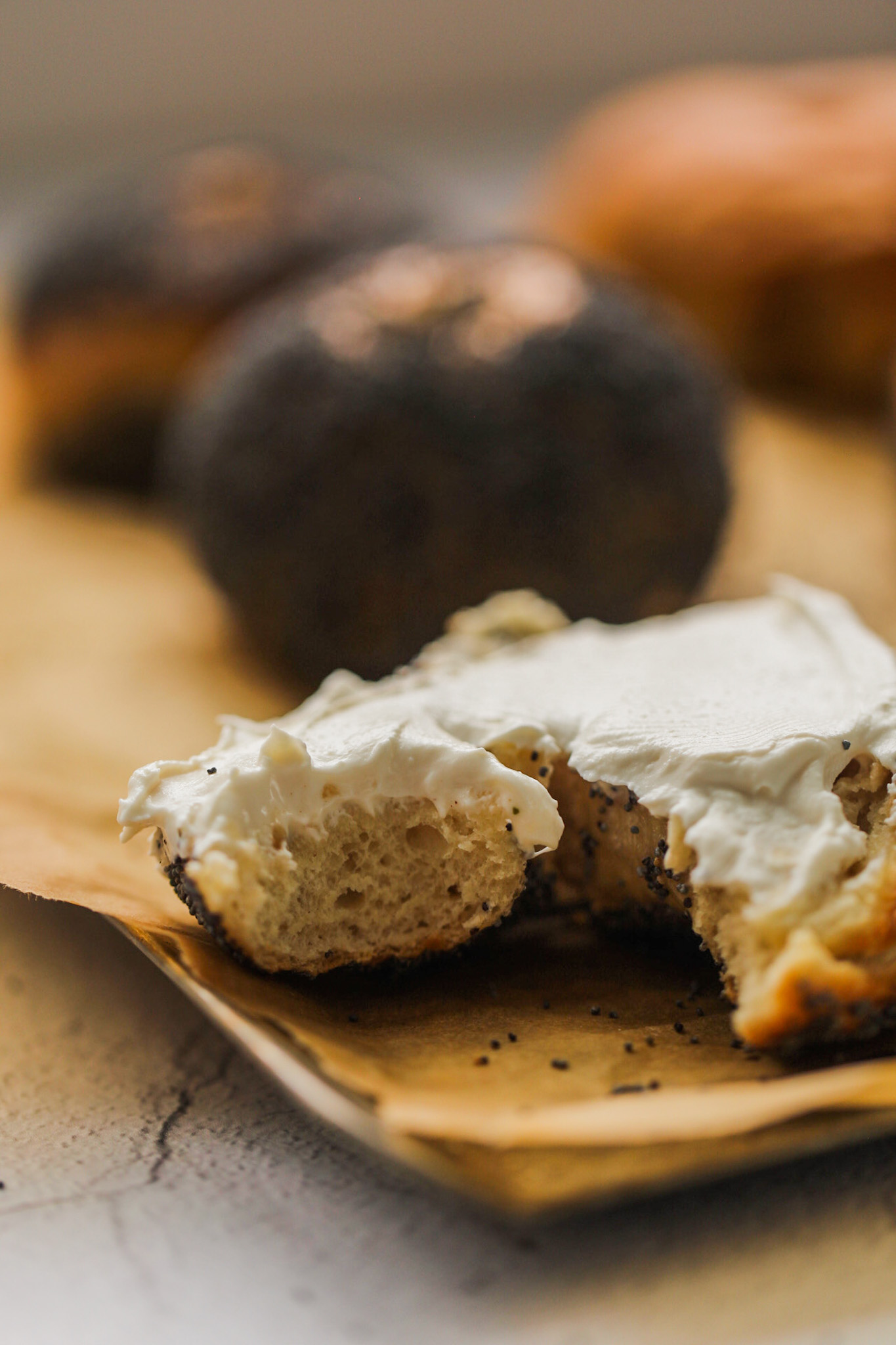 What DIY Cream Cheese Options?
I am a Kite Hill super fan, yes. But you can DIY a few options too!…
This totally spreadable cashew cream cheese spread would be a great option. My creamy Pub Cheese is a cheddar-flavored fave. Or even this garlicky cheese ball is pretty spreadable. Or try blueberry cream cheese!
What Type of Yeast?
Nothing fancy. For my homemade bagels, I used the basic yeast packets I keep in my pantry. The brand I used this time was Red Star. But there are. afew brands that work. One packet contains about 2 ¼ teaspoon yeast. Some recipes call for 2 ¾ teaspoon yeast, but I found that one packet did the trick.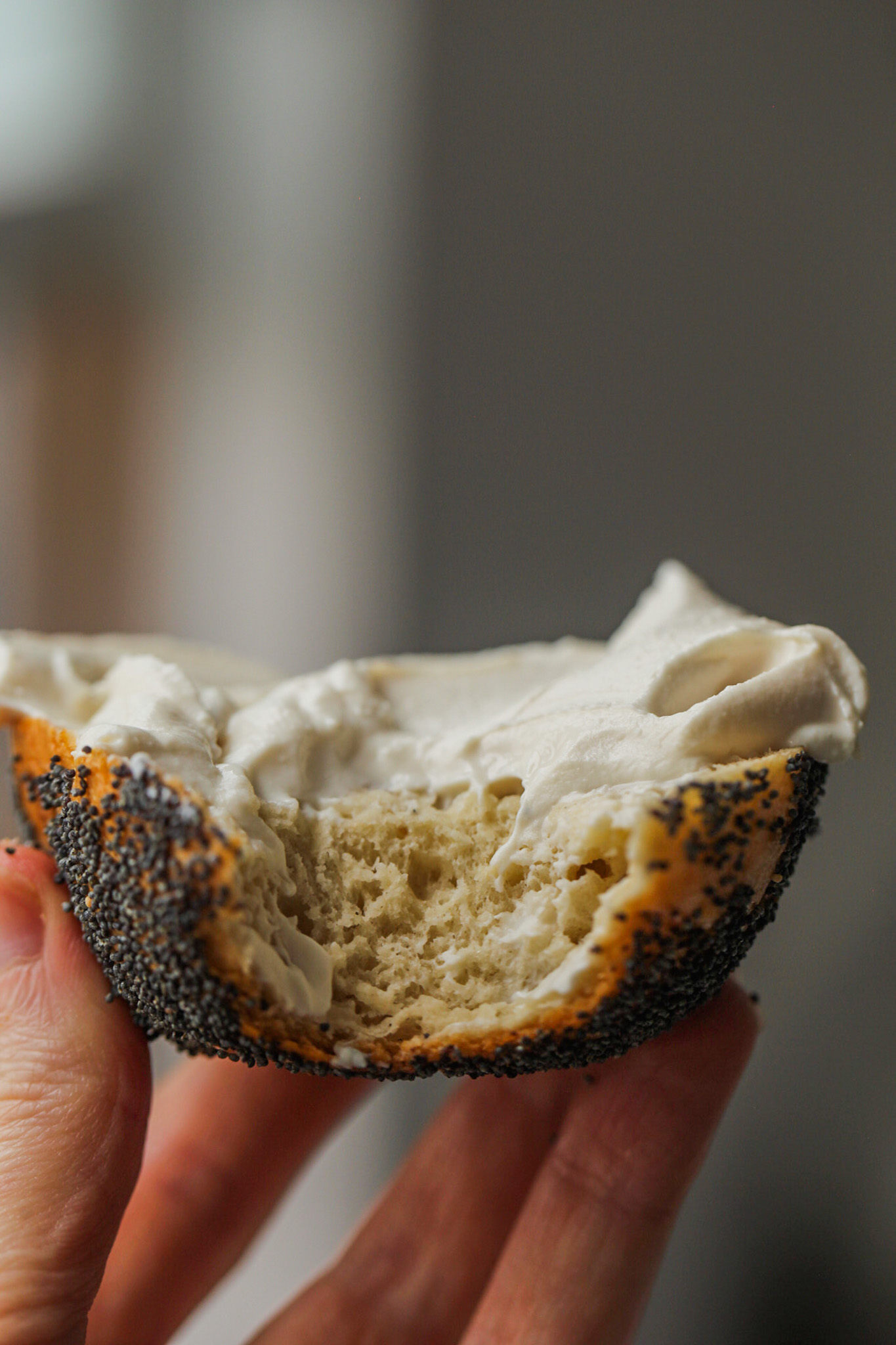 How do I Shape Bagels?
Shaping homemade bagels is easy if you toss out your 'perfectionistic' mindset. These are not going to be perfectly round, perfectly equal in size and shape bagels. Slight variations will occur and that's ok! Homemade bagels need some character.
One thing I will say is that if you plan on slicing and toasting your homemade bagels at some point, you do want to take into account the puffiness/height of your bagels. They will rise in the oven, so just be sure that they are flat and wide — and not just tall and puffy – for toasting purposes.
For the hole in the middle, all you need is your finger! Easy. I do a little swirling of the bagel around my finger to flatten it out a bit. Kinda like you are twirling a large ring on your finger.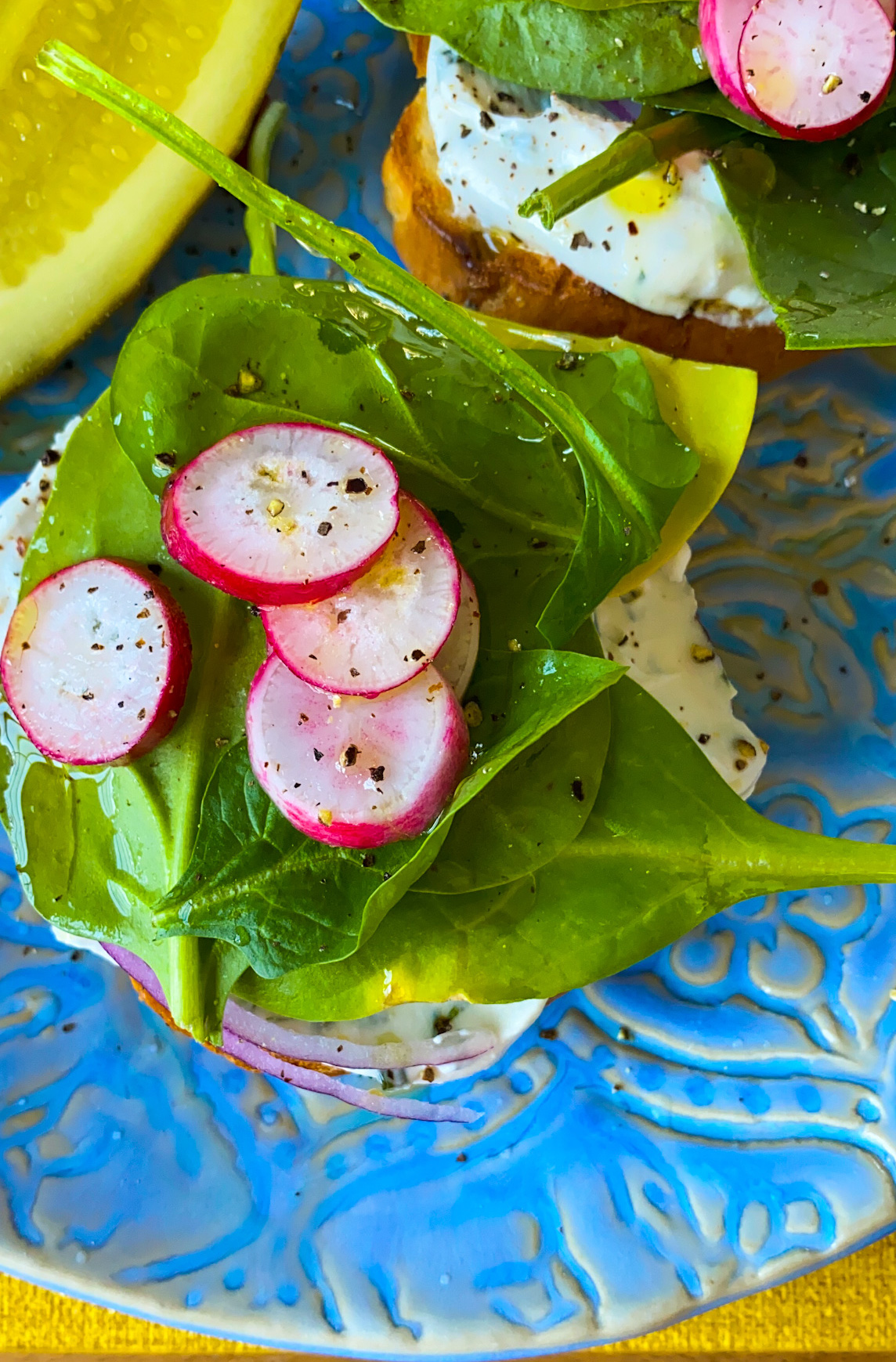 Fave Way to Serve Bagels?
I am a Kite Hill Cream Cheese super fan. It is by far the best vegan cream cheese I have tried – and I have pretty much tried all the brands out there. Some people also like Miyoko's, but I found it a bit too tangy for my taste. Though I love her cashew cheese wheels!
I usually slather on a generous amount of cream cheese then top with a few veg-type things. My faves…
thinly sliced red onion
avocado
romaine
spinach
capers
thinly sliced radish
sprouts
shredded carrots
so many goodies you could try!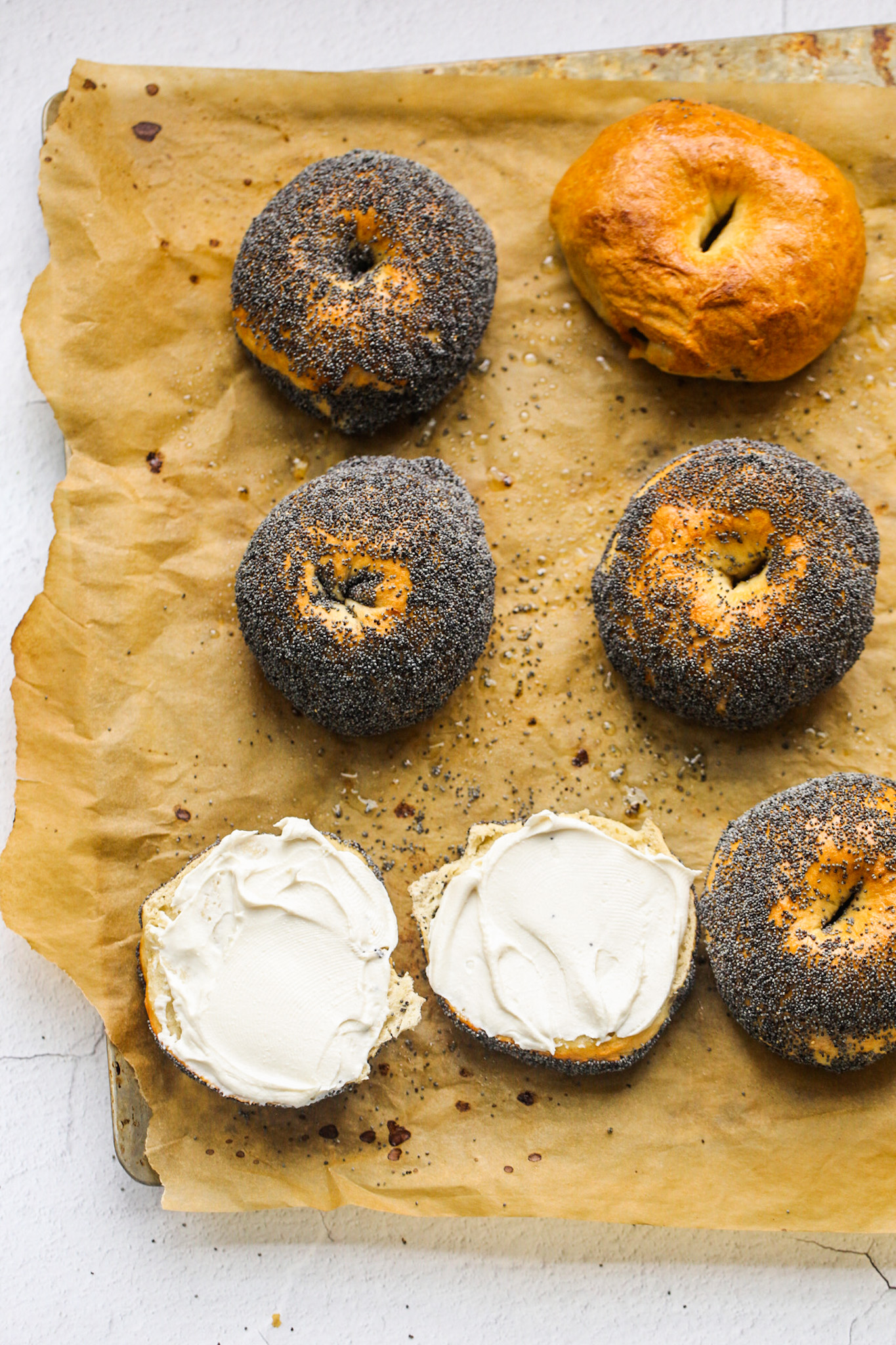 So with that, let's make some bagels!…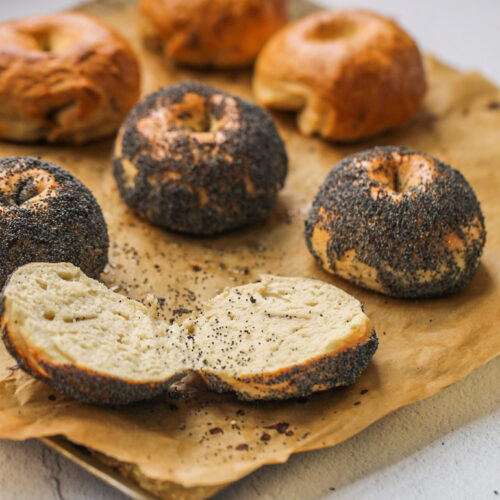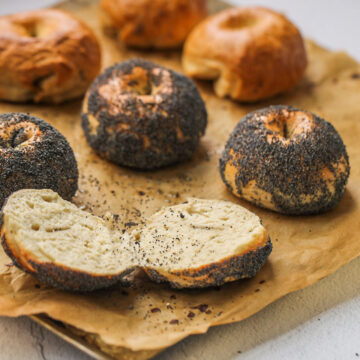 Homemade Bagels
These fluffy, chewy bagels are easy to make and taste absolutely amazing!
Print
Pin
Ingredients
1

tablespoon

yeast

,

Active Dry Yeast

1 ½

cups

warm water

3-4

tablespoon

coconut sugar

,

– or sub barley malt syrup

4

cups

bread flour

,

+ more for flouring work surface

2

teaspoon

salt

+/- 6

cups

boiling water

3-4

tablespoon

barley malt syrup

toppings to taste

,

poppy seeds, sesame seeds, etc
Instructions
Add the yeast, warm water and coconut sugar to a large mixing bowl and stir to dissolve. Cover the bowl with plastic wrap or a lid and let this mixture sit for five minutes.

Uncover yeast bowl and add the salt and flour – adding the flour one cup at a time, stirring to mix. When you have a nice sturdy ball of dough, knead it in the bowl for a few minutes. Ideally, you can turn out the dough onto a floured surface and give it a good kneading by hand for five minutes. (If you have a stand mixer a dough hook works too.)

Grease your same mixing bowl with a bit of oil and plop the dough in the center of the bowl. Cover bowl with plastic wrap or a lid and place in a warm spot in your kitchen for 90-120 minutes to rise.

When dough is done rising, turn out onto a floured surface and give a light kneading to the now fluffier dough ball. Slice the dough into equal pieces – you should get anywhere from 8-10 depending on the size of your bagels.

shape each piece into a round shape as much as possible, then poke a hole through the center using your finger. Shape more if desired. Set aside. Repeat with all the pieces of dough.

Preheat oven to 425 and line a baking sheet with parchment paper.

Bring a large pot of about six cups of water to a bowl. Add the barley malt syrup. Add 2-3 bagels at a time and bowl for 1-2 minutes each. Transfer boiled bagels to a parchment paper-lined baking sheet. Repeat with all the bagels. While bagels are boiling, you can be dipping the already boiled bagels into any toppings you want to use.

Bake bagels at 425 for about 25 minutes or until tops are slightly browned.

Cool for ten minutes before slicing and serving. Store leftovers in the freezer – or can be kept on the counter for up to a day for best flavor and texture. Tip: Slice bagels in half before freezing!
Equipment
baking sheet

large mixing bowl
Notes
barley malt syrup – maple syrup could be subbed
nutrition estimate | per serving
Calories:
247
kcal
|
Carbohydrates:
49
g
|
Protein:
9
g
|
Fat:
1
g
|
Saturated Fat:
1
g
|
Sodium:
590
mg
|
Potassium:
95
mg
|
Fiber:
2
g
|
Sugar:
2
g
|
Calcium:
9
mg
|
Iron:
1
mg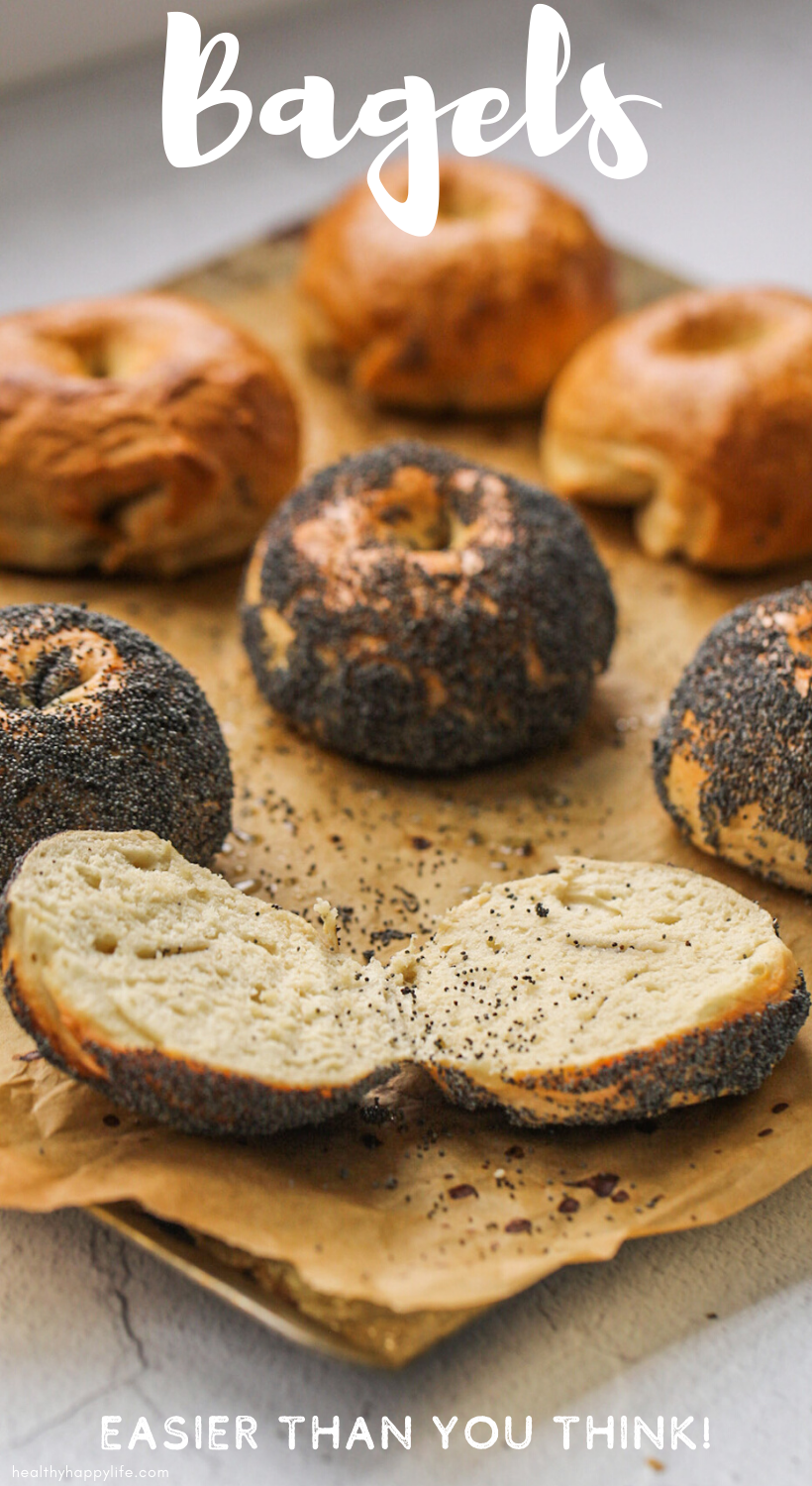 disclosure: this post contains a few Amazon affiliate links, recipe adapted from Sally's Baking Addiction.