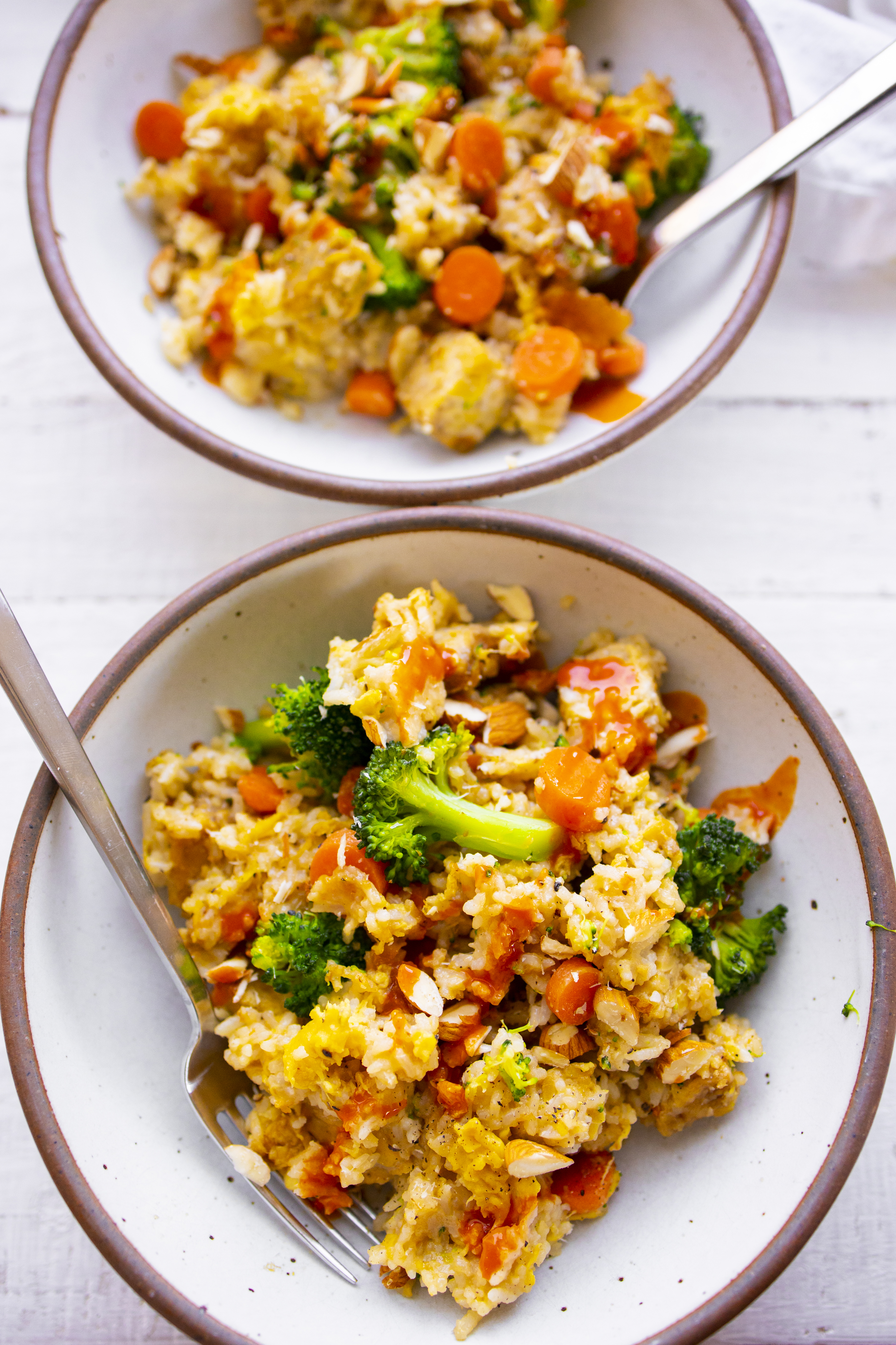 This Vegan Egg Fried Rice is a simple and nourishing one bowl entree. Loaded with veggies, plant-based protein and fiber — and flavor — this bowl is a meal you can whip up in under thirty minutes.
In today's Vegan Egg Fried Rice recipe, I added tender broccoli florets, golden carrots, cubed tempeh, a sweet and savory sauce that marinates all the ingredients, and of course the addition of vegan edd in every bite!
This meal is only very lightly "fried" in a skillet to warm together all the ingredients. You can use a variety of rice styles, leftover or freshly made. You could even use another grain like quinoa or farro!
Grab this recipe for a super nourishing, warming and delicious skillet meal…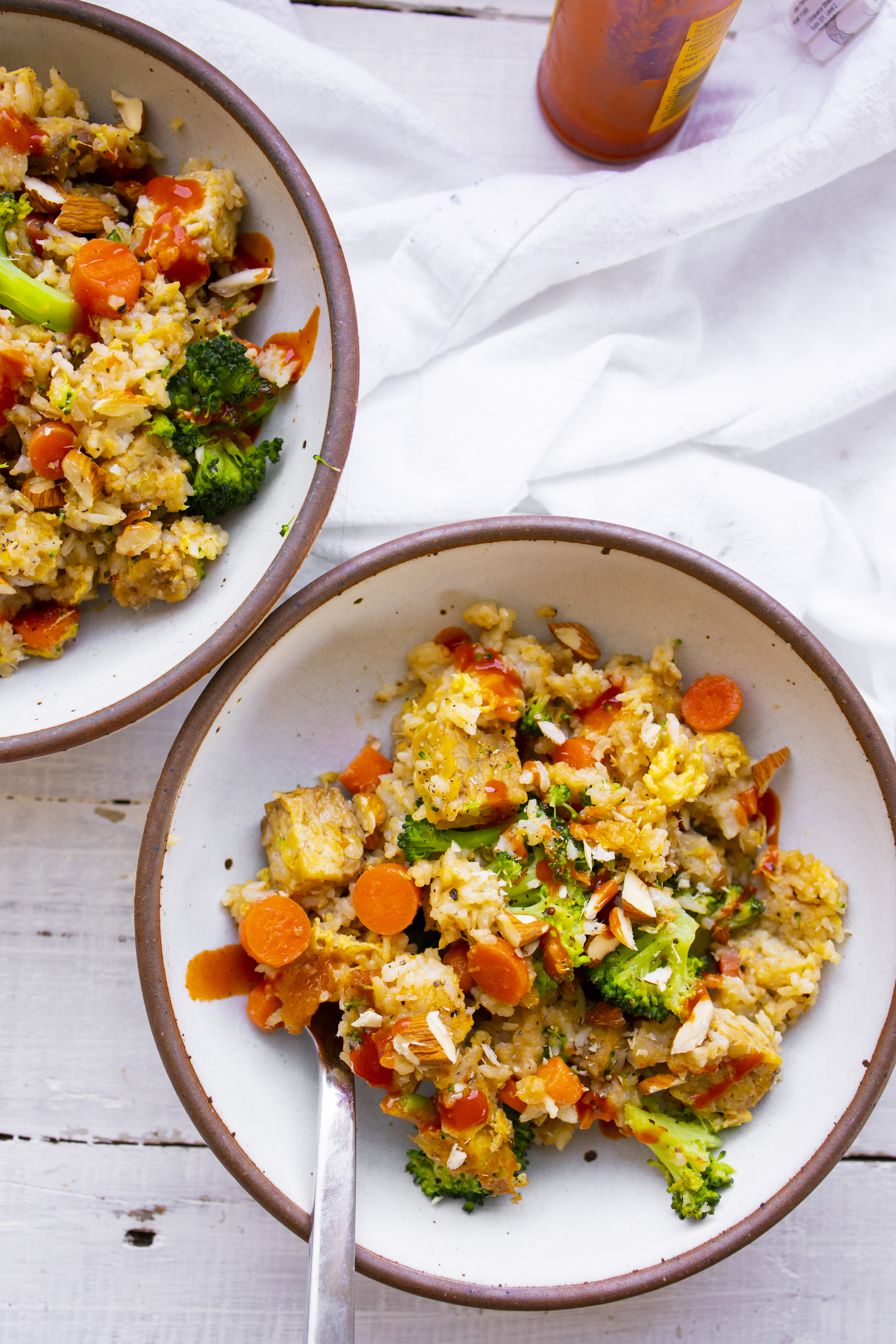 Vegan Egg Options
JUST Egg
For this Vegan Egg Fried Rice I used the JUST Egg liquid. It is super easy to to use, you simply pour it out, and it acts just like a traditional liquid egg mixture. So instead of taking a chicken egg and whisking the yolk and the white, you simply open up the container and out pours a yellow mimxture that looks like whisked egg.
But really, the best part, this egg is cruelty free! It is still rich in protein and has a very authentic eggy flavor.
Tofu
Tofu is an excellent option for a 'vegan egg' in this Vegan Egg Fried Rice recipe. I would advise using a medium or firm tofu so that it holds some of it's eggy texture. The tofu will need some additional seasoning and possibly covering though. You could add nutritional yeast or turmeric for color. For flavor, you can simply add more seasoning as shown in the recipe below, or a simple blend of salt and pepper.
Tofu is a more mainstream option for the egg in this recipe, although, I prefer to use JUST Egg for the flavor and very authentic egg texture and look and flavor.
Beans – Chickpea Flour
You could possibly explore with a different sort of 'egg' by using a mashed chickpea or even a chickpea flour mixture. If you are used to working with chickpea flour, you may enjoy this route! You can find a chickpea omelette recipe here by The Hidden Veggies for reference.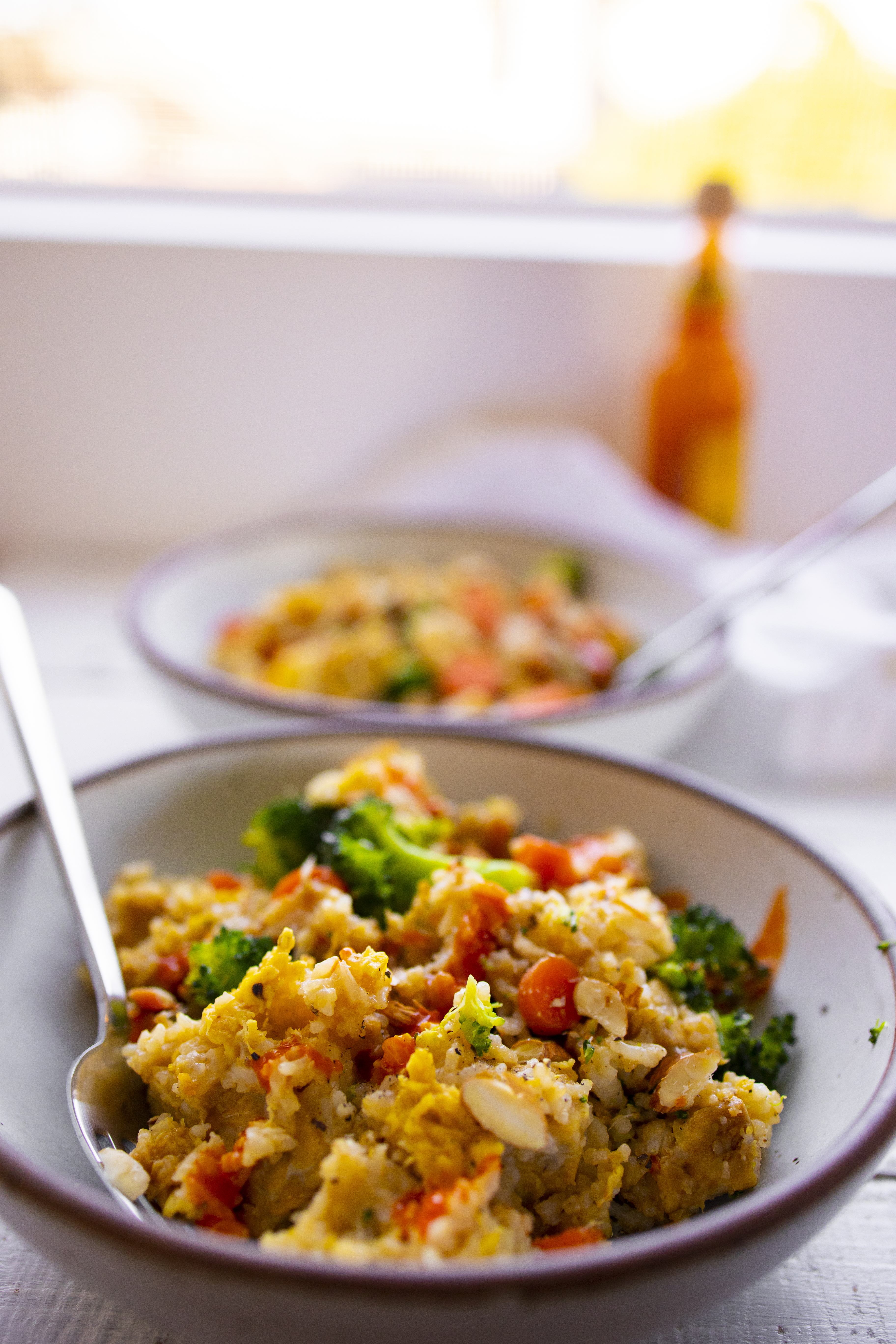 Veggies in Fried Rice
This is the part where you can get creative! You can choose any veggies you have on hand. I just happen to have broccoli and carrots, so that is what I used. I also love the chunky texture of a broccoli floret and a chopped carrot.
Other veggies you could experiment with:
cauliflower
mushrooms
onion
spinach
kale
broccoli
carrots
potato
sweet potato
bell pepper
spring onion
Some other fun ingredients to explore:
pineapple
cashews
herbs like parsley and basil
chilies
olive
pumpkin seeds
chopped apple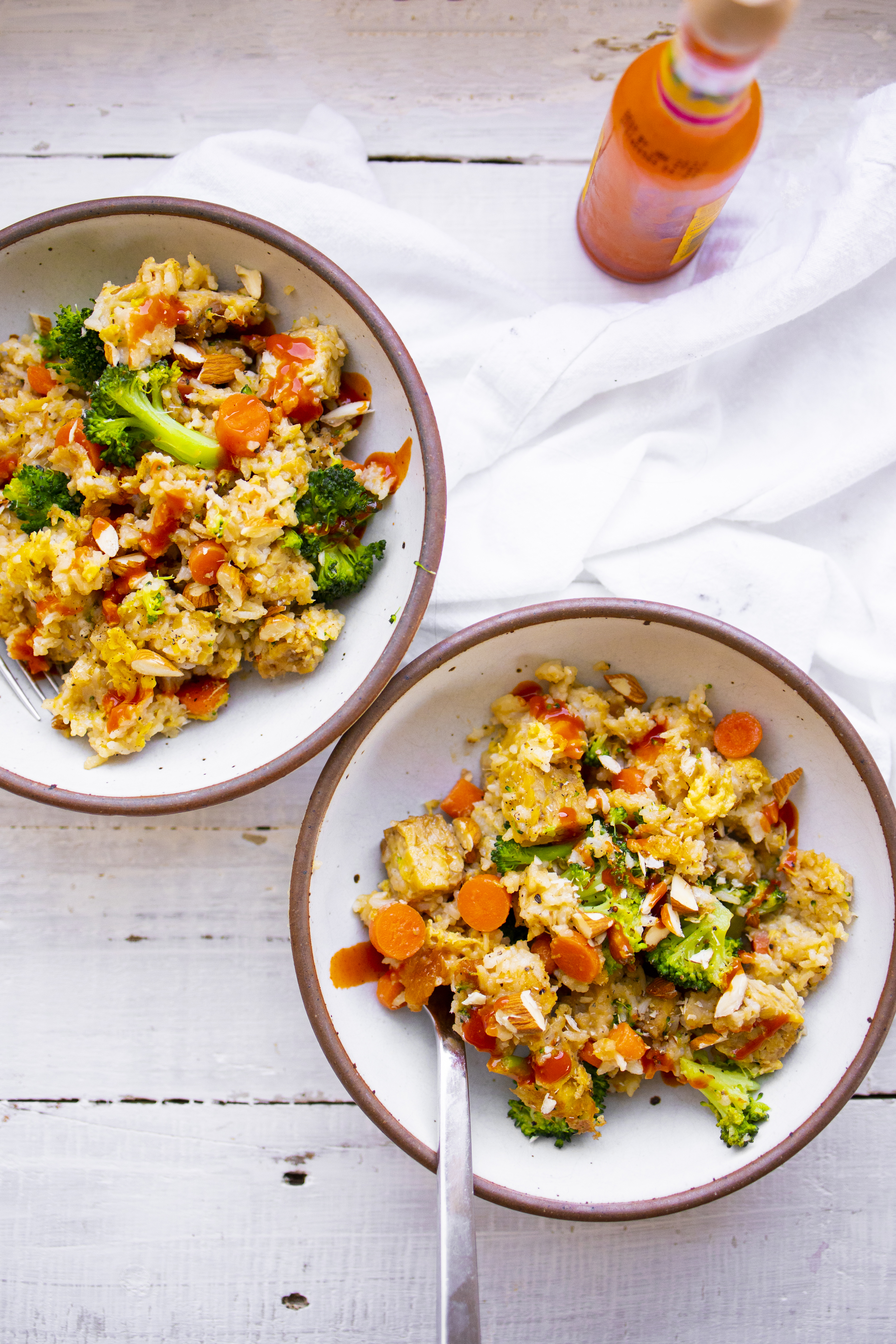 Additional Protein via Tempeh
I added tempeh cubes to this Vegan Egg Fried Rice recipe simply because I wanted a hearty boost of additional plant-based protein. Tempeh holds shape very well and soaks in flavors very well. And it cooks/heats up in just a few minutes.
Some other rice skillet recipes I love here on the blog: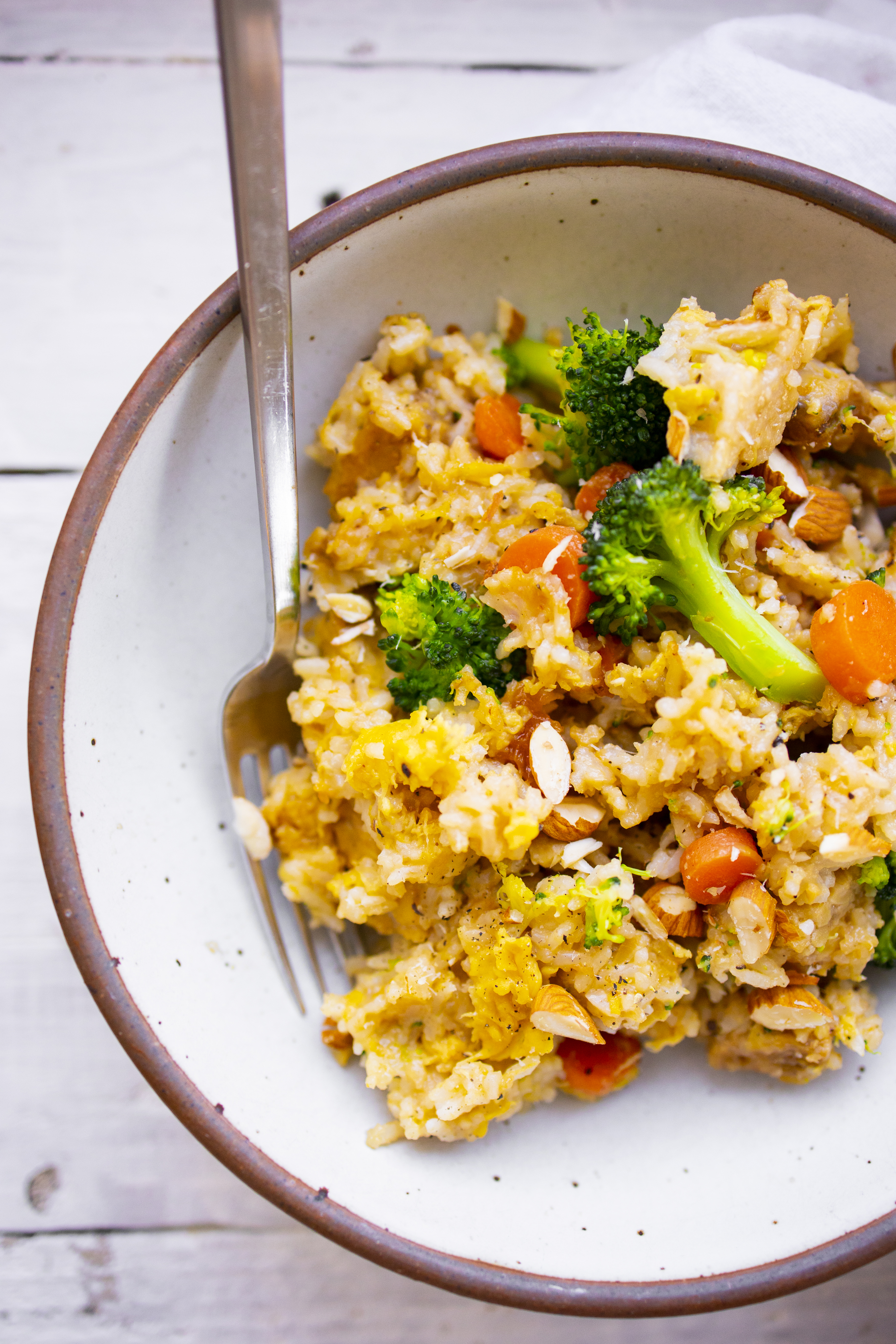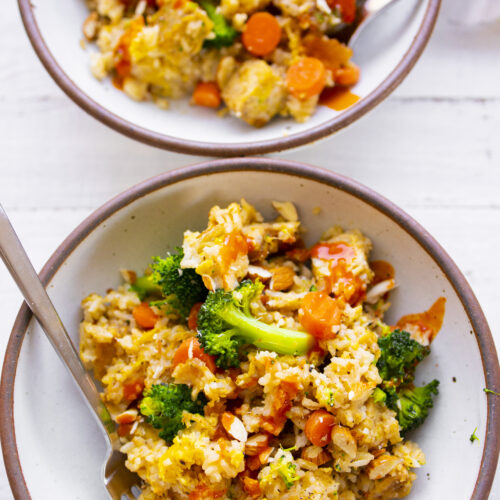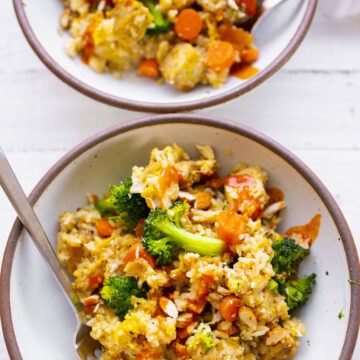 Vegan Egg Fried Rice
A simple blend of rice, veggies, tempeh and vegan egg make this a delicious and nourishing one bowl skillet meal entree.
Print
Pin
Ingredients
1 ½

cups

rice

8

oz

tempeh

water

2

tablespoon

olive oil

,

extra virgin

¼

cup

apricot jam

2-4

tablespoon

tamari

,

or liquid aminos or soy sauce

1 ½

cup

broccoli

½

cup

carrot

,

chopped

salt and pepper

,

to taste

¾

cup

JUST egg

,

vegan — or tofu, crumbled

hot sauce

,

to serve
Instructions
rice
In a large pot or rice cooker, cook the rice. You can also use leftover rice for a firmer texture. To cook the rice use about a 1:1 ratio of rice to water, plus a pinch of salt.
tempeh and veggies
Steam the tempeh in your skillet by warming your skillet over high heat, add about ½ cup water, along with the tempeh cubes. Cover skillet with lid and cook until the qater has cooked off and steamed and softened the tempeh.

Repeat with the broccoli and carrot. Add another ½ cup or water, veggies, cover with lid and cook until water has cooked off.
sauce
Lift lid, add the olive oil to the skillet. Turn heat to medium.

Add in the jam and tamari and some pepper to taste. Toss the tempeh cubes and veggies in this sauce. Cook for a minute or two.
bring it together with the egg
Add in the cooked rice – or leftover rice if using that. Toss with the tempeh, veggies and sauce for about two minutes.

Turn the heat to high and pour in the vegan egg. Allow to cook for a minute, then fold the cooking egg into the rice and veggies. Cover with lid. Cook for a minutes, then turn off heat. Let the skillet rest for about 2-3 minutes before lifting lid.
serve
Serve with optional hot sauce over top.
Equipment
skillet

rice cooker or large pot
nutrition estimate | per serving
Calories:
496
kcal
|
Carbohydrates:
79
g
|
Protein:
17
g
|
Fat:
14
g
|
Saturated Fat:
2
g
|
Sodium:
39
mg
|
Potassium:
530
mg
|
Fiber:
3
g
|
Sugar:
12
g
|
Vitamin A:
2916
IU
|
Vitamin C:
33
mg
|
Calcium:
112
mg
|
Iron:
3
mg