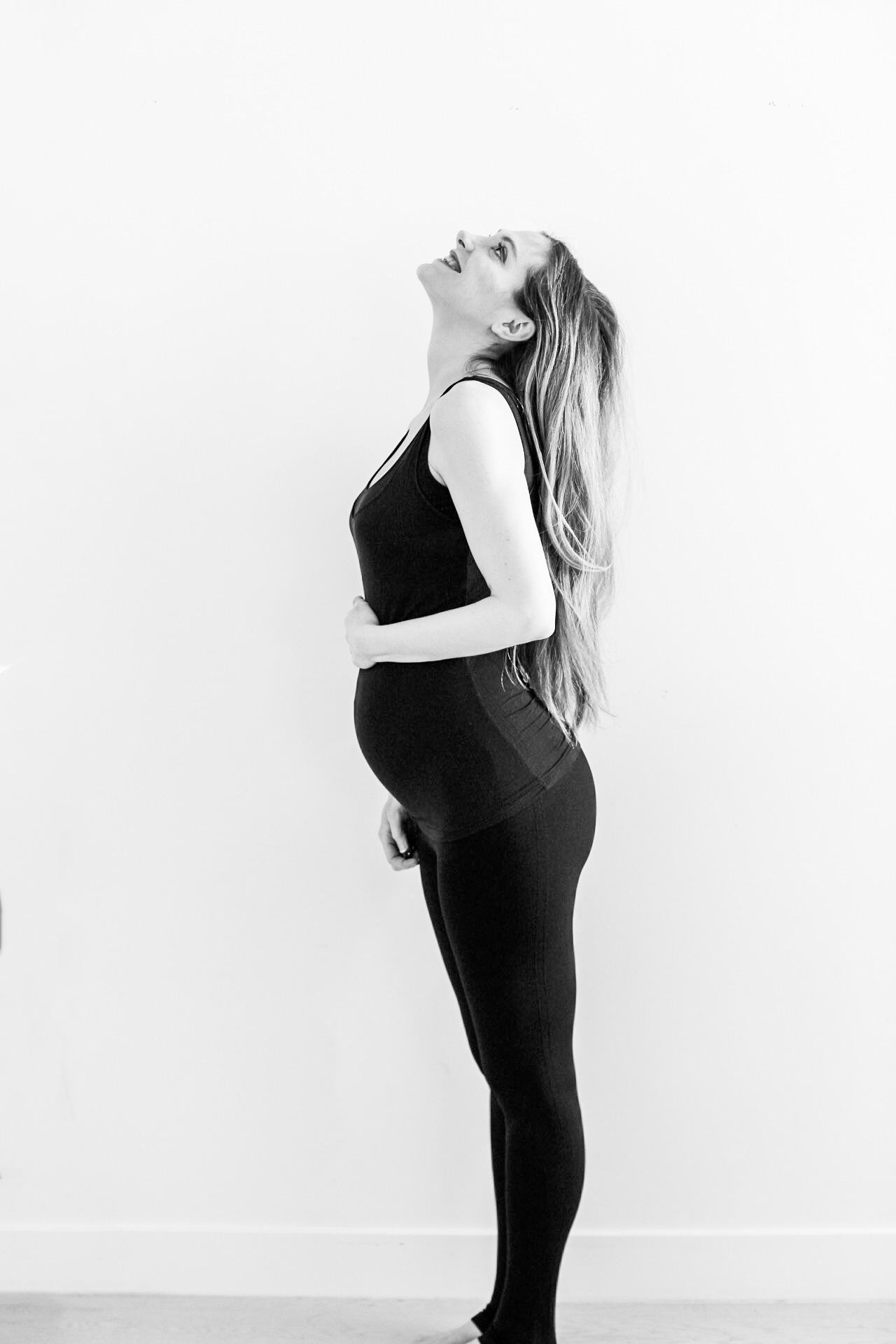 Today I am sharing my 30 Pregnancy Essentials. This is my ultimate list of pregnancy items and things to think about to make your pregnancy a bit more healthy +happy!
From pregnancy pillows and safe skin care to maternity clothes, cozy PJS, baby planning and belly oils. I hope these recommendations help bring you a very healthy, happy and comfortable pregnancy!…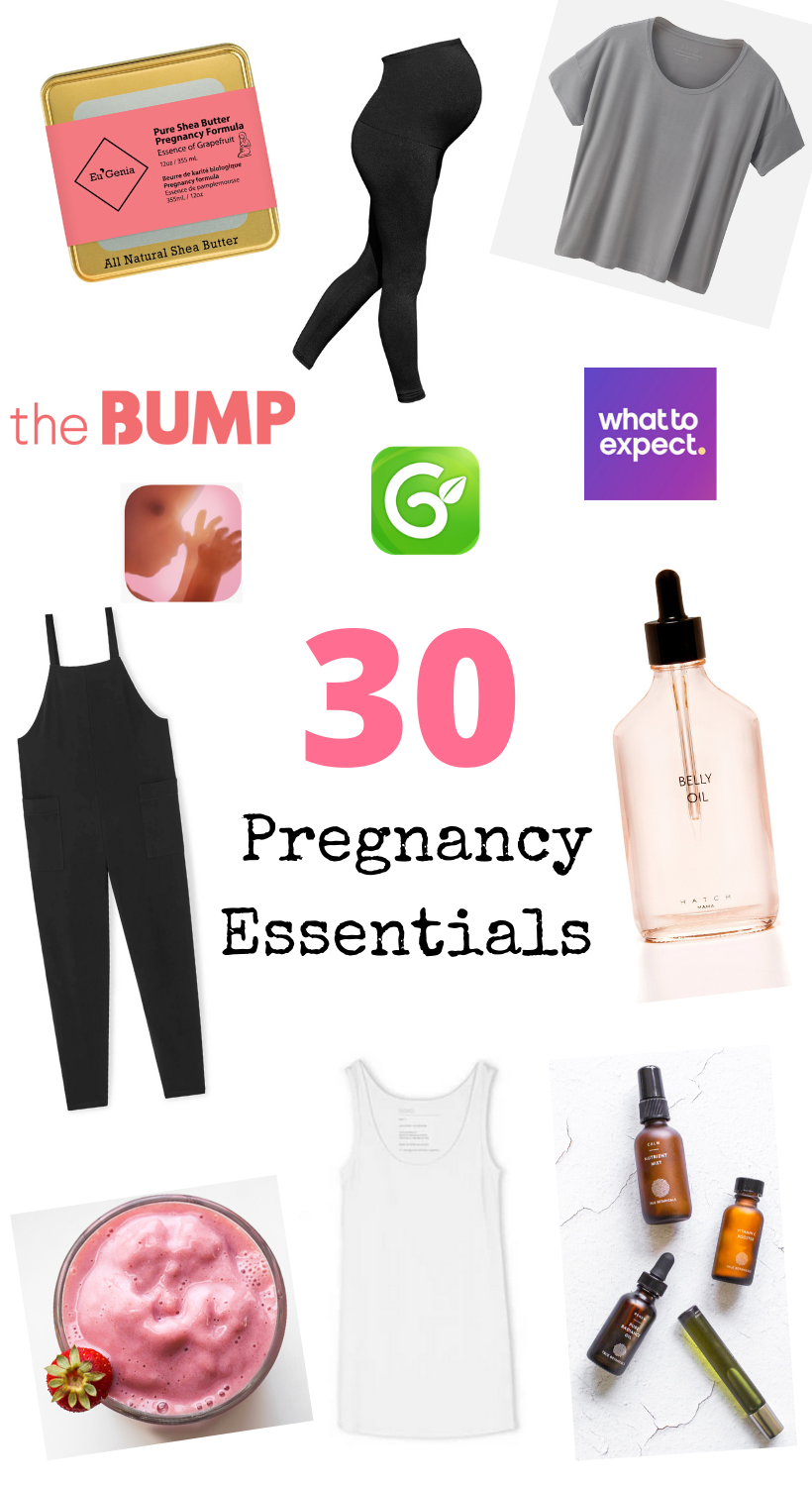 Pregnancy Expert, Who Me?
I never thought that in just a few months of being pregnant for the first time, I would be writing a Pregnancy Essentials Guide! But here I am, super excited to share these fave things and must-have's with you…
All the Pregnancy (+ Baby) Stuff
I am currently into researching newborn advice and feel like a complete newbie. I'm a thinker by nature, so researching + reading fills my cup each day. Makes me feel proactive and less anxious.
But at the same time, I'm oddly super calm about the new-to-me road ahead. (Possibly naively) confidant that I'll figure it all out like every other parent on the planet. And that I don't need all the things and stuff to get through this pregnancy and caring for a newborn. We'll see, right?
That being said, having made it to trimester three of pregnancy, I have found that there are a few things that make this crazy-beautiful-hard-magical pregnancy journey a bit easier, happier…
You Don't Really Need All This stuff
YES. All the stuff on today's pregnancy "essentials" list is optional. Let's be real. But maybe a few of these items and tips will speak to you and help you out.
All the Pregnancy Stuff…
There are a lot of items on this list. Choose a few things that might help boost your pregnancy. Splurge on something. Go cheap on other things. Balance, yes?
Pregnancy + Motherhood is a huge industry. The number of targeted ads I have seen on social media for BABY + MAMA STUFF is kinda insane. It's easy to lose track of what is a need and what is a want, really fast.
I'm all for treating yo-self but I can tell you I bought a few things early on in my pregnancy that I definitely did not need. Cheap Amazon maternity dresses that fit horribly and feel scratchy, not-so-comfy nursing bras, belly oil that smelled yucky, 'magic potions' to help with nausea (those candies + tea didn't work for me!) … And more. You'll probably buy something that doesn't work for your pregnancy. Live and learn and send it back if possible.
Fave Advice: You Don't Need Much
Sure, every pregnancy and new baby needs some stuff. Basics. A support pillow and cozy maternity outfits for mom, safe skin care, resources for advice + support.
For baby, a safe space to sleep, cozy clothes, a few toys and books, diaper changing gear and more essentials. But don't let the stuff get in the way of what is most important…
My favorite advice to repeat for pregnancy and caring for a new baby (from other's who have done it already) is that you don't need much.

The things you need: LOVE for your baby. LOVE for yourself. Confidence. Community. Support. Time. Patience. Strength. Humility.
Stuff You Read on the Internet Disclaimer
Always check with your OB about anything pregnancy related. Including items in this post. The items below worked for ME – but they may not be right for YOU.
I hope this list brings you a bit of guidance and comfort during such a magical time! If just one item pops out to you as a good recommendation, my work here is done.
30 Pregnancy Essentials: My Ultimate List…
Pregnancy Pillow(s)
Clothes:
Shoes
Products:
Hydration Tools
Plans:
Caffeine Plan + Alternatives
Education + Community:
Baby Basics Classes
For Fun:
Movie List + Binge-Watchable TV
Energy + Wellness:
Robot Vacuum
Almost There:
note: Essentials here means items that made my pregnancy a bit brighter and better. But your 'essentials' list might be totally different – longer or shorter too! So let's dig into my pregnancy essentials list…
1 – Pregnancy Pillow(s)
I purchased one by BB Hug Me early on and love it. There are a lot of options out there and it really depends on what type of sleeper you are and your budget. Here's what works for me..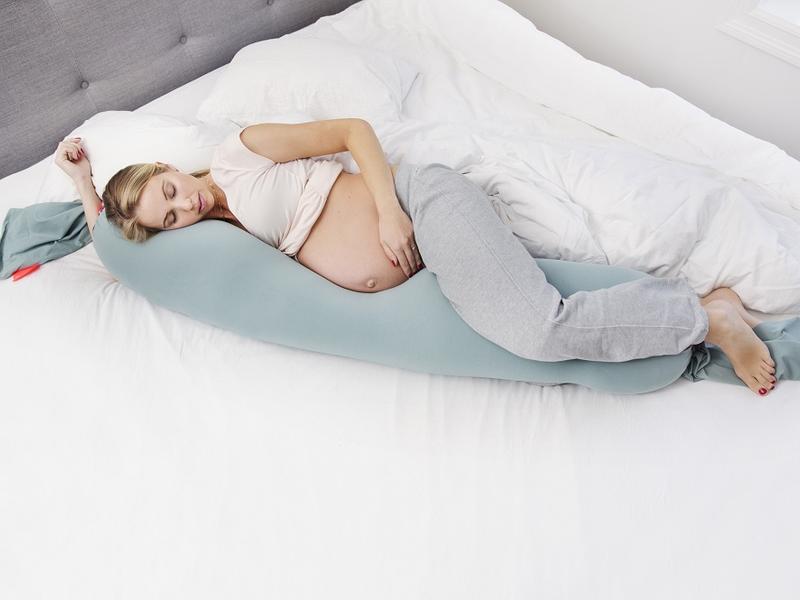 Maternity Clothes:
2 – Pants: Jeans + Joggers
When it comes to pants during pregnancy, comfort is key! You don't want anything pressing on your belly in a digging way. So normal clothes that can sit below the belly or maternity pants that go over the belly are my picks. For "pants" I have rarely work jeans and mostly stick to joggers. (Leggings and jumpsuits being my preference.)
Maternity Pants:
Denim – Totally optional during pregnancy. I kinda regret splurging on a pair of HATCH Maternity Jeans since I've only work them twice. #COVID But they are super cute! you can find less expensive styles at Target, Old Navy, etc.
Joggers – My go-to going out pants these days are joggers. My faves are J Crew – these are not maternity pants – Lulu Lemon has some too.
Pajama Pants – Staying home a lot? PJ pants work great! 'Maternity' or regular. If choosing regular, simply go up a size and look for extra wide and comfy or adjustable drawstring waists. (See #6 below for PJs)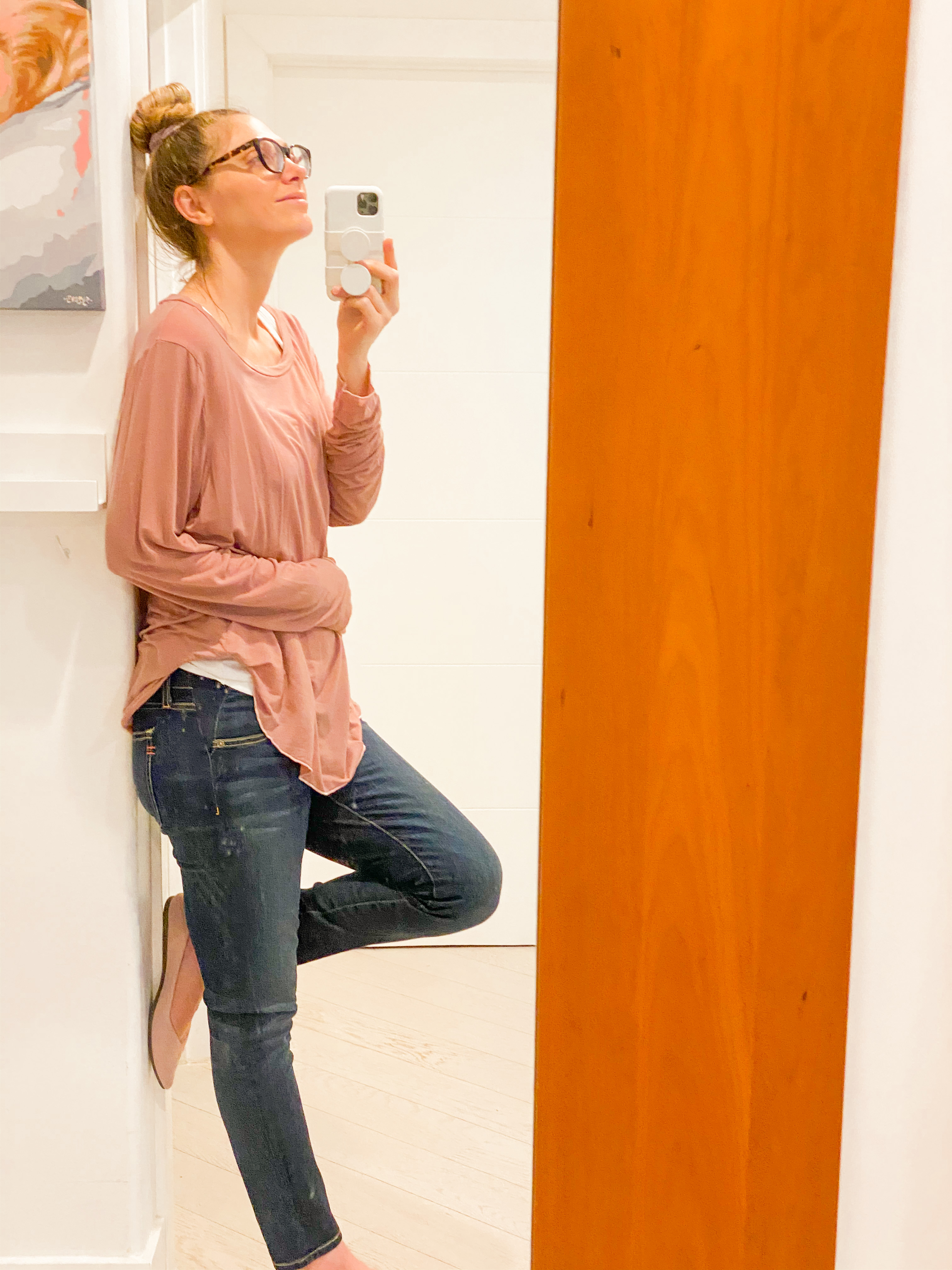 3 – Tops: Tanks + Tees + Pullover
I basically live in tees and tanks. Stretchy and supportive, extra long maternity tanks have been my must-have item! I am obsessed with these items..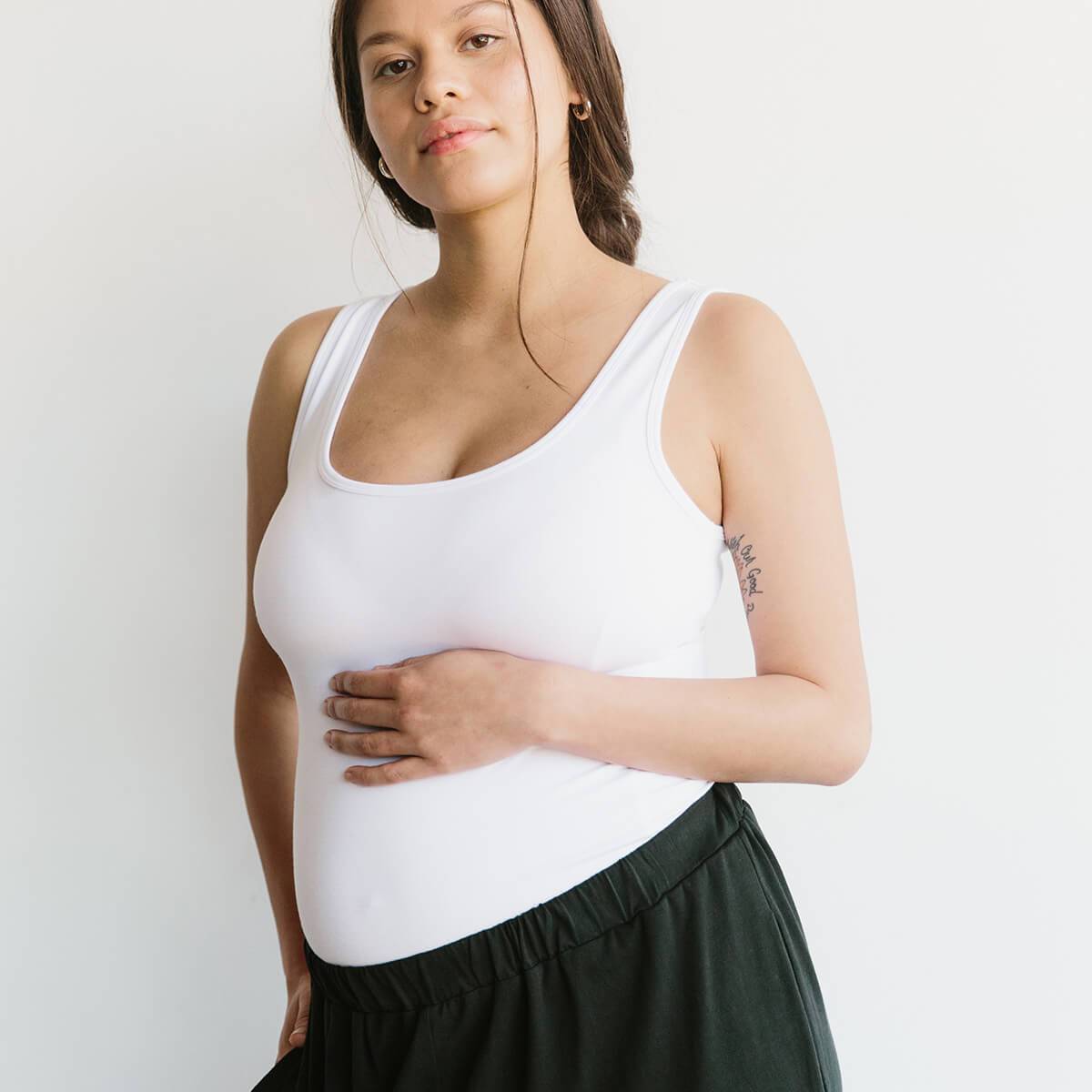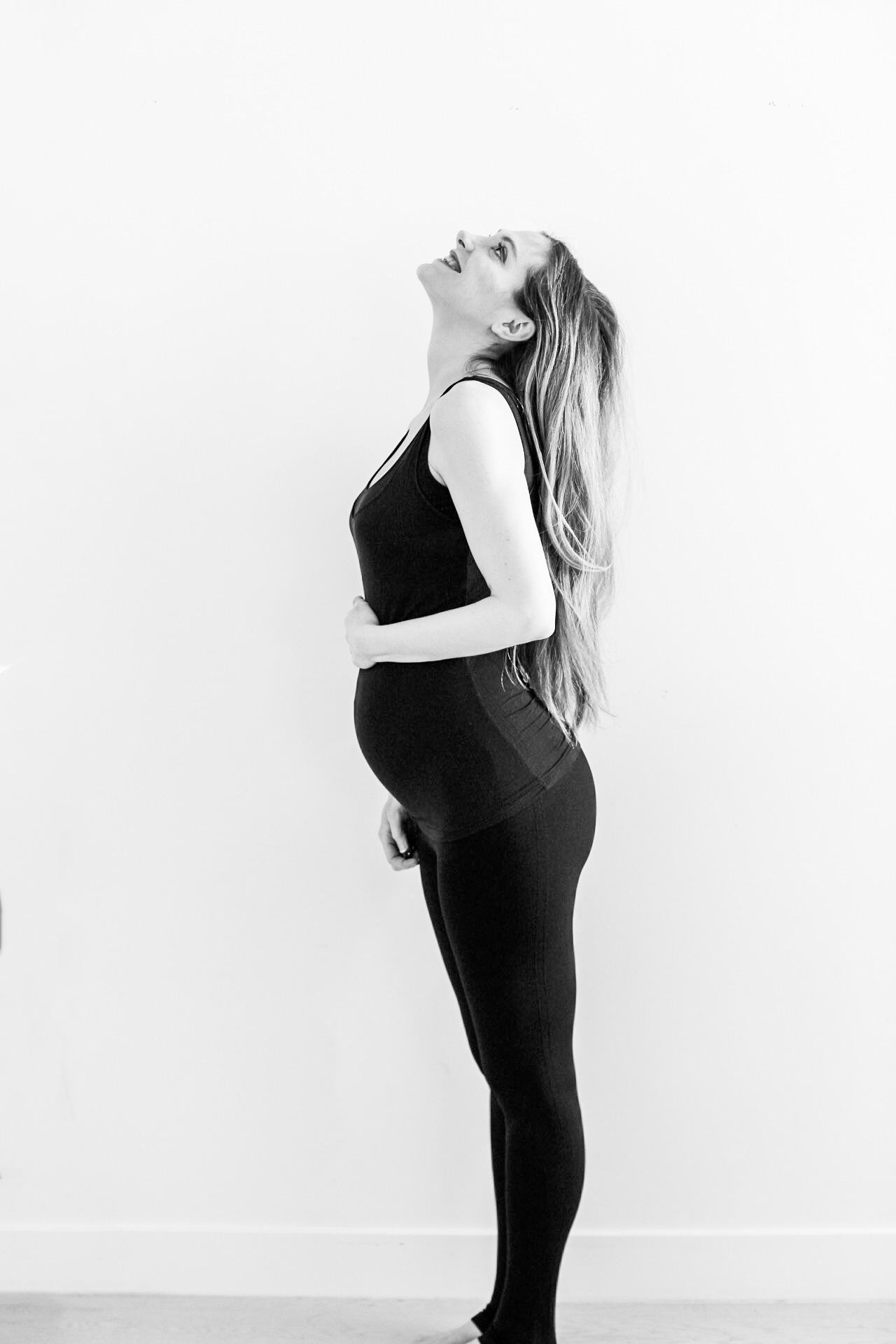 4 – Leggings + Workout + Support
Every pregnant lady needs some amazing leggings. At least one pair that you just feel amazing in – something that supports your belly OR lets it roam free and pop out in all it's glory. Whatever your style, find a pair you love.
At least one outfit for working out is also important.
Leggings + Workout Faves:
Beyond Yoga Maternity Leggings – LOVE! I love this space dye + silky belly band combo. I like to go up a size.
BaoBei Maternity Sculpt and Support Leggings – LOVE! Cozy + supportive on my belly yet super supportive in the legs. Perfect for working out. And still cozy. Fabric is smooth and silky, rather than soft and fluffy.
Terramed on Amazon – $20 and cozy! I think these are more of thick tights than leggings, but they work really well when paired with a long tank or dress. Super soft. Can be worn at any pregnancy stage.
Other legging brands that people seem to love: Ingrid + Isabel, Storq, Hatch, Target.
Workout Tops: Your usual workout tops might work for you. I bought one workout top that has been perfect: BaoBei AIR Cool Mesh Tank
Belly Band? I bought a belly band and don't wear it. It slips down or up and feels too tight. Some women love them, but not me.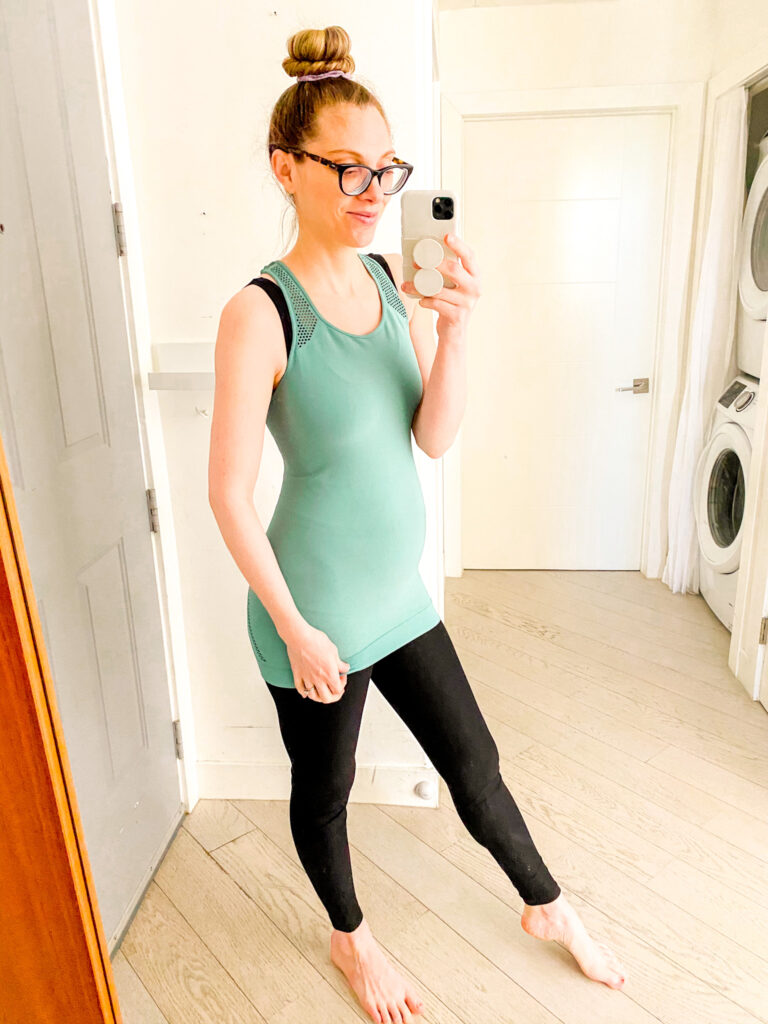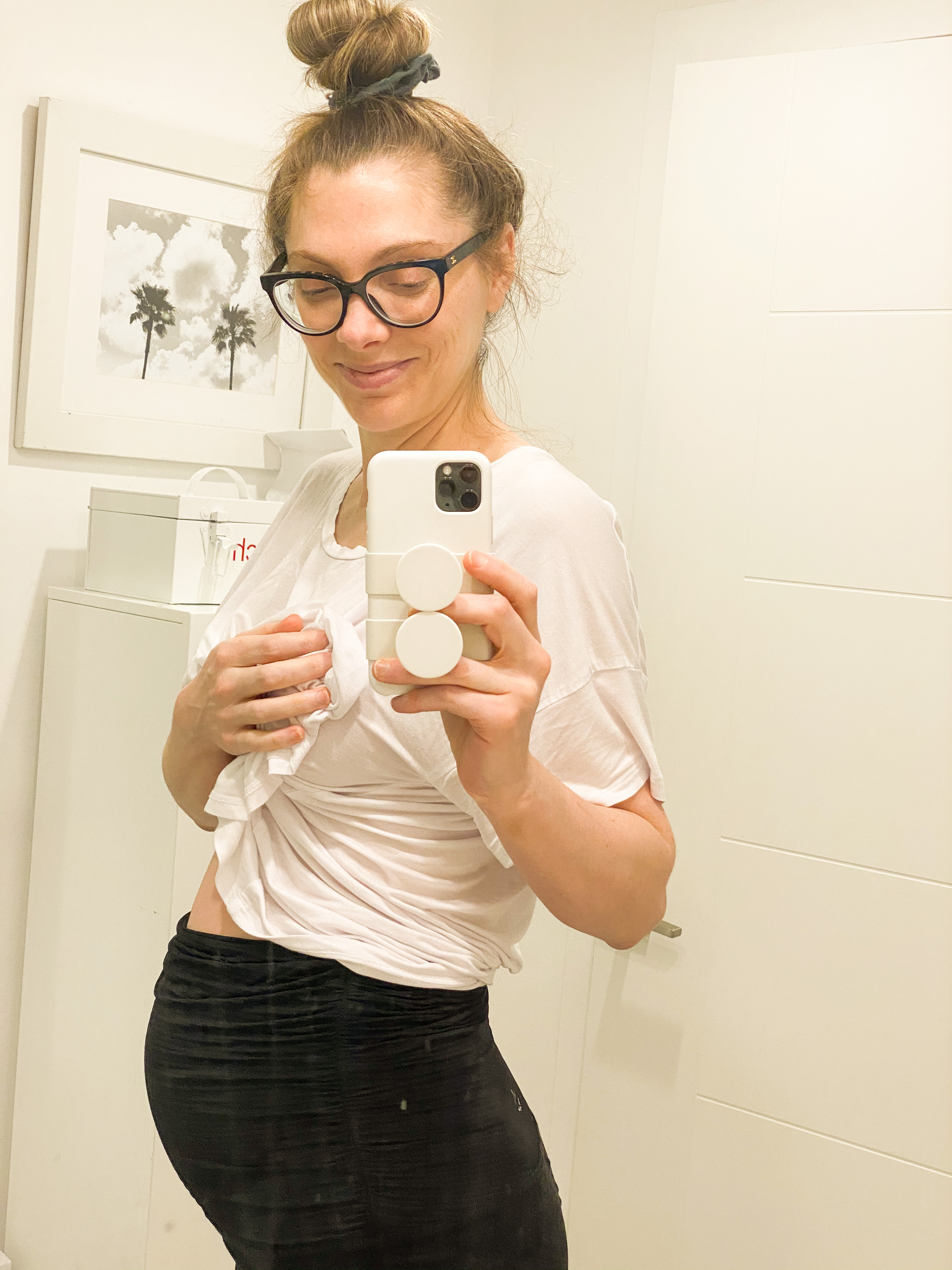 5 – Overalls / Jumper / Jumpsuits / Dress
I hate too many layers pressing on my stomach right now, so overalls and a cozy, soft dress or two is perfection…
Storq Anytime Overalls – THE BEST ever. Seriously, if I had to choose one outfit for all of pregnancy it would be Storq's Daily Tank in white and Anytime Overalls in black. So cute + comfy.
Lunya Jumpers – Lunya has a few cozy onesie options. I bought the Restore Jumper.
Storq Tank Dress – This is the only dress I found that I love to wear. Basic black and tank style is perfect for late spring. And I can easily layer over it. Super soft and stretchy – heavyweight ribbed material. You feel supported in this.
Others: I+I Options – A few cute things, I have not tried, but worth a browse. For splurge-worthy dresses + jumpsuits, Hatch has you covered. Hatch jumpsuits are pretty darn adorable.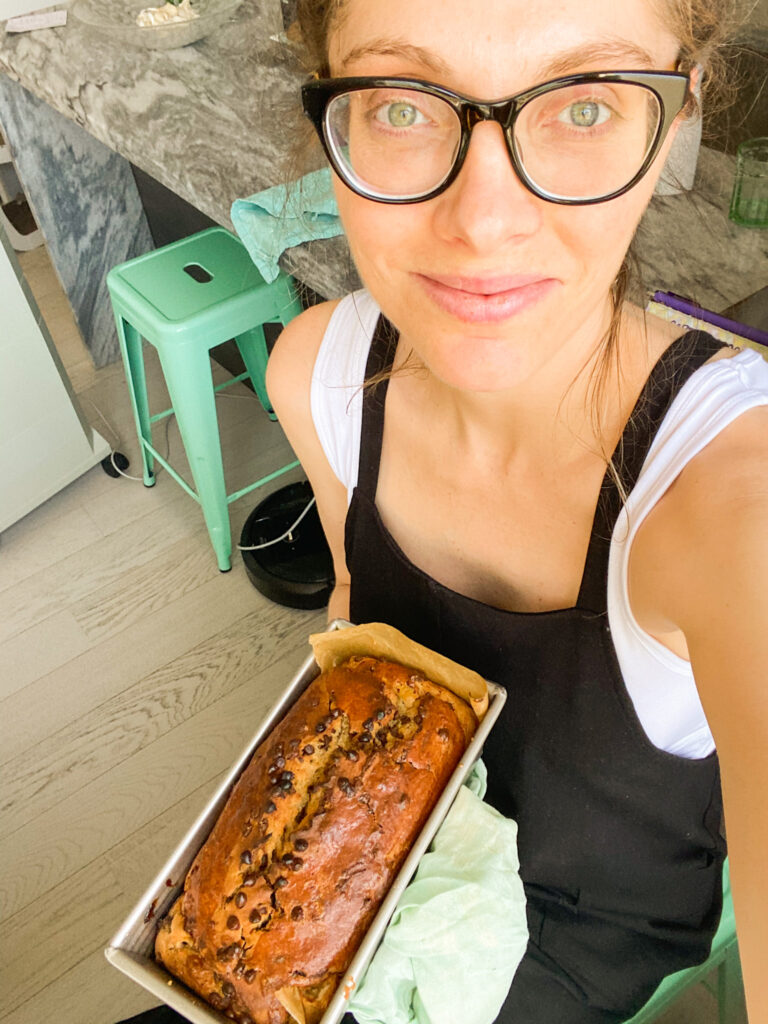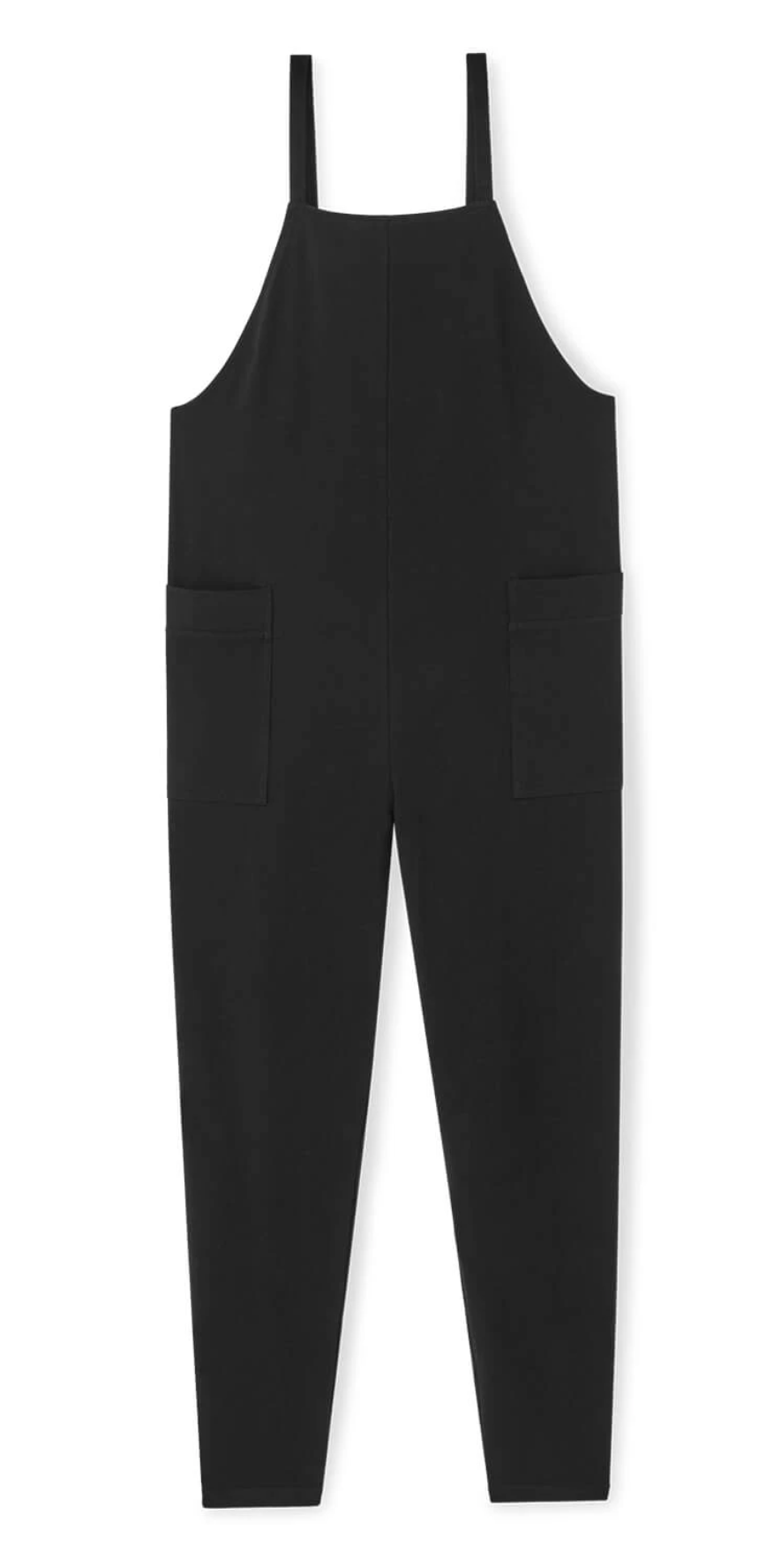 6 – Cozy Maternity Pajamas
Look, I love actual maternity PJs, but honestly, I'd rather buy some that I can wear well past these nine months. My trick is to simply order a size up – which I already do anyways with PJs!
I found two new brands that are crazy cozy. Both made from bamboo. Sijo and Cozy Earth. My skin gets extra sensitive at night, so these are heaven for me right now..
Sijo – coziest loungewear! bamboo + so silky – Size up! (pictured below in green)
Cozy Earth – super cozy classic bamboo pajamas set – Top is a little short, but works if you size up and don't mind baggy-ish pants.
Other: Oversized organic cotton tees and tanks also work.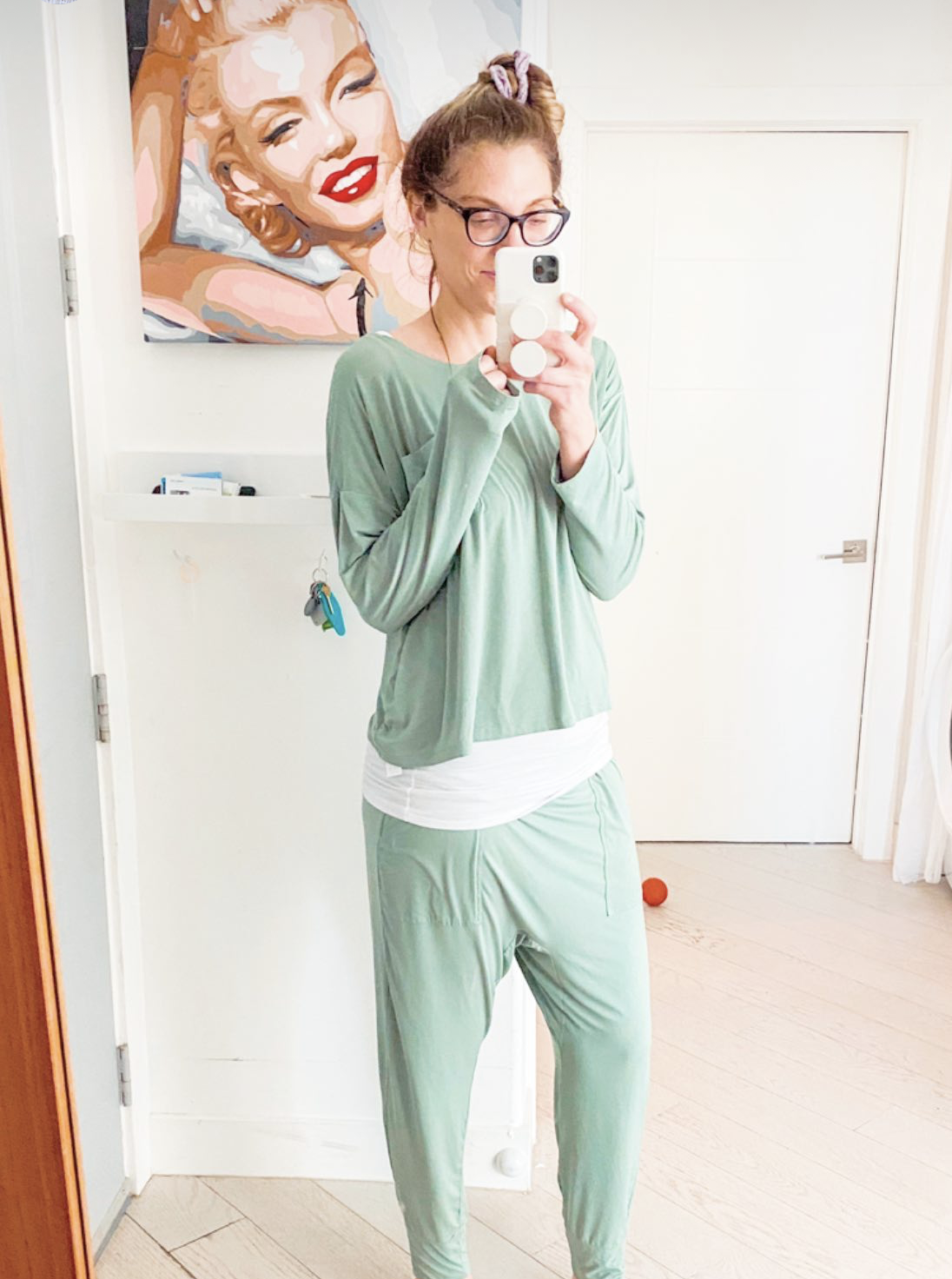 7 – Intimate Apparel – bras + undies
I didn't think I needed special bras and undies for pregnancy, but it sure helps! For undies, you want something that is stretchy and doesn't dig into your belly. For bras, sizing up might be necessary. I love bras with wide elastic bands – that DO NOT DIG. Here's what I found..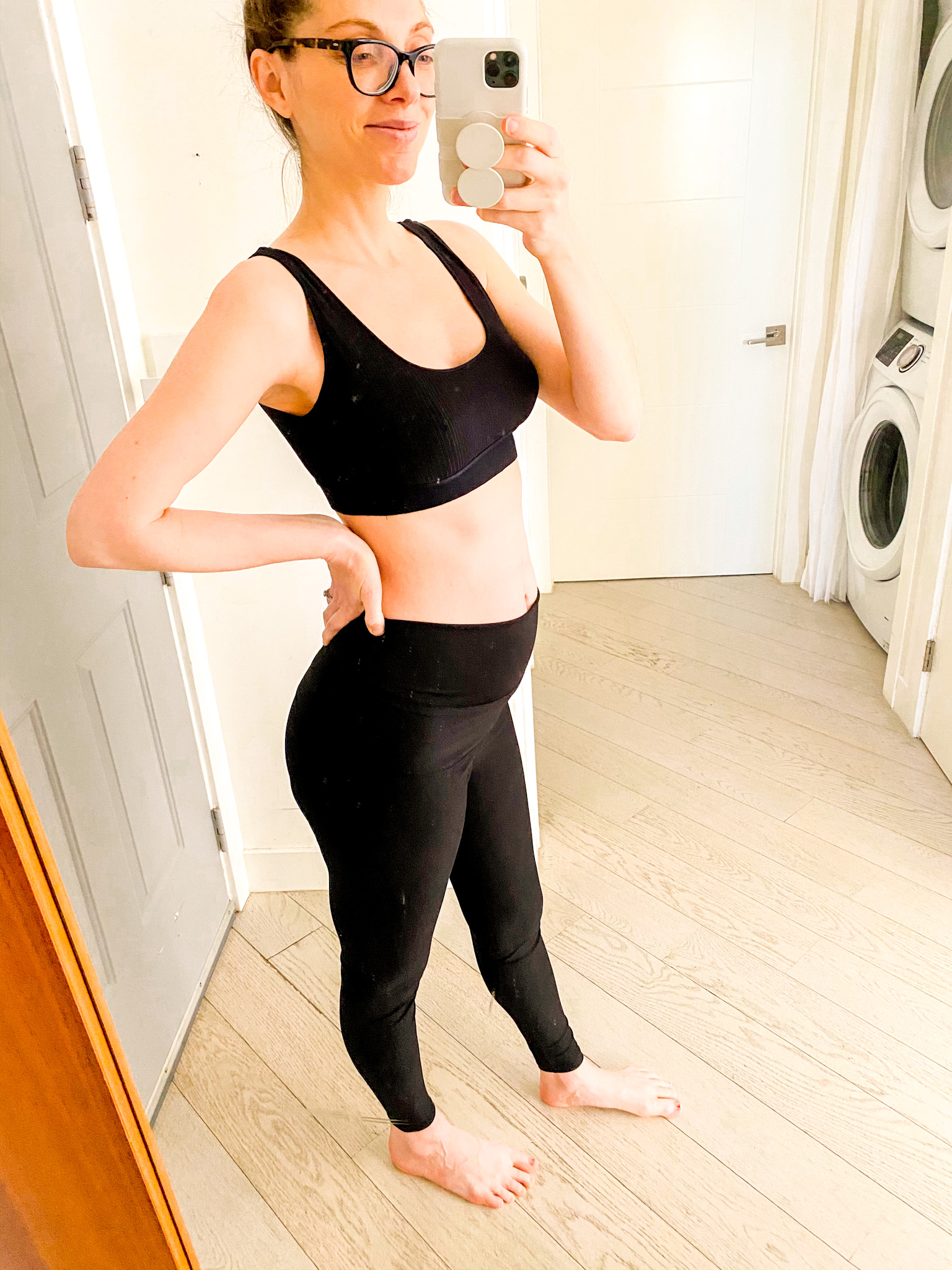 8 – Shoes
I have just been wearing my Rothy's this entire pregnancy. They are so cozy on my feet and easily slip on and off. Plus, I love that I can machine wash them. I did a review with details on getting discount for first-time buyers.
I have about six pairs of Rothy's now I love them so much. Get a Rothy's discount with this link.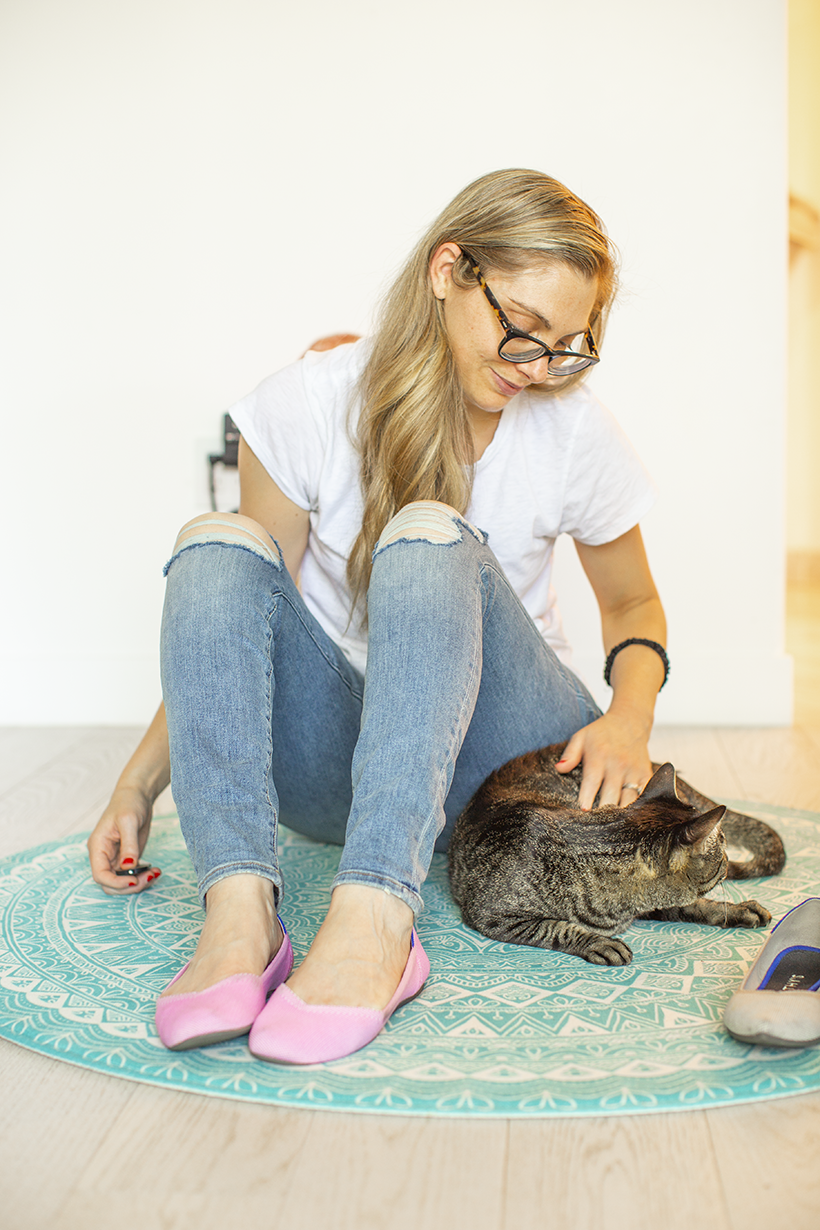 Products:
9 – Pregnancy-Approved Skin Care (Face)
This is what I have been using on my face this pregnancy. LOVE my skincare routine so much!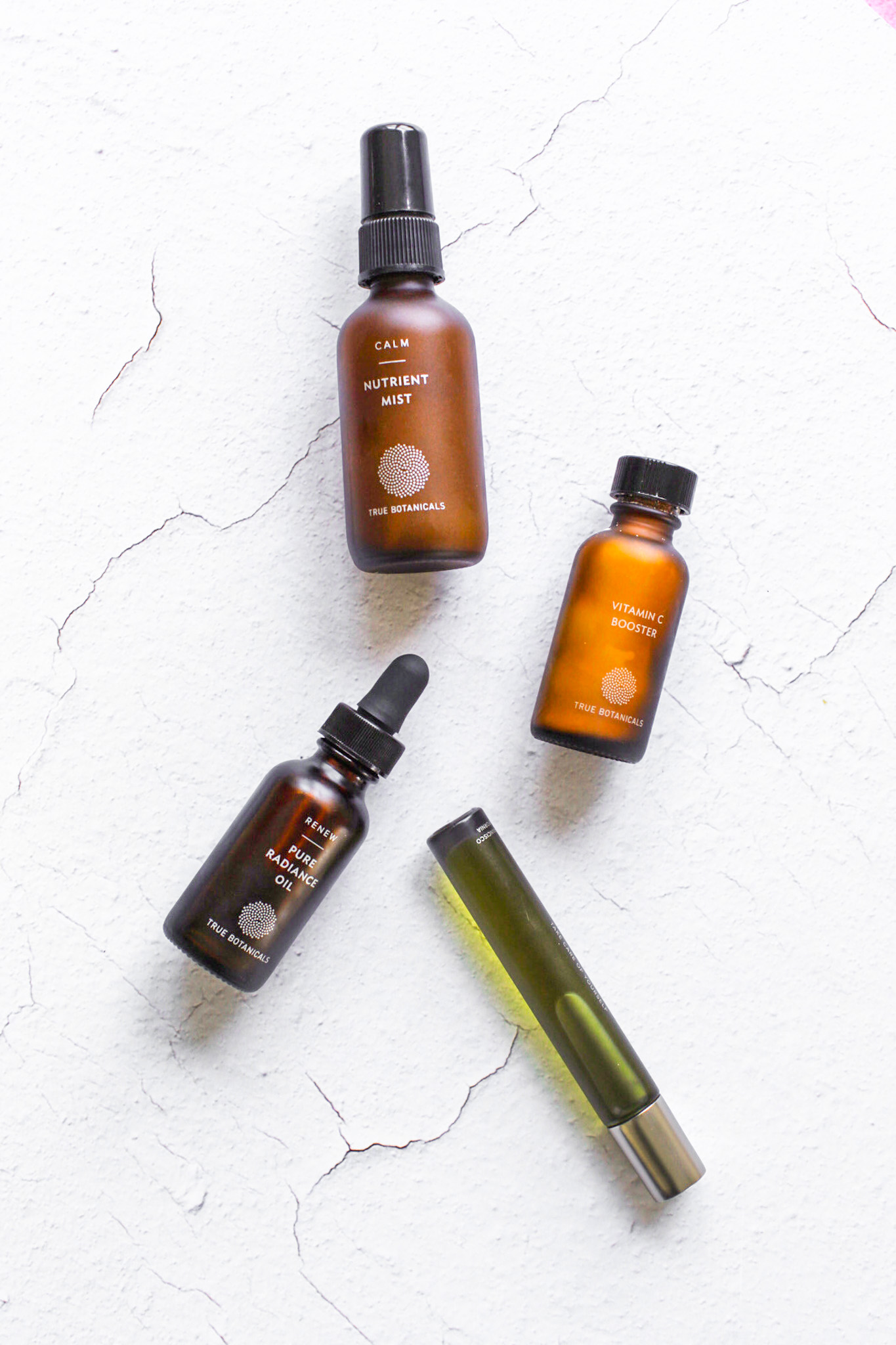 10 – Belly Oil + Belly Butter
Oh boy have I tried ALL the belly oils guys. Here are my reviews…
Belly Oils + Butters: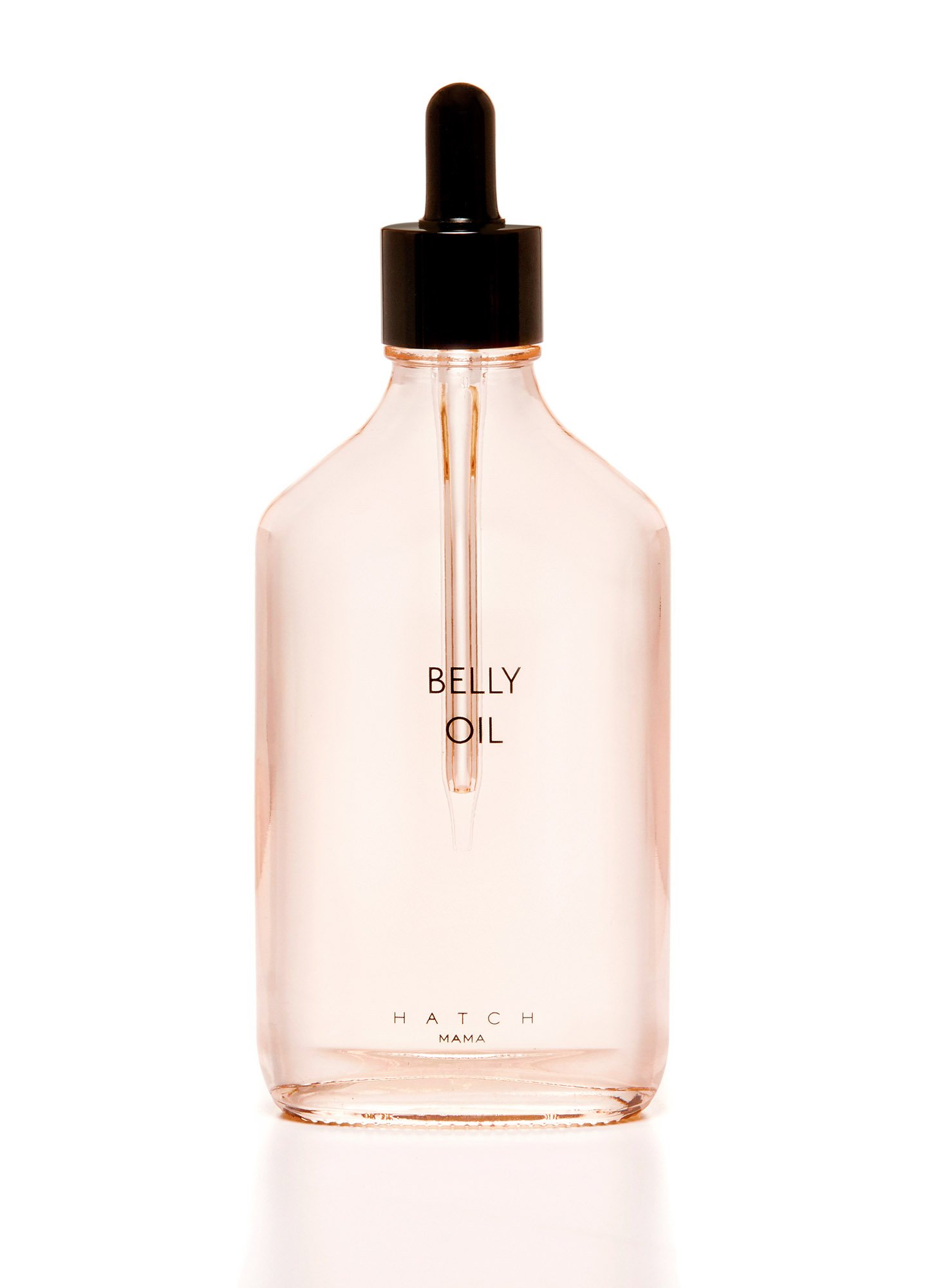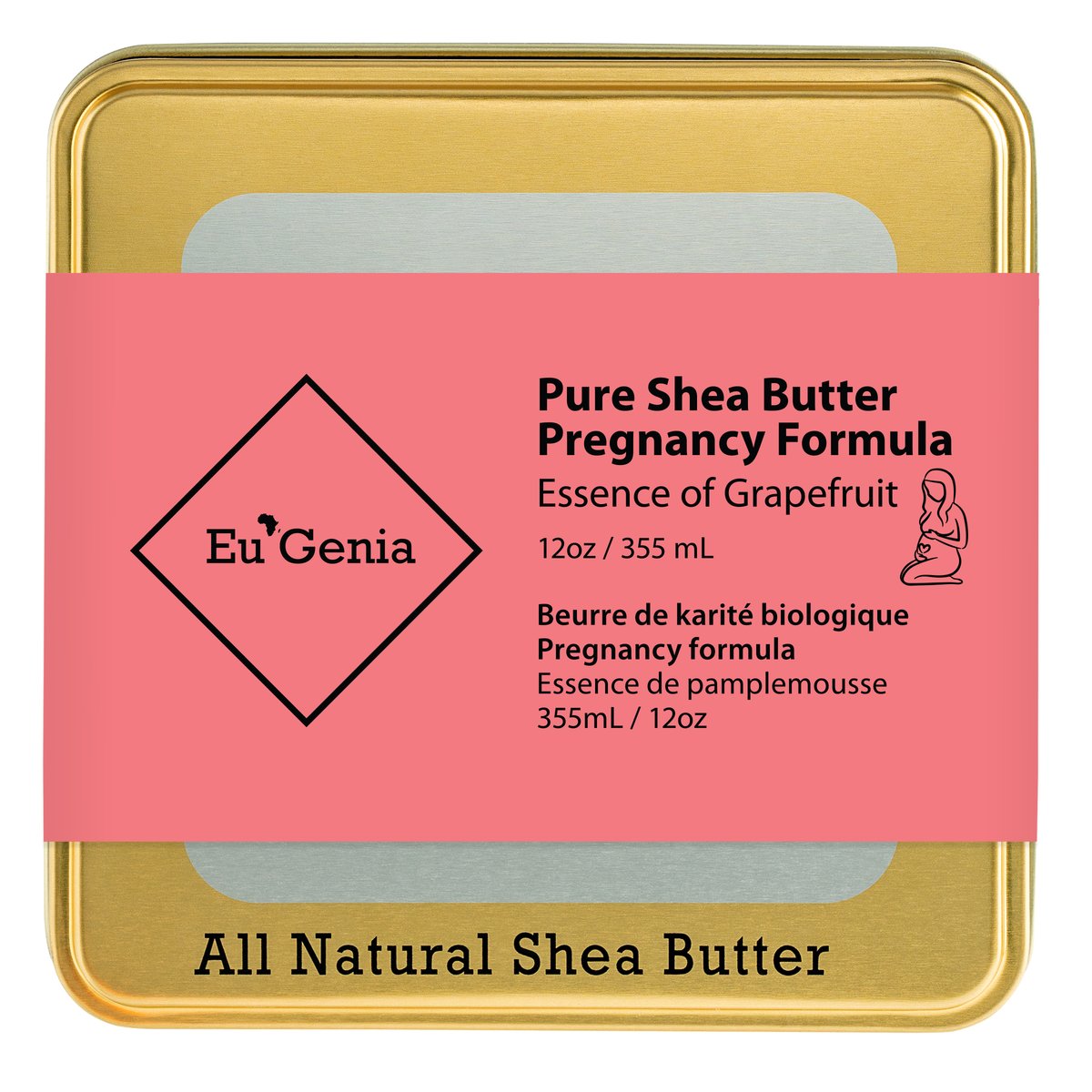 11 – Hydration Tools
Staying hydrated is so important in pregnancy. I often forget to drink water throughout the day so these tools help me…
Hydration Tools:
Cheerful Water Bottle – You can find large water bottles just about everywhere these days. Find one that is easy to clean and inspires you. I snagged this cheerful yellow one from my friend Tricia. These from Simple Modern are also great.
Water Enhancers – I don't mean anything artificial. I mean try adding lemon slices or strong 100% fruit juice to your water. I love a blend of pomegranate juice from POM and water.
Coconut Water – I love coconut water to stay hydrated. It is rich in electrolytes and has a mild sweetness. My fave brand is Harmless Harvest.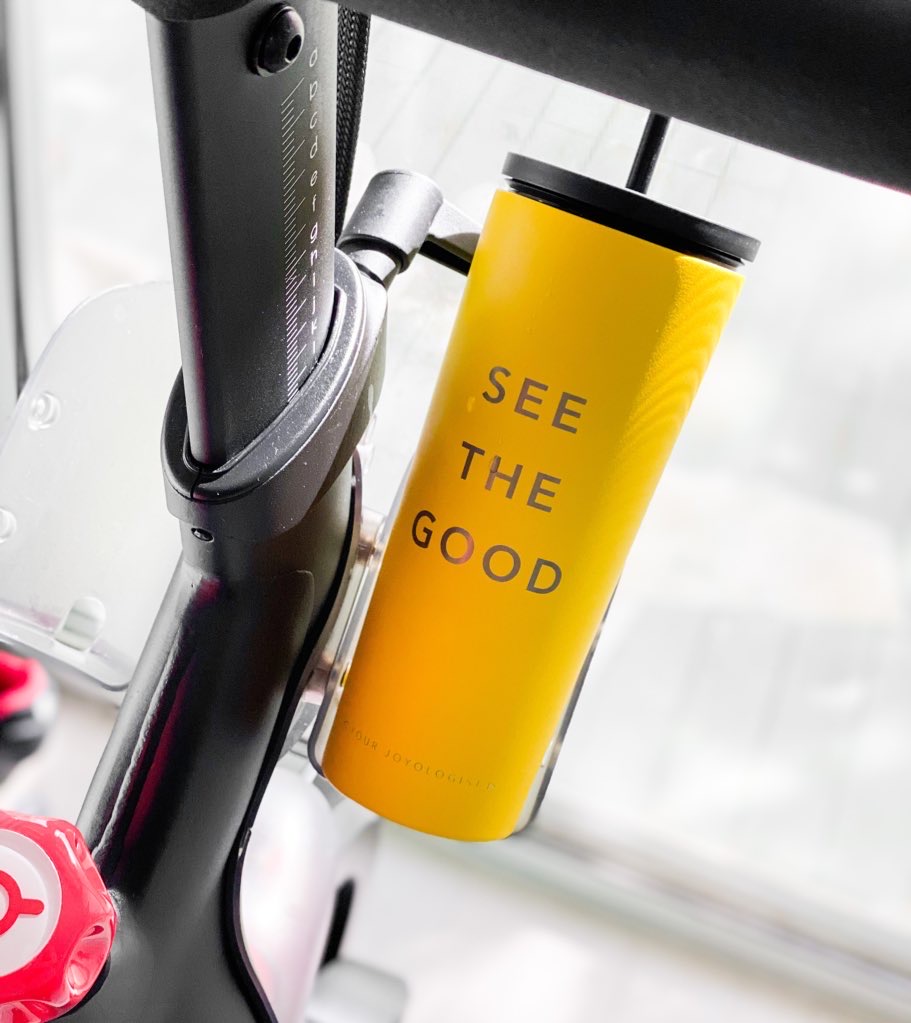 Plans:
12 – Nausea Plan
Hello first trimester… From weeks 5-15 I was in nausea hell. I lost about thirteen pounds and was finding it hard to stay nourished and hydrated. Thank goodness it went away. Here is what worked and what didn't…
Didn't Work For My Nausea:
(Meh) ginger – I tried ginger ale and ginger chews and even fresh ginger shots in the beginning, but oddly enough it didn't do much to help. You can absolutely try them, but don't force it if it's not working for you.
(Meh) anti-nausea candies and teas – tried them all, did not help me much
(Meh) Crackers – In the beginning – YES. All the saltines.. But after a while, not so much. Strange.
Things That Helped My Nausea:
(YES) vitamin B6 – ask your doctor about it and see if taking extra doses of B6 could help you. I think it did help a little for me.
(YES) Peanut Butter Stuffed Pretzels – YES! This was the one snack that seemed to really help me when I was nauseas but couldn't eat full meals. Pretzels in general worked well for me, but peanut butter even better.
(YES) sipping water – constantly sipping ice cold water was another way I could actually drink it. Adding juice to give it some flavor also helped.
(YES) Eat Whatever You Crave – I craved a lot of kiddie food. PBJ sandwiches, kiddie cereal, pasta with just vegan Part and olive oil. Also vinegar chips, any chips, sour smoothies and more. Your taste buds may be a bit haywire, but eat what you can. I could not even look at veggies for like a month.
(YES) Cold Cereal – for meals or snacking on dry.
ask your doctor – if your nausea and dehydration is really bad, talk to your doctor.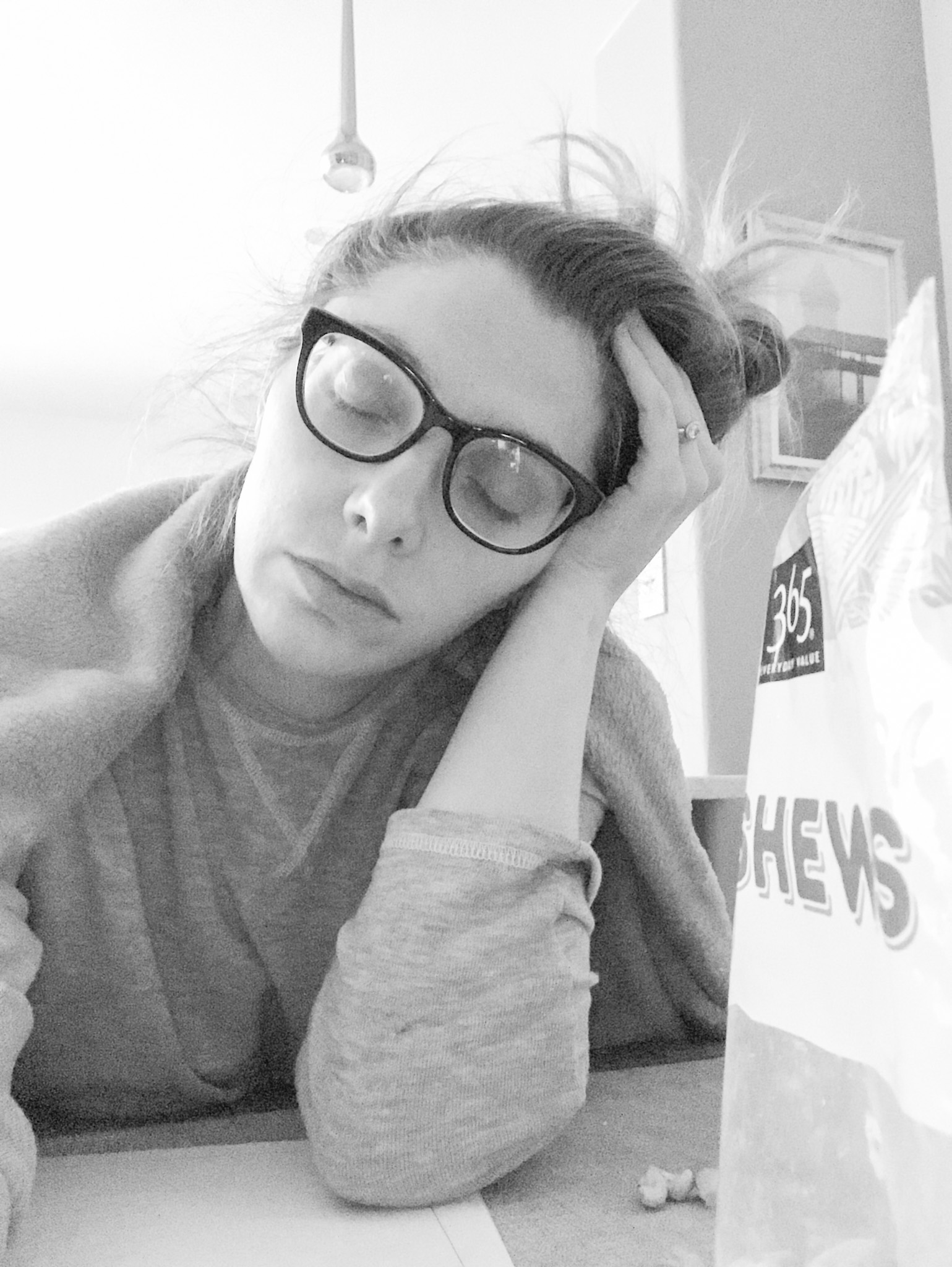 13 – Constipation Plan
Anyone who has been pregnantt knows that the hormones and belly growth and (human in your tummy) really messes with your digestive system. Have a constipation plan! Some tips..
Stay hydrated! So important.
Eat enough fiber (along with being hydrated…)
Lots of fresh fruits and veggies
Eat regularly
Avoid tight clothes for too long
Ask your doctor about taking some extra magnesium
Have some drug store saviors on hand if you need them. Ask your doctor what she/he recommends.
14 – Heartburn Plan
Hello second and third trimesters! Oh man, my heartburn is my number one issue right now at 28 weeks. Basically it's something you kinda have to figure out and workshop with your own body. But here are some general tips..
Eat Early! We have been skipping dinner and instead doing 'linner' around 5pm. Then I just snack for the next few hours. Eating heavily right at bedtime makes heartburn flair up for me.
Don't Plop. Try to move around after you eat a large meal. Stay on your feet and don't plop on the couch right away.
Light Exercise. I have been hopping on my Peloton bike right before bed to try and really get my digestive system moving a bit. It seems to really help that bedtime heartburn. A simple walk could work too.
Help. Have drug store saviors on hand if needed. I definitely need TUMS at bedtime these days and sometimes Pepcid too.
Alternative Remedies – These may help or not… Apple cider vinegar. Pickle juice. A handful of almonds. Something milky like soy milk or dairy-free yogurt. Ice cold smoothie or beverage to calm.
Avoid trigger foods – This may mean tomato sauce, acidic fruits like citrus, chocolate, coffee… I can't really avoid chocolate so I accept the triggering.
Sleep Propped – Sleep as propped up as possible. But ask you doctor about pregnancy sleeping positions.
15 – Support + Connection Plan
Join a local pregnancy group, take pregnancy classes or if you are stuck at home (like me during COVID..) join a bunch of Facebook pregnancy groups! There are always due date groups floating around. They have helped me feel connected during this isolated time.
Also seek out a one or a few friends who have gone through pregnancy – text them and let them know you may be asking them questions and need support. I will bet they will be more that excited to share their knowledge and help you out.
Browse Blogs + Websites + YouTube! Great website for mommy + pregnancy essays: Scary Mommy And YouTube is filled with personal stories, as well as blogs.
16 – Caffeine Plan + Alternatives
A lot of women still drink coffee during pregnancy. Limiting caffeine to 200mg a day seems to be the general rule – NHS But if you are avoiding caffeine, here are some options..
Pregnancy Caffeine Alternatives:
Some Caffeine:
hot cocoa (chocolate contains some caffeine..) 12 ounces chocolate = 12mg caffeine
matcha – contains some caffeine, less intense than coffee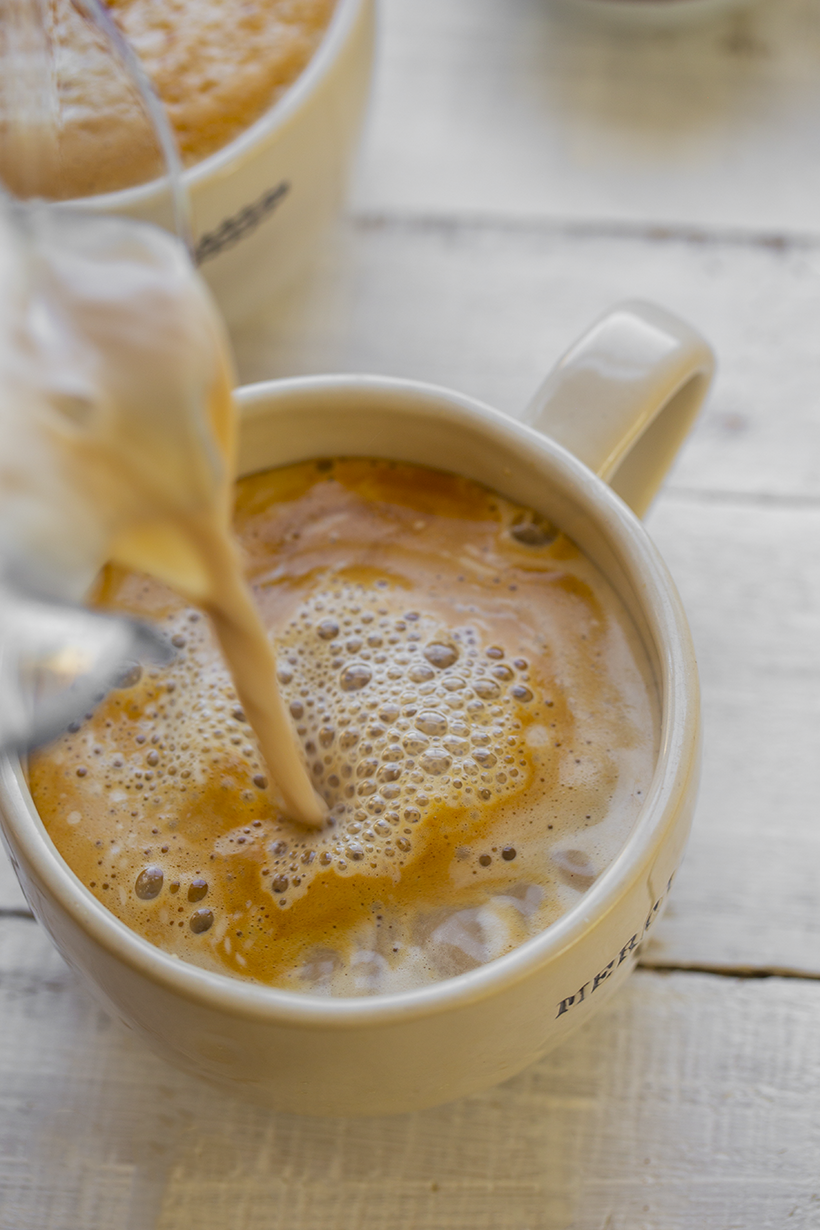 Education + Community:
17 – Pregnancy Apps + Social
I love pregnancy tracking Apps for giving you little tips and fun facts about your baby and pregnancy progression. All those "My baby is the size of (insert fruit here)" facts can be found on these Apps too. Plus they are FREE!
My go-to Pregnancy Apps are:
Pregnancy Instagram Accounts:
Individuals + Influencers:
Community Brands:
Product Brands:
…Who did I forget? Let me know in the comments!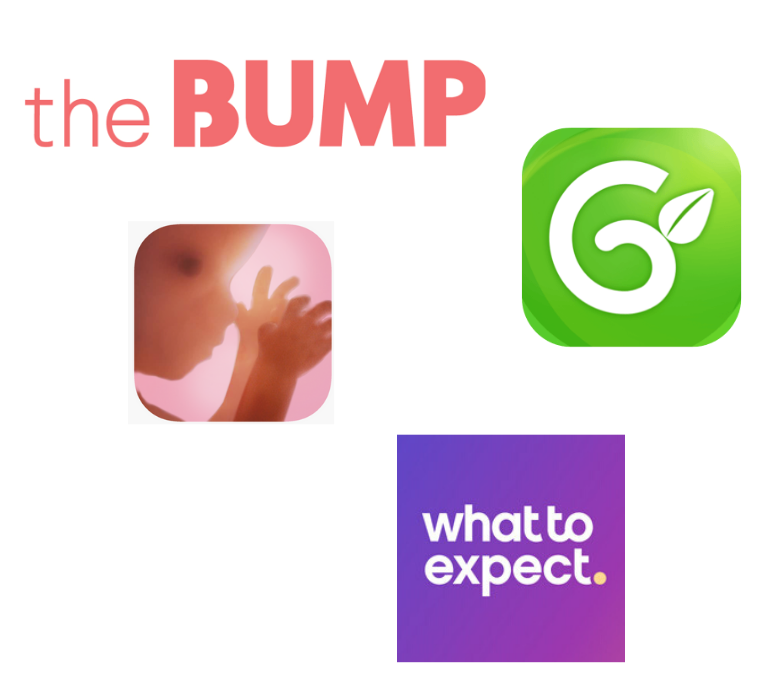 18 – Baby Basics Classes
There are so many classes out there. What are your faves? A quick google search can yield loads of results.
Baby Prep Online Classes:
Taking Cara Babies – We just started the newborn class and I love the format and Cara's positive energy. I have heard you have to kinda take everything with a grain of salt for the first few weeks to month, but in general, she gives some helpful tips and info from what I have watched so far.
LOOM – This is a local company to Los Angeles. I was so excited to sign up for some in person classes, but alas, they are all virtual now. So actually it's great for people outside of LA right now too!
READ! There are so many pregnancy books if that is more your style, and you can always read articles on pregnancy websites etc. Happiest Baby on the Block is a popular book, Babywise is another. And the classic: What to Expect When You are Expecting.
For Fun:
19 – Photoshoot Dress / Outfit(s)
I wanted a few flowy, cute, colorful dresses for pregnancy photos. No clue if I will get any outside my home yet, but I have two just in case. I like to buy dresses that I can actually still wear after being pregnant! So, my dresses are from: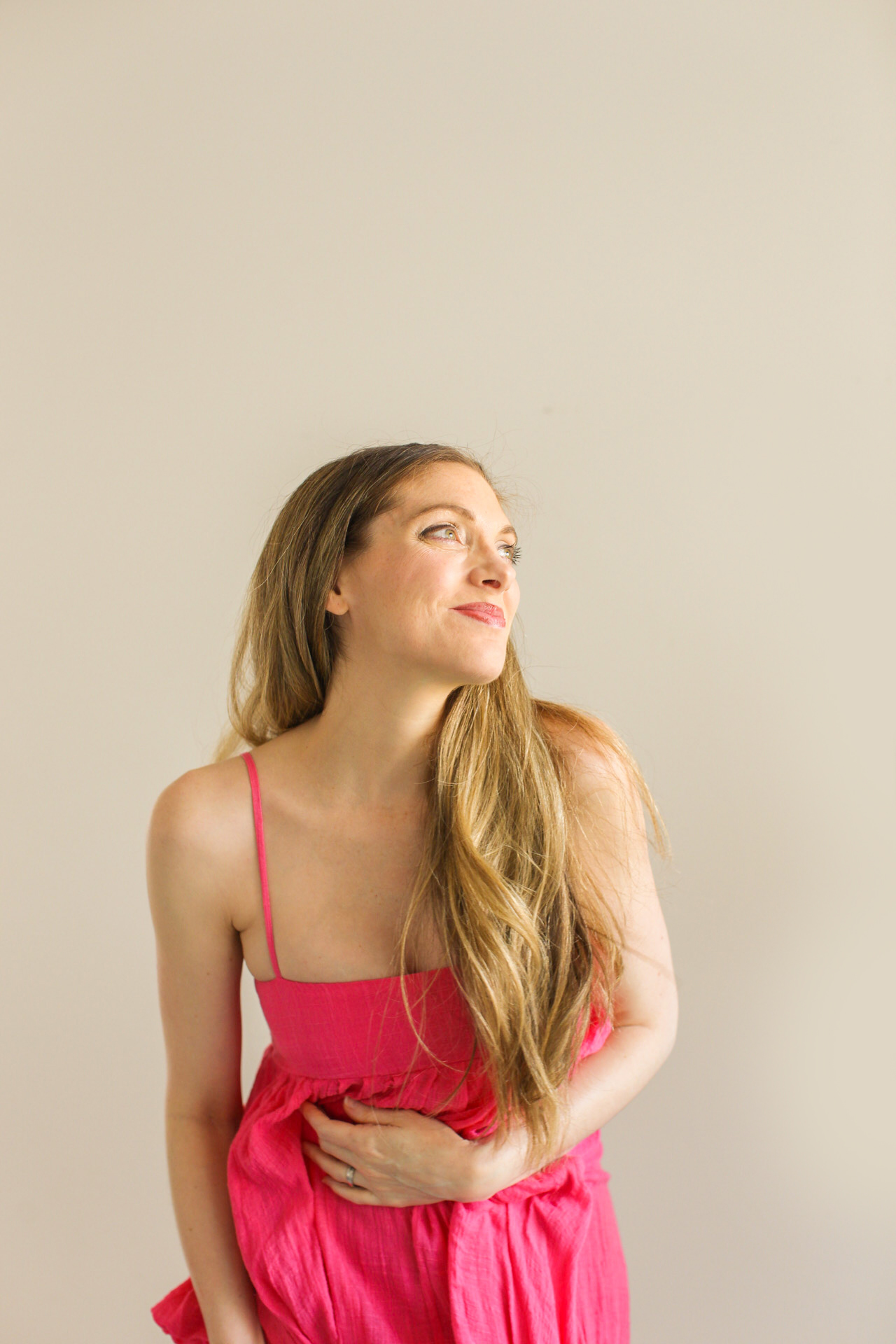 20 – Pregnancy Photographer or DIY Setup
If you have the budget for a fancy photography session, do it! All my friends told me not to skip maternity photos if possible because it is such a special time. I honestly don't know if I will DIY-ing them or doing professional at this point, but I am still taking as many pics as I feel like!
DIY maternity photo setup: My tips..
Consistency – If you are taking photos at home every few weeks, keep your setup consistent. Same backdrop, outfit or types of outfits, editing etc.
Keep it Simple – Clear as much clutter from your background as possible
Natural Light – Choose a spot with good natural light. Glowy.
Edit Those Pics! – Choose Lightroom edits (you can buy a bunch on places like Etsy) or use editing Apps to make your photos shine.
Try a silhouette photo – Take a photo against a bright window.
Get some help – Have a family member help you out!
Get out! – If possible, go outside and take your pics. Just before sunset is the best time for glowy light – aka magic hour.
Hair + Makeup – You don't need to get dolled up for weekly pics, but if taking some special pic in trimester three, don't forget to do a bit of hair and makeup for a more professional photoshoot look.
Get a Sign – To help you keep track of when you took the photos + dates.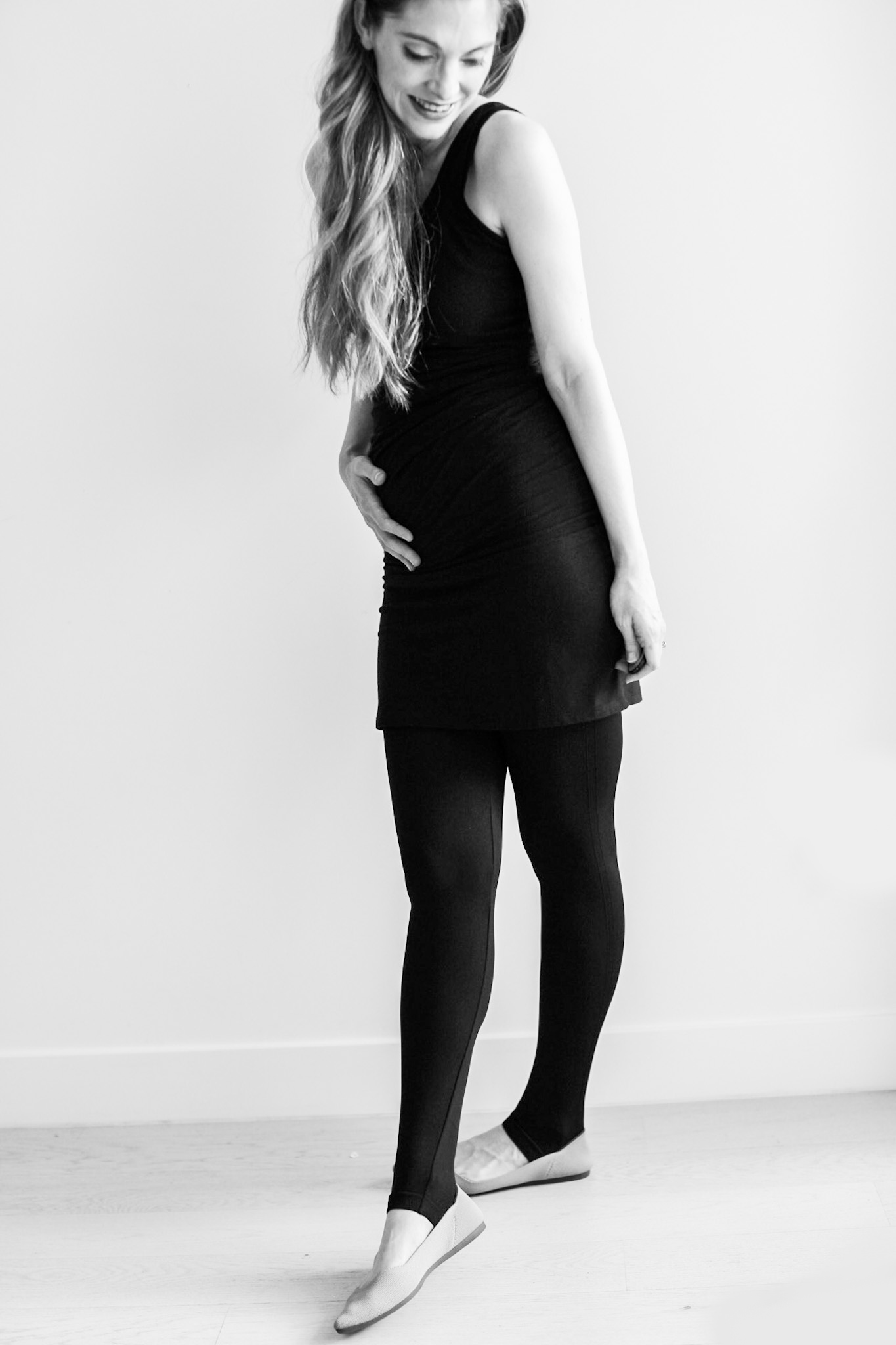 21 – Letter Board + Announcement Plan
Announcing and tracking your pregnancy is not something everyone gets into, but if you want to have some fun with it, do it. A letter board is a popular method these days. And fun props like flowers, pretty fabric, baby toys or clothes can also help.
When do you announce a pregnancy? Easy answer: When you are ready! That may be after the baby is born. That may be the moment you find out you are pregnant. There is no 'right answer.' Typically people wait until twelve weeks, but you do you.
My blog pregnancy announcement post.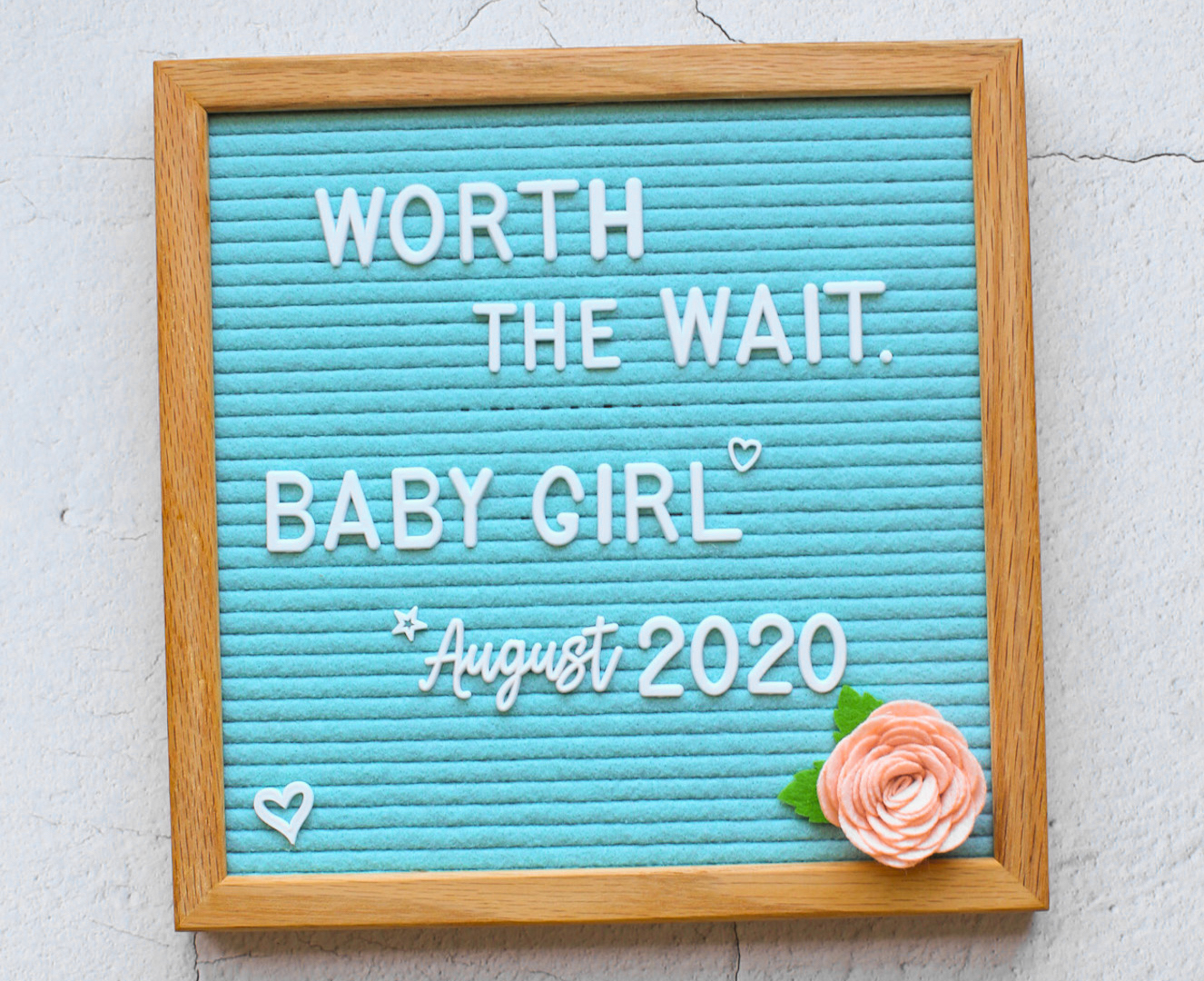 22 – Movie List + Binge-Watchable TV
I watched a lot of TV in my first trimester because I felt SO crappy and tired. Mindless Tv shows are great. Hello Real Housewives…. And pregnancy-related movies can be fun. Here are a few to try… (And yes, I approve of all of these!)
Pregnancy Movies List:
Father of the Bride Part Two
Knocked Up
What to Expect When You are Expecting
Juno
The Switch (IVF fun…)
Bridget Jones's Baby
Twilight Breaking Dawn Part One (fantasy, but love this series)
Baby Mama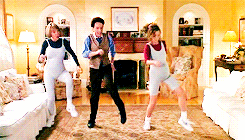 Energy + Wellness:
23 – Healthy Snacks
You will be snacking when pregnant, I promise you that! And while I totally agree that treats are a must-have when pregnant, it's a good idea to have some healthy ideas on hand as well.
Pregnancy Snacks I Love:
pumpkin seeds – I am obsessed with these
Beanfield's Chips – Nacho flavor (bean-based!)
Peanut Butter and crackers or sliced apples
Allllll the fresh fruit (apples, strawberries, whatever is in season too..)
Peanut Butter Stuffed Pretzel Bites
Hummus + Carrot Sticks
PBJ
Guacamole and warm tortillas
Cucumbers, carrots and vegan ranch dressing
Protein bar (just be sure to drink with plenty of water) – I'm into Luna Nutz Over chocolate right now
Easy dairy-free yogurt parfait with fresh fruit and nuts
baked potato crisps (good when nauseous)
smoothies galore – like this strawberry-banana one
homemade breads and muffins – like these berry crumble muffins
half a bagel + vegan cream cheese
A big dill pickle!
Vegan cheese and crackers (aged cashew cheeses even better!)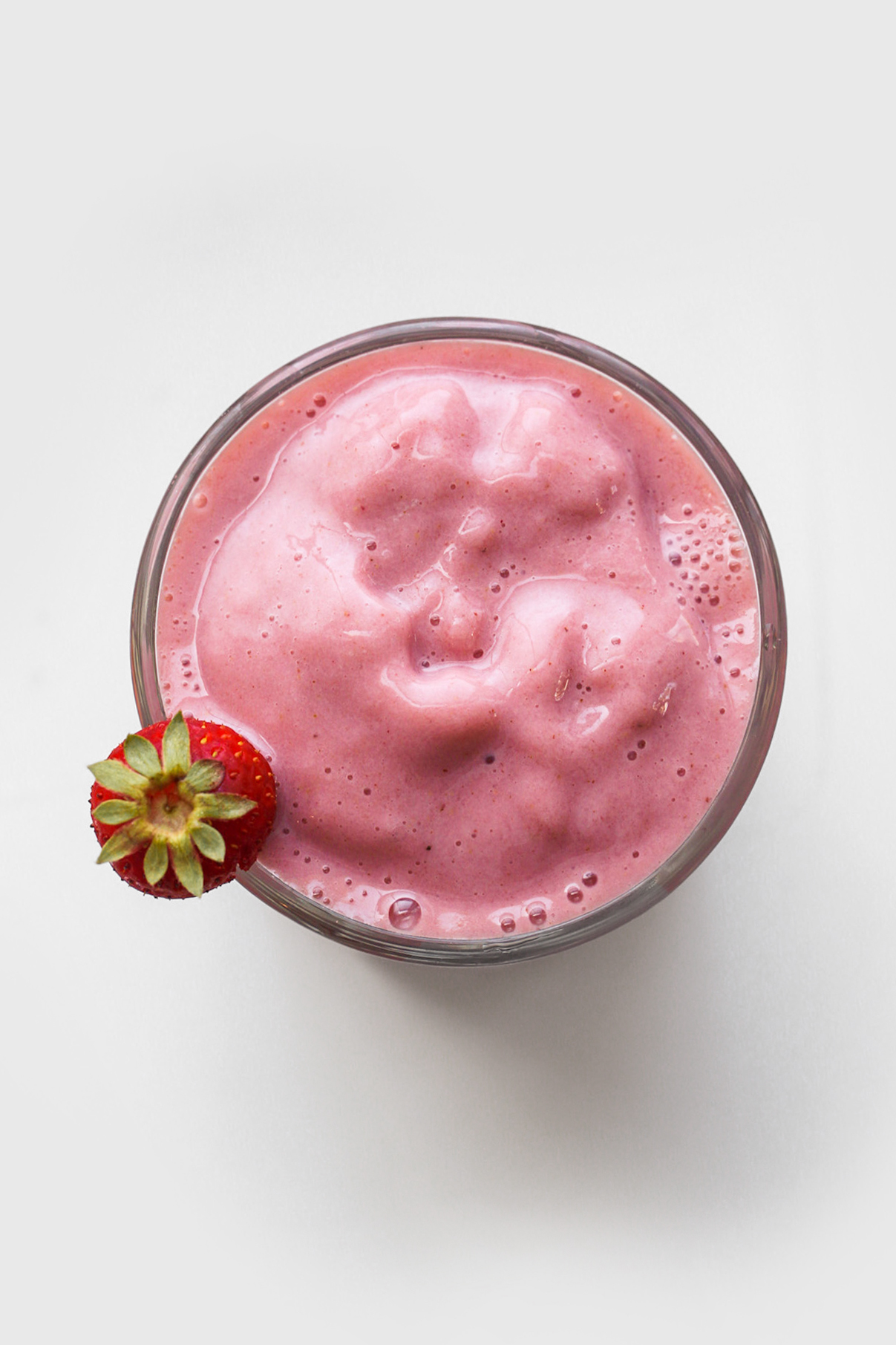 24 – Plenty of Fresh Fruits + Veggies
I am all about loading up on fresh fruits and veggies. There are two great ways to do this:
Venture out to a local organic-friendly farmer's market every week. Stock up!
Join a CSA or another local organic produce delivery program (We have been doing County Harvest and it's made a huge difference in how many veggies we eat!)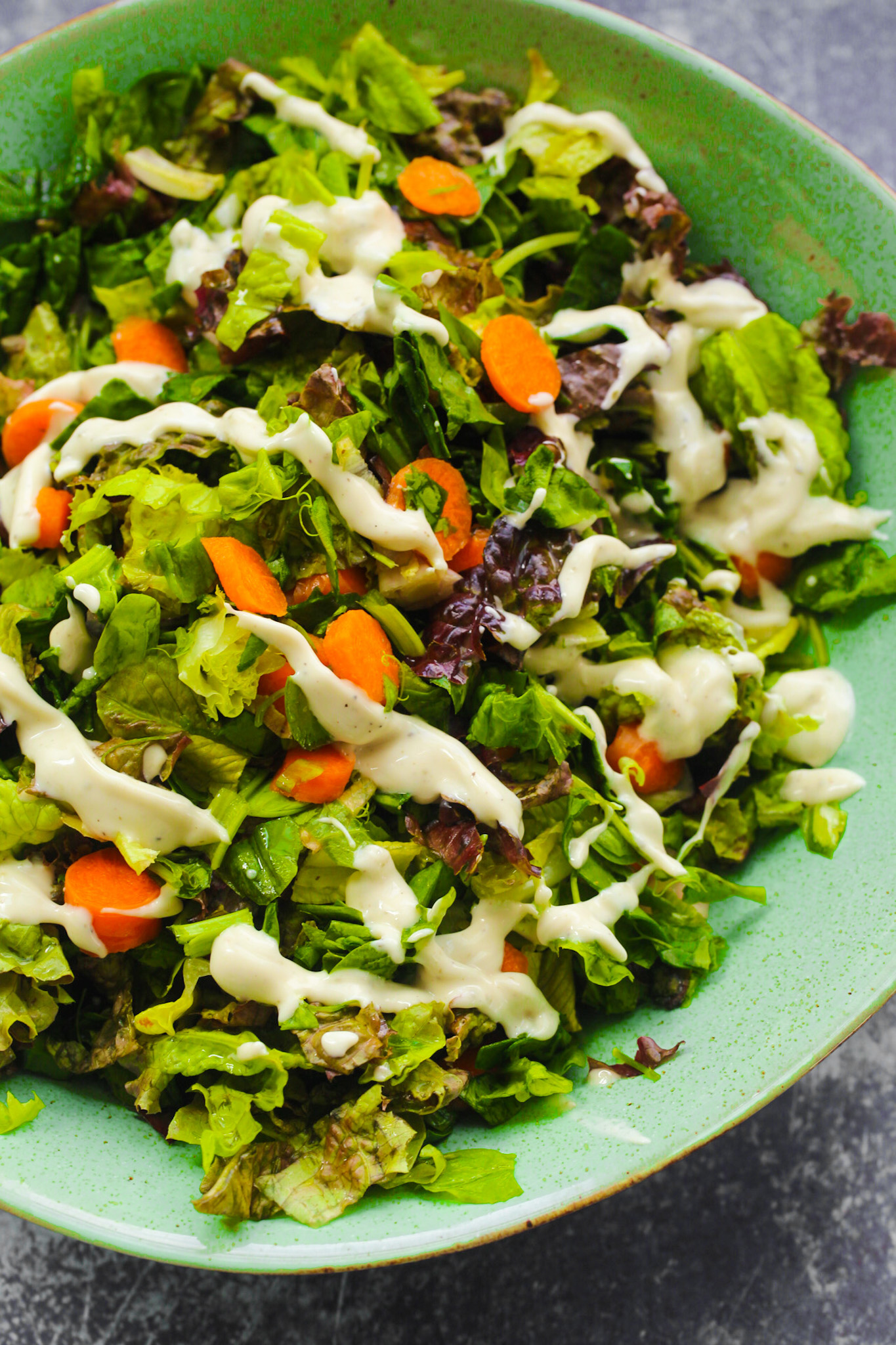 25 – Prenatal + Supplements you Love
There are so many different brands on the market, and you should ALWAYS ask your doctor about the supplements that fit your pregnancy and dietary needs , but just to share my personal vegan favorites for guidance to ask your doctor..
Supplements I Love (for me):
Definitely communicate with your doctor or a dietitian when it comes to supplements.
BONUS: Vegan moms-to-be check out this helpful pregnancy guide from Vegan.com
26 – Fitness
I kid you not, I did not work out one day from like spring of last year, up until about February of this year. I had very low energy through my FET prep and my first trimester working out was never going to happen. But when I finally added back in exercise I felt such a huge difference in my mood, energy and just all-around sense of self and wellness! So, what did I do?
I started out walking more. Neighborhood walks. But once COVID hit, we were stuck inside. Luckily by chance we had just ordered a Peloton. It has been life-changing for me! I love the low-impact nature of cycling and the classes are so fun.
But you do not need a fancy Peloton to embrace fitness during pregnancy. Always ask your doctor what is approved for your pregnancy and body, but if you can MOVE, with your doctor's approval and guidance, do it.
Peloton $100 off code + Follow Me..
And PS, if you are curious about a Peloton, you can use my code to get $100 off your bike: code MXRYC3. IF you already have one, follow me! I'm KatGirl19.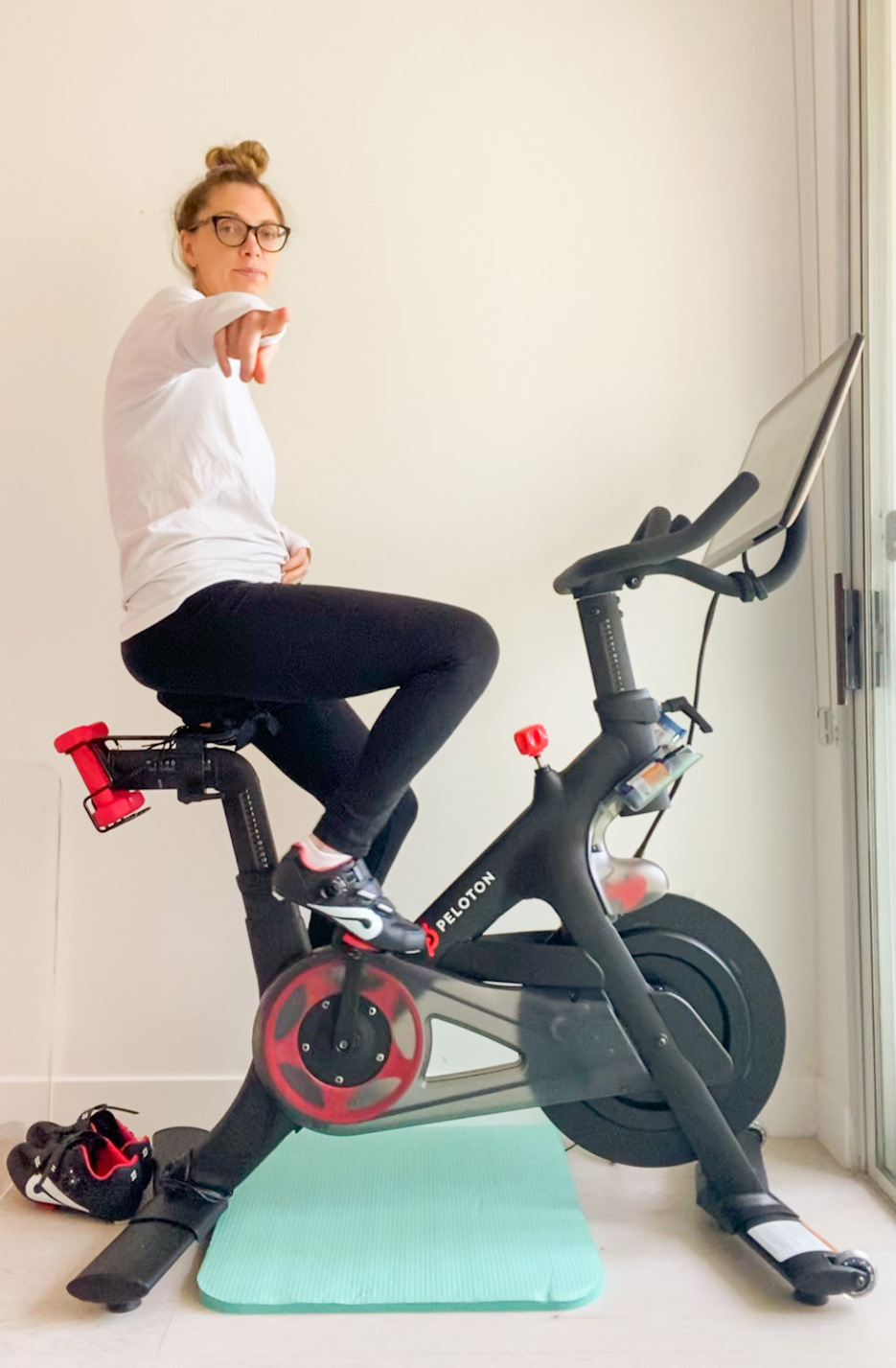 27 – Air Purifier
I adore our air purifiers, so I want to share them here for you pregnant mamas who may want extra-clean air during this time. These are ours:
IQ Air (the best!) Giant, pricey and ugly, but seriously works miracles
Austin Air Jr – get it with wheels (perfect for a bedroom) – no filter changes for like four years!
Rabbit Air – another great one, no wheels though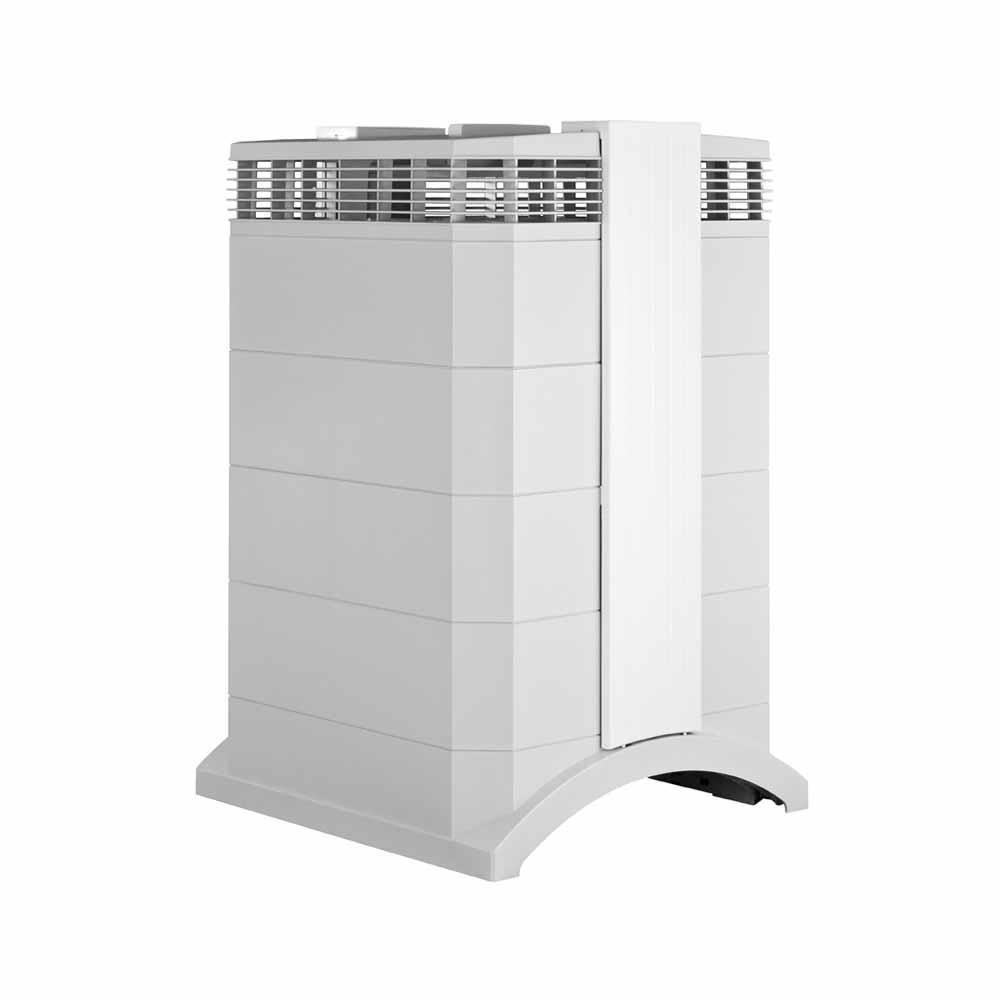 28 – Robot Vacuum
Ok, so this is not essential, but I swear it has saved me so much during this pregnancy. My house is cleaner and I don't have to lug around a vacuum when I need to clean. Plus, it works with my Alexa, so I can just tell it to clean up a certain room and done. We are iRobot fans for sure.
Almost There:
29 – Registry
We use BabyList and love it!
We also have all our registry items on Amazon too just in case we end up ordering ourselves towards the end of my pregnancy. Amazon offers some perks like a diaper discount..
30 – Hospital Bag
Splurge on this Hatch box or keep things simple.
Ok, so I have NOT packed my bag yet, but this is my list so far – I keep it simple..
simple bag to pack everything in!! (machine-washable like Rothy's bags a plus)
birth plan (if you have one) + doctor info (OB + pediatrician) + insurance info
snacks! healthy vegan snacks! lots of snacks!
cozy, warm overnight clothes – layers – for myself and husband
nursing bra or cozy sports bra
cozy thick socks
comfy loose undies
extra long phone charging cord
car seat!!
two outfits for baby + hat or bow – going home / hospital photos outfit
lip balm
minimal makeup – mascara, blush… (optional!)
toiletries – basics
any medications / supplements
cheap pillow + towel (optional)
laptop for husband if long stay and can't leave.. #COVID
Face masks #COVID
reusable water bottle
mom's going home outfit – something super comfy (dress + shorts or jumpsuit)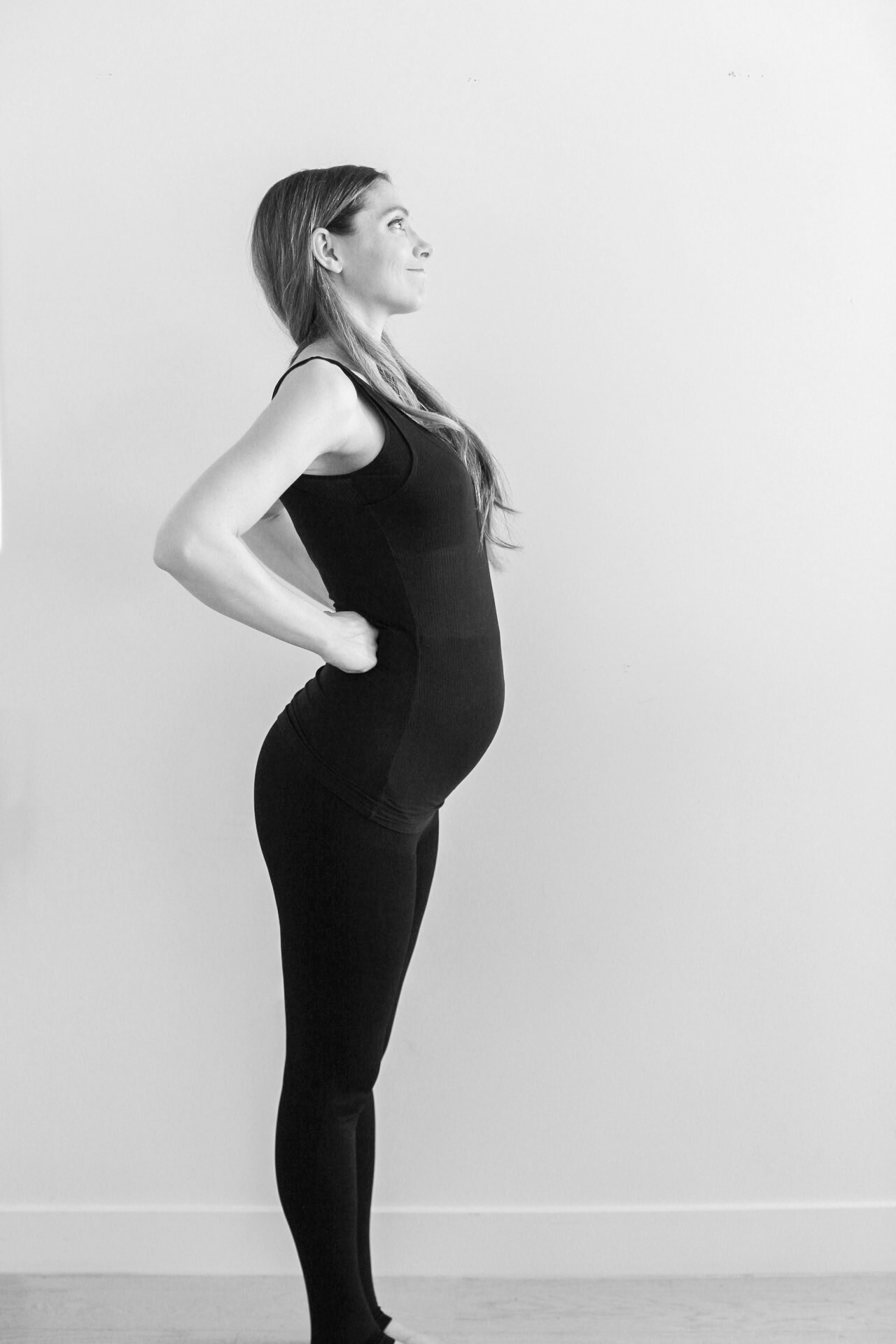 That's it!! Pregnancy Essentials by Me.
Wow, this post took me a long time to finish, but I really hope it brings you a few good ideas for your pregnancy! If you have any questions or any other great pregnancy finds, add them to the comments.
Pin it for later!…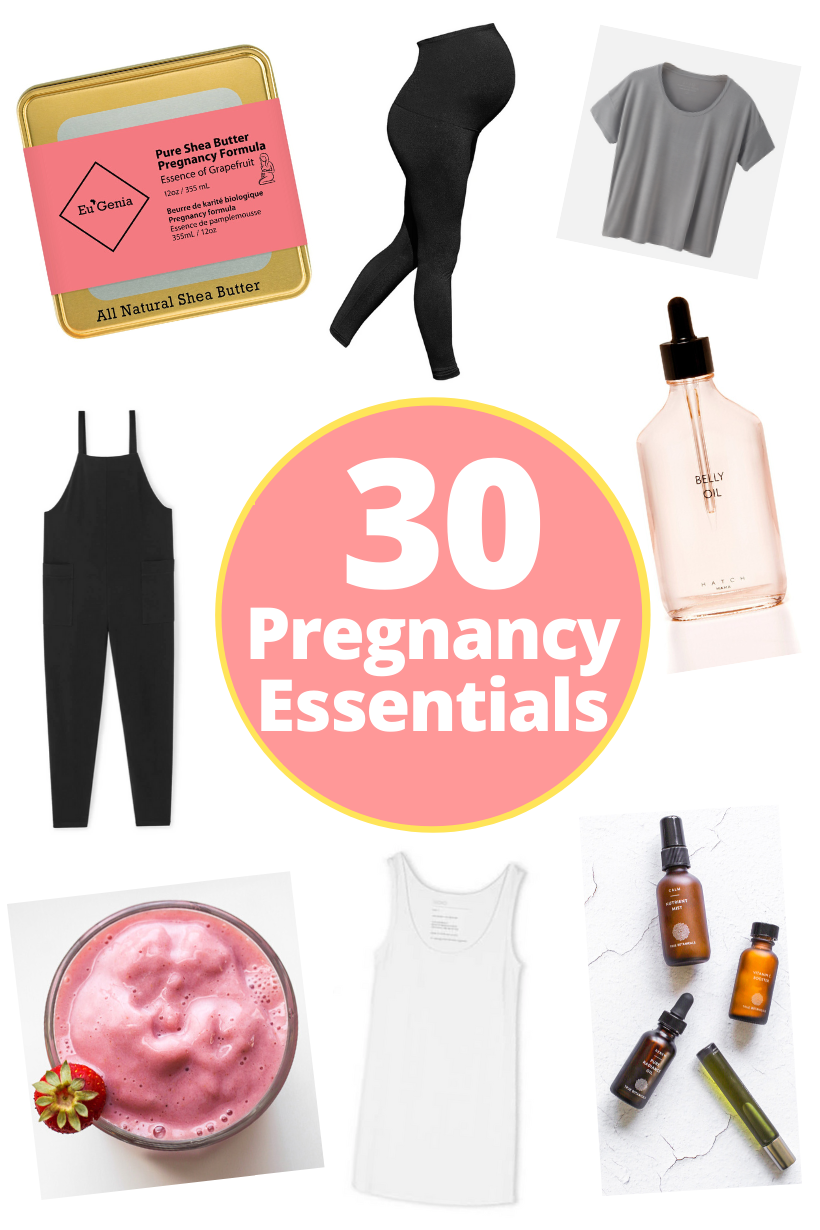 disclosure: this post contains affiliate links, but none of the products are sponsored – all were paid for my me. I only share products I absolutely love!